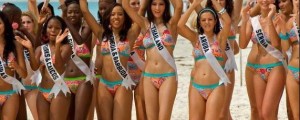 World Girls Awards
A while back I started a poll to show which girls from which places have the best features called the World Girls Awards. You can still vote on it, but now you have to register to do it.
http://www.quibblo.com/quiz/hrtMwEj/International-Girl-Awards?view_quiz=1
I for one am a fan of all different types of girls and I have noticed that certain races have certain strengths.
After years of traveling here are my thoughts. (and the original results)
Best Face
Latina girls. I have seen some absolutely stunning faces in Colombia and a bit in Guadalajara, Mexico.
Best Boobs
White girls take the cake, thanks to good size and nice variety.
Best Booty
Black girls win for me hands down, there's nothing as big and gravity defying as a black booty.
Best Skin
Asian girls. They have the least hairy and smoothest skin on the planet. So feminine.
Best Hair
White girls. There are beautiful blondes, brunettes, and redheads of all shades. They win with variety and the fact that they take care of it.
Best Curves
Latina Girls win for me, with black girls being a close second. Nothing better than those tiny wastes and big hips.
Skinniest Girls
Asian girls have to win this one. It constantly surprised me how uncommon obesity is in Asia.
Best Overall Body
I'm a lover of all women, although I might have a very small bit more love for Latinas. I just feel like they have it all.
Best Personality
Eastern European won this, but I haven't been there yet (Next summer) so I would have to say Latina girls.
Easiest Girls
East Asian girls or African girls.
Here are the results from the World Girls Awards survey:
Best Face
White Girls 48%
Best Boobs
White Girls 62%
Best Booty
Latina Girls 48%
Best Skin
White Girls and Asian Girls 30% each
Best Hair
White Girls 52%
Best Curves
Latina Girls 50%
Skinniest Girls
Asian Girls 64%
Best Overall Body
White Girls and Latina Girls 32% each
Best Personality
White Girls Eastern European 42%
Easiest Girls
White Girls Western and Asian Girls SEA 28% each
Hottest of Western Countries
French Girls 18%
Hottest of Eastern European Countries
Russian Girls 265
Hottest of Black Girls
Brazilian 34%
Hottest of Latinas
Argentinian 26%
Hottest Girls of Carribean
Italian 26%
Hottest Girls of Middle East
Persian (Iranian) 44%
Hottest Girls of Asia
Japanese 30%
Hottest Type of White Girl
Brunette (Dark) 38%
Best Overall Girls
White Girls 44%