Video Datasheet: Haitian girls in Port-au-Prince
This is the first video in our new series Video Datasheets. I'm exited to share this video with you, I had a lot of fun making it and composing it. I'm pretty new at this stuff, as I was making the montage I realized we didn't nearly have enough footage. But it's a great learning experience.
I'm really exited to make this series a success and to get better at it at every episode and I'm looking forward to your feedback! Check it out:
http://www.youtube.com/watch?v=RkaZrrM9jgE
Port-au-Prince, Haiti
You must know that Haiti is in the top 20 poorest countries in the world and that is noticeable when you walk around.
The city
Even the richest area of the capital Port-au-Prince feels like a giant ghetto. There are not many tourists here. We were about the only white people walking around in the city. There are a lot of white people, working for the UN or other organisations, but they usually drive around in their cars rather then going for exploratory walks.
The fact that there is nearly no tourism has the ironic effect that hotels are exceptionally expensive for such a poor country. Expect most hotel prices to be around $100 per night. We found a hotel a little bit up hill and we were able to negotiate that down to half the original price.
Food and beers are normal priced. You cannot leave Haiti without trying the native beer Prestige.I don't know if it was the environment, but it had a decent kick to it, despite it's normal 5% alcohol percentage.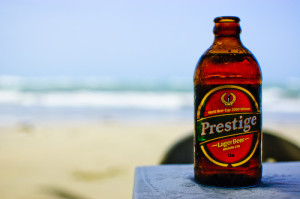 Haitian girls
Quality of Haitian girls: 2/5
In the Dominican Republic you have more variety of skin tones, while most Haitian girls are dark skinned. In general Haitian girls are not nearly as attractive as their neighboring Dominican sisters. You will very rarely see a stunner in the streets, I think the cuter Haitian girls leave for the Dominican republic to find a better life.
The main positive quality of Haitian girls is their ass. If you're an ass-man you're in good shape, they have amazing curves and some gravity defying booties can be spotted on a regular basis.
A downer are their boobies. I did not find a decent rack while I was there. A lot of Haitian girls get kids at a really young age, maybe that has something to do with it. Do not go here for the boobies.
Easiness of Haitian girls: 5/5
It is quite easy to get laid in Port-au-Prince. If you see a girl you like during the day, just call her over or go talk to her. Get her number (forget about fancy smart phone apps) and meet up later. They don't see too many young white tourists walking around so your exotic value is through the roof.
Create a good back story (so they think you will stay long term) and you will have no trouble getting yourself a big booty local girl.
If you want to get girls online, check out Badoo. There offer is very limited, especially compared to Badoo in Dominican Republic, but I did meet a few girls on there.
Nightlife
Muncheez
This is a more relaxed place to have some beers or take a date. It's a setting with people sitting in groups at tables so not ideal for picking up girls, but you can give a shot at the waitresses.
Jetset
The bar reminds me of Beach Club Café in Kuala Lumpur. Some old white people and a bunch of girls "partying by themselves" (read: prostitutes) but they are shoreable. They had great music though so we still had fun.
We only went of a Friday and it was pretty quiet, supposedly it gets packed on Saturday.
Barac
The other place to be for nightlife in Port-au-Prince is Barac. It is not very far from Jetset so you can either walk (if you're not drunk!) or take a motorbike taxi. Mixed crowd but also you can bet you will be doing some shoring here.
Game Toolbox
It will help you out a lot if you know some basic French. Not only for the girls but just to get around in the city. If you know decent French, you will be able to understand Creole a little bit as well, it's basically an African version of French.
For nightlife, brush up on your shoring skills. And double, no TRIPLE check you have a good understanding about your shoring arrangement, I got in trouble with a girl I met at Barac (drama in the club!), read the story in the links below.
More on Haiti
Lay report:  http://swooptheworld.com/triple-up-in-port-au-prince/
Another post on Haiti: http://swooptheworld.com/we-are-in-haiti/