Video Datasheet: Dominican Republic
It took a while to complete but I finally got to finishing up the second video in this series of Video Datasheets. We had a ton of footage this time but I tried to keep it short and light. The video will give you a feel for what to expect from your stay in the Dominican Republic. Again I'm excited to share it with you. I really enjoyed reliving many of the memories as I was going through the different clips for this montage. I'm looking forward to your feedback! Check it out:
The Dominican Republic
20 Nation and myself have lived for a couple of months in Santo Domingo. Later Fisto joined us there and together we explored the rest of the country. The footage from the movie is from all over the Dominican Republic: Santo Domingo, Santiago, La Vega, Puerta Plata, et al.
Dominican girls
Quality of Dominican girls: 4/5
First I thought about giving the girls a score of 3 but I settled on 4 because of their bodies. While on average the faces aren't always standing out, Dominican girls' bodies are just banging. They have really nice curves and even the skinny girls will surprise you with some booty and a nice rack. Moreover, they come in all shades of skin color, from fair to dark, so there's something for anyone's taste.
Tip: If you want to get a feel for the quality of girls available online, make a free account on DominicanCupid.com and search for ages 18 to 24 😉
Easiness of Dominican girls: 4/5
It is easy to get laid in the Dominican Republic, but you will do exponentially better as your Spanish improves. When I arrived I barely spoke any Spanish and it was tedious to try and communicate on dates, but also on online game (they'll write you in slang so online translators don't always do the job). As my Spanish improved things kept getting easier.
So learn basic Spanish before you go; it's a great investment that you won't regret!
My preferred methods were online game and day game. Make sure you stay near the campus (UASD) as there's a limitless supply of young cute student girls around every single day.
More on Dominican Republic
To find out some of the back stories that put this video datasheet into context, check out all our adventures from the DR by clicking below: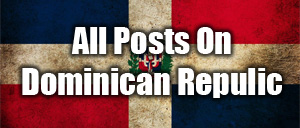 Man, how I miss the Dominican Republic right now!
THC