Using Pokemon Go to Meet Girls (My Day Game Adventures)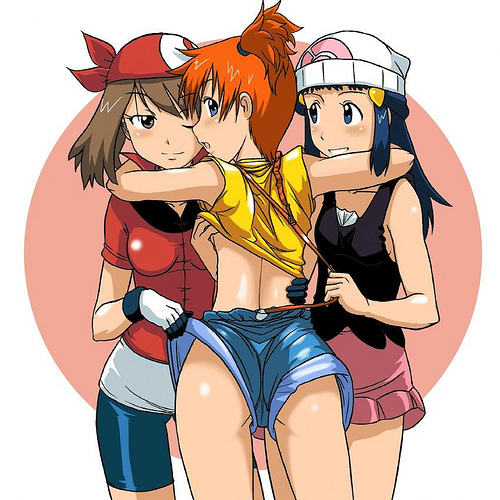 So, nerdy as it sounds, I started playing the new sensation Pokemon Go and… I'm addicted. Usually, being addicted to a game means I am cooped up in my home obsessed with being the best at it. However, thanks to Pokemon Go being fucking awesome, what this means is that I will be walking around the city all the time trying to be the best. Trying to catch em' all; Pokemon and… women. This is how I am using Pokemon Go to Meet girls.
I was outside walking around for 6 hours today! Yesterday I was outside for over 8. I am sun burnt as hell (but still sexy ;)). As many of you guys know, I have spent the last 5 years traveling the world. I have never, in all this time, explored a city as much as I have the last two days in Ukraine. This type of game is as awesome as it gets, particularly because it forces me to talk to girls during the day.
Yesterday I actually deleted all my online dating accounts (including tinder). I tend to use them as a crutch to meet girls, but not anymore. I'm spending hours in the city anyway, so I'm going to meet girls exclusively with day game. I've met the best girls doing day game anyway.
So, without further ado, here is how I used Pokemon Go to meet girls.
The First Approach
The first approach took me some time. I was overthinking things. I finally saw a cute girl walking alone. She was coming in my direction and I just switched off my brain (what I do to force myself to approach) and opened her.
"Excuse me do you speak English?"
"Nyet – No." the girl replied.
"Nimnoga? – a little?" I asked in Russian.
"Nyet." and the girl kept walking.
Well wtf, I've learned a lot of Russian in the past couple months thanks to my unlimited Skype tutoring. Alright, next approach I'm not being Brushed off so easy.
Gotta Catch Em All!
A Squirtle appeared. Oh shit, that's a good pokemon. Then, a hotty in sunglasses appeared. Also good. What to do? I put my phone up and snapped a picture of my two targets (pink dress).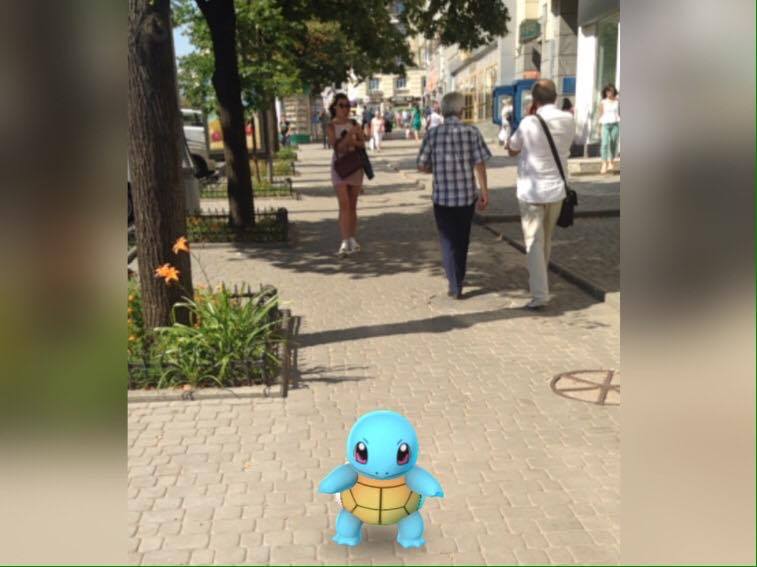 It was a good opportunity. I had to approach. But squirtles aren't common… and you gotta' catch em' all. So… you know what I did?
I caught Squirtle. It was a tough decision, but I think it was the right one.
Just kidding ;), half kidding because after I caught Squirtle I speed walked over to the girl. This time I opened in Russian.
"Izvenitiye. Tee gavareesh pa angleeski? – Excucse me. Do you speak English?"
"Yes. I do." she stopped walking and turned to me immediately.
The rest of the interaction was easy. She was interested from the start (I think she wanted to practice her English). I got her number, said goodbye, and returned to my adventure around the city.
Using day game to meet girls Approach #3
My last approach went so easily that minutes later I was ready to do another one. I saw a sexy girl in a pink dress representing her country well (and after my travels around the world I would say Ukrainian women are in the top 1% of the world). I started walking after her, when a Zubat appeared!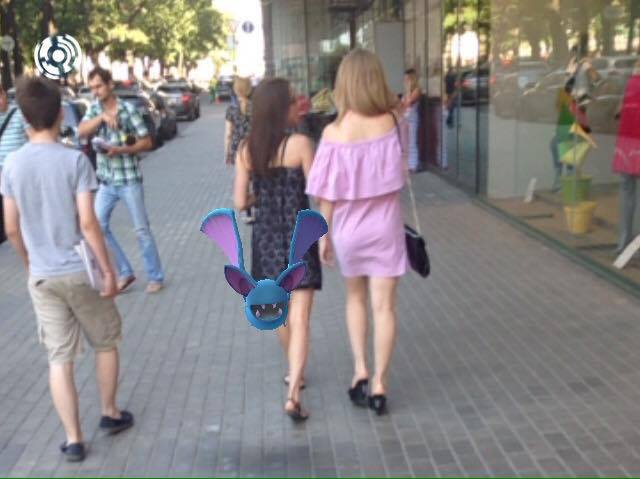 Actually, Zubats are not interesting because it's a common Pokemon, what was interesting was what happened after the Zubat appeared.
I overheard a conversation an Asian guy was having with an attractive Ukrainian girl. Unfortunately, the only thing I heard was her telling him to leave her alone. I can't remember exactly how she said it, but it wasn't nice.
The man was doing exactly what I was… cold approaching. I was disheartened. I stopped my pursuit of the girl in the pink dress. I decided to catch Zubat instead.
I don't know what it was, but catching Zubat gave me a strong motivation to catch this pink dressed girl. I was quite a ways behind, but I thought I would be able to catch up to her if I walked fast enough.
I eventually caught up to her and her friend and I opened exactly the same as with the last girl.
"Nyet." she responded when I asked her if she spoke English. Then, she and her friend just stared at me.
"Ya vidil tibya y dumal chto tee kresivaya. Y hotel pagavarits c tovoy. – I saw you and thought you were pretty and I wanted to talk to you. Menya zavoot 20 – My name is 20." I stuck out my hand and the girl in the pink took it.
Just then, her friend interrupted "Nyet."
She grabbed the girl in the pink dresses' arm and dragged her away. Cock blocked.
Women in Romania and Ukraine not wearing bras is both alien and extremely pleasant
So, something crazy for an American like myself to see, is an attractive girl in a near see-through shirt who is not wearing a bra. I saw this in Romania and I see it every day here in Ukraine.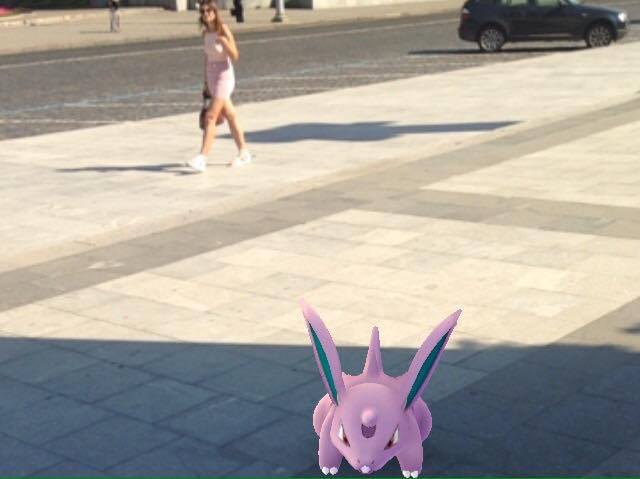 To me, I feel like a voyeur. It makes me feel kind of pervy… in a good way. Although I will admit it makes it much more difficult to approach. Partly because I feel like I will just stare at her tits the whole time and partly because it already gets my heart racing.
Using Pokemon Go to meet girls with 3 more approaches
I spent the next few hours in a big park. I was fed up with having to chase girls down, so I didn't get you guys pictures of the next couple of approaches.
Basically, I approached 3 girls head on. One I went direct on saying I found them attractive and just wanted to talk. Another, I went indirect on, and the final one I went direct on, but started off kind of arrogant. Two weren't interested and one was. Can you guess which girl was interested?
The girl who was interested was the one I opened with the 'kind of arrogant' line.
"Tee menye kazhatsya kak dyevooshka chto gavarit pa angleeski. – You seem like a girl who speaks English." I said with a cocky smile.
She spoke, but not very well. She seemed very interested, but to be completely honest, she wasn't near as attractive as she looked from afar; especially for a Ukrainian girl. I got the number anyways and said goodbye.
My final approach in the park
This was, by far, my favorite approach of the day. I saw a girl walking by. She was tall and slender with an absolutely beautiful face. She had these bright green eyes that looked like emeralds.
She was so pretty that I nearly talked myself out of approaching. But no, I turned off my brain, and followed Nike's slogan "Just do it."
"Menye kazatsya chto vui gavarette pa angleeski. Nyet? It seems to me that you guys speak English. Right?" she was with her friend and I wasn't about to get cock blocked again.
"A little." she replied.
I went direct and told the pair that I found the tall slender girl very attractive. They asked me where I was from and seemed in awe when I told them I was from USA. The interaction was short, but it didn't matter. I got a lot of interest from a girl who, in USA, would be dating a billionaire or somebody famous.
I got her number and the two girls went their way.
Luckily when I opened my phone I noticed a Spearow waiting to be caught and made sure to snap a picture of the girls.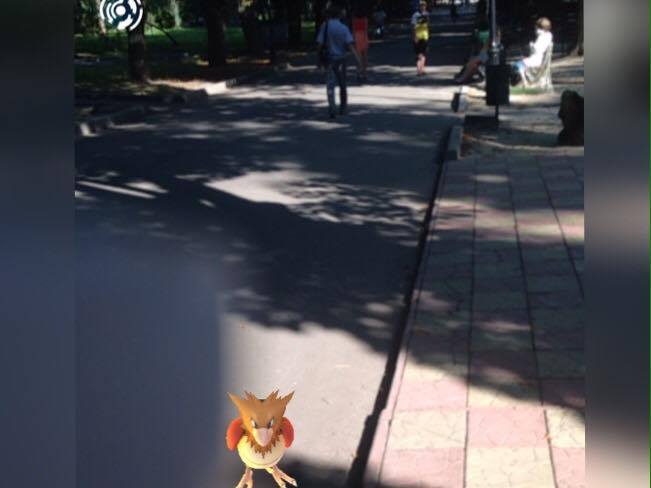 "I felt like a stalker." The Rundown
After hours and hours of walking around in the heat, my deodorant was starting to wear off so I decided I should probably not approach any more girls today.
I went to a nearby restaurant and ate dinner. But, while sitting in the window of the restaurant I saw an absolutely stunning girl. She had a super model body, with a regular model's face. But, the best part was that she had a sweet face (my weakness).
I looked down at my food, only half eaten. Fuck it. This is Ukraine, everything is cheap. I took one final big bite and left the restaurant.
She had crossed the street and was heading down into the subway. As I followed her one of my favorite openers popped into my head "I'm not sure how to get to X station."
I was kind of far behind and when it came time to buy a subway ticket I was surprised when the doors slammed in front of me. I had tried to go without a ticket. Everybody stared at me.
"Oops."
I bought the ticket and rushed down the escalator. Just as I arrived at the bottom the girl was boarding a train. The doors closed and I watched her leave.
It's strange, but it felt good to try that hard for a girl, even if I felt like a stalker and even if I didn't get to talk to her. All these approaches had made it easier for me to do an awkward approach.
I'm in Ukraine to find a stunner and this is how I'll do it. Using Pokemon Go to meet girls works like a charm. 
Using Pokemon Go to meet girls is fun!
I don't know if you guys have been reading pretty much anywhere, but this game is smashing record after record. It's doing what Pokemon first did and soon, will surpass it. That's because it turns the real world into a game!
I encourage you guys to try it, even if it does seem nerdy. It's the best thing on the planet to get you out and exploring your city and, of course, meeting sexy girls.
So many girls so little time and you gotta' catch em' all.
Not sure what to say when you approach?
If you aren't sure what to say to start and keep a conversation with girls. check out my book "The Perfect Conversation." If you like a bargain and are sure want to get better with girls, get all 6 of my books for 60% off the normal price.
Tomorrow I'll do more approaches and update this article here
Expect more articles here tomorrow. I'm going to try to record the audio of one of my approaches tomorrow. Check back tomorrow!