Today I reach into my hat of memories to see if I can pull out something interesting… it's Flashback Time!
A few years back before I started my adventures in Asia and the Caribbean, I traveled around in the USA. I traveled in the East and West to different states and cities. Various friends joined me along the way but Smooth Operator was my fixed wingman along the way.
Did we have a good time? Yes. Yes we did.
This week's memory: Miami!
Bienvenido a Miami
We had spent about a week visiting my good friend Science in Columbus Ohio. We had a blast getting drunk at the university campus, at college parties and football games.
But one week was enough. It had been Smooth Operator's dream to go to Miami ever since he first heard Will Smith's song "Welcome to Miami", so our next destination was clear.
Party hostel
We were on a very limited bankroll so we decided to stay in a hostel. I usually try to avoid hostels as much as I can but this time it turned out much better than expected. We rented a 4-person room for the three of us. Less than optimal logistics but easier on the wallet.
This hostel was actually pretty cool. It didn't have the usual left-wing hippy crowd but rather a young and international crowd… and a lot of girls.
It is called the party hostel for a reason because every night all guests would join in the common room, get drunk and go to a party together. The hostel allowed guests to bring their own drinks and had deals with the local clubs to get us in for free.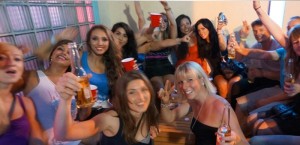 Biggest Cock-Teasers EVER
The evening started out great, it was "Mansion night" so all hostel guests would go to Club Mansion together after some socializing at the hostel. We bought a bottle of Tanqueray gin and started to get a nice buzz.
The thing about this kind of setting is that you have to approach it strategically. You want to be social to different groups of people but you also want to lock down your target pretty early on. You know every guy is on a mission to get laid so you'll have some competition or at least a risk to be cock blocked.
The hostel guy called everyone together, it was time to go and walk towards the club. Science and me see 2 cute girls and lock them down, keeping them engaged during the walk to the club. When we arrive we have to wait in queue and some other hostel dudes try intervene, can't let that happen. Smooth Operator helps to defuse them perfectly: nice wingmanship.
Once we're in the club, it's already packed and there's a great atmosphere. Science and me take the girls to the dance floor and 5 minutes later we'r both making out with them. They're two friends from Switzerland, both blond hair and cute faces. Science and me wink at each other, this is looking great.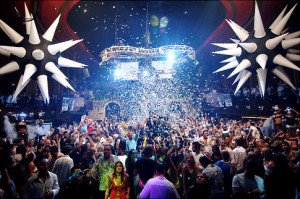 Club make-out guy
These girls were all over us, I'm grabbing my girl's ass and she's got her hands in my pants grabbing my dick. Fuck, this is so in the pocket I think. Science's girl is doing the same.
I feel we have stayed the acceptable amount of time in the club to take them back to the hostel, so we take their hands and walk back. Science and I have the advantage to speak a language they can't understand so we can discuss how we'll split them up to our rooms: One of us takes our room, the other one theirs.
We arrive back at the hostel and what happened next struck us like a cock-block lighting bolt. All of the sudden both girls go cold as on cue and say: "It was a great night, see you guys" and a door slams in our faces.
Science and I look at each other and we realize we've been played hard. Holy shit, talk about blue balls. I had a sneaking suspicion they were teases but the prospect of a Swiss flag and the fun of making out in the club had clouded my judgement.
Oh well, shit happens…
Second party night
The next day these undeserved blue balls worked in my favor, I had a double drive. We were on a mission. We did some day game on the beach.
First we opened up a group of Korean girls, they were acting super shy and clueless (as we are used to for groups of Asian girls abroad). But we had some fun with it and played some beach games with them for a while.
Then Smooth Operator threw a football around that strategically landed in between two Russian girls – Miami really is an international place. We had some small talk and swam a bit with them then exchanged numbers for meet up later at night. One girl had a cute face, the other one had a huge rack. Not the best girls, but a suitable back up plan.
Horrible date
Just to change up the routine, Smooth Operator decide to meet up with the 2 Russian girls before joining the hostel group to the club. We meet them for drinks and the date started of pretty well but we got a feeling we were being taken for a ride again when they try to score some expensive drinks from us. My cock-tease radar was on hyper sensitive because the night before (maybe too much so) but I didn't want the same to happen twice so we eject.
Let's catch up with Science in the club.
Korean Wing Girls
Science was already in the club and when we meet him there he's got a wide smile on his face. "Look who I ran into!" he takes us to the group of Korean girls we met earlier on the beach. They were still a bit awkward but now they had been drinking a bit and it had really loosened them up. We start dancing and not much later him and me are making out with a Korean girl.
Still it would be hard to escalate with these girls, they were a big group and they didn't even register on my slut radar (good girls). But in the corner of my eye I saw another girl from our hostel. She was an Austrian girl and I had been flirting with her the last two days, but nothing had happened yet. I catch her checking me out while I'm dancing with the Korean girl and give her a wink. She blushes immediately: Busted.
The moment my Korean girl leaves, she's walks up to me. "You dance really well", she says. All of her body language radiates she's DTF (down to fuck). She must have thought she lost her chance and now she was taking action. My gut feeling tells me it's the right choice to switch girl. I take her hands, dance for 30 seconds and make out with her.
"Let's move before the Korean girls are back", I tell her.
I plan to walk to another corner of the club but I feel she's ready to walk out the club completely… hmm, why not 🙂  She tells me she had her eye on me the moment she saw me. I take her straight to my room. Smooth Operator and Science are still partying somewhere so I have our room to myself.
Zero LMR (last minute resistance), this went so smooth, I guess I got some good karma to compensate those Swiss teasers!
I'm just done banging her when someone starts knocking on the door: It's Smooth Operator.
"Open the door, I need to be in the room!"
My girl and I get dressed, I grab a towel and open the door. The first thing I see it's Smooth Operator's trademarked grin, the second thing I see is a hot Mexican girl in his hand trying hard to look shy (as if she doesn't know what's about to down).
"All yours amigo" and I give him the keys. What an excellent timing.
Life is a beach
He should not have arrived 5 minutes earlier. But I really enjoyed my girl and I wanted to bang her again but now the room was occupied. Luckily I had to foresight of grabbing that towel on my way out.
"Let's have a romantic walk on the beach", I tell my girl.
Miami's beach is perfect for sex. It gets pretty dark, the water is lukewarm and there are plenty of beach chairs piled up left and right to use as cover. To be a little bit out of sight, I lay out the towel behind one of those piles of beach chairs. My girl's so down to have sex on the beach so I flip her over and bang her doggy style on the towel.
As I'm fucking her for a while, my eyes started to adapt to the darkness. I look a bit to my right and see there's a fucking homeless guy just laying a few meter further staring straight at us with a big smile on his face. God damn it, what a weirdo. At least he had the decency to remain quiet so my girl didn't notice it. I bet it would have killed the romance for her a little bit. I don't mind too much, I just tell her to change position and take her to the other side of the chairs and continue.
Only after we're walking back to the hostel I tell her about the creepy guy. But she's cool and we have a laugh about it.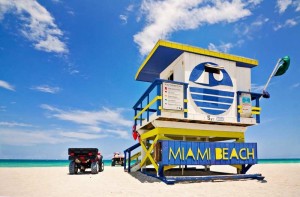 Science on a roll
I drop of my girl at her room (she's sharing it with other friends) and walk back to my room the floor above: the door is still locked.
"Give me 20 more minutes", Smooth Operator yells from behind the door. Fuck, I'm ready to go to sleep, that's the shitty part of sharing a room. I know he does the same for me so I head downstairs for a last beer to pass the time.
As I sit down Science walks by our hostel completely amped up: "Dude, I've got 4 girls on the beach right now!"
Lol, it's one of those nights were everything works out.
We head down to the beach and he didn't lie, there's four girls in bikini waiting for him. I don't recognize any of them but apparently he met them at the club and they are new guests from our hostel as well. 2 Turkish girls, a Venezuelan girl and a German girl.
Science is already close with one of the Turkish girls and runs of with her into the ocean. For me this is a cold approach but I'm cruising on a wave of after glow from banging my Austrian girl so my game is flawless.
Without effort I manage to isolate the Venezuelan girl and get her into the ocean with me. She's throwing every shit test in the book at me but they bounce off me like bullets on Superman. She finally gives in and we make out in the water.
Science has already disappeared so I can only assume the room will be occupied for another half hour, so I try to repeat the romantic beach approach. But this girl is much more conservative so I can't get any further than a beach make out. I make a final effort to get her to her room but when we arrive there she won't let me in.
"All my friends sleep here"
"We'll be very quiet, don't worry", but it wasn't going to happen… Well, you can't win them all.  No "double up" but what a great night anyway.
Oh Miami
Finally we're all in our room again and share our stories. A night with chaos, losing friends and then finding them later with (extra) girls, overall drunkenness and all of us got laid: A perfect night!
P.S. The next day I found out the Venezuelan girl was friends with my Austrian girl, whoops 😉
Stay tuned for the more USA stories: Next stop New York!