Arrival day
I'm pretty hungover right now so this post may wind up rambling a bit and will definitely be negative.
Lima Peru SUCKS so far.
I got into Lima on Thursday the 10th and did a decent job pipelining some girls on Latinamericancupid.com.  To my mind they are between 6-7 on the scale.  Not too great but definitely on the higher end of what there is to look at online.
I made arrangements with the lady I was renting a place from and she had a taxi driver there holding a sign with my name on it.
Now, I was told I needed to pay 18USD to get to my apartment and when I get there the driver is playing dumb and telling me it's 28 USD.  This is a fucking ripoff now matter how you slice it and these types of things piss me off.  The whole Gringo price really rubs me the wrong way.  Meanwhile the taxi driver is continuing to play dumb and asks me over and over to call him if I need a ride.  Yeah sure, fuck off.
The owner of the place is some little guy and seems nice enough, he shows me the way the locks work and asks if I have any questions.  The guy has 5 goddamn locks to get through from the outer gate and into the apartment with 5 extra keys and a huge key chain.
I take these off because I hate having bulky pockets.
I told 2 girls that I was coming in.  The one I wanted most Yenny, I gave her the accurate time of my arrival, the one that was a close 2nd Pilar, I told her that I was coming in a few hours later just in case the first girl flaked or if I was able to bang her out quickly and then go for the double up (I wanted to hit the ground running since I don't have much time).
The girl meets me at my apartment and she's looking great.  A little better than her photos, I give her a solid 7.
She comes in for a bit and I establish comfort in my place by not getting too handsy and kissing her cheek.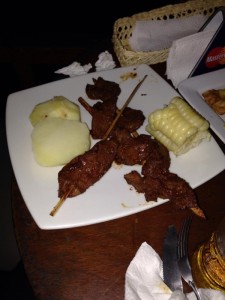 We go to a bar called Ayahuasca in Barranco.  The place is this old giant house that's got huge ceilings and this sort of hipster type feel to it.  There isn't very many people there and I'm tired from flying 14 hours.  They insist on keeping all the windows and doors open and it's fucking freezing.  The girl is dressed in some kind of see through shirt, tiny jean shorts, and a jean jacket that covers the top half of her body.  We are both pretty cold and I order my first Peruvian dish; Antichuchos (cow hearts cut into small pieces and stuck on skewers)  The girl is impressed I know what I'm eating and that it doesn't bother me (delicious with all the different sauces) and I know she is a gringo lover when she tells me that many foreigners turn their noses up to it.
I also order my first Pisco Sour (Peruvian drink) and it's really sweet (and sour) but strong.  I decide to embrace my new Peruvian life and do as they do by ordering a few more.
We finish the food and she is trying to angle to go to some other place and I just tell her "No, we are going back to my apartment".   My frame is strong and she agrees.
We get back to my place and start making out on the couch, I am pretty tired and don't want to go through all the progression so I just pick her up and set her on my bed.  She is telling me "no sex ok?".
Sure ok.
We are making out and she's grabbing my dick through my pants.  I unbutton her shorts and I find that, the little see through shirt is some sort of get up that is on her like a one piece swimsuit.  I am trying to brush it and the panties aside but she keeps grabbing my hands and pulling them back up.
After this happens a few times I change tactics and turn her face down to get a look at her nice ass, she starts to turn over but I hold her there firmly but gently and start rubbing one of her exposed ass cheeks in a circular motion, this gets her to stay there and then I smack her ass where she lets out an audible moan.
I go back to rubbing her ass in the same circular pattern and repeat the ass smacking on both cheeks several times to great effect.
Yenny is really enjoying being submissive and several times I position her ass for maximum smacking effect and she is moving her hips and ass slowly like she's fucking the air.
I then turn her back over and start working the compliance technique by having her kiss my chest and I whip out my dick so that she starts jacking it.  I then lay on my back and make the natural avenue for her to go down on me happen.
She is going to town and doing all sorts of slutty techniques with her mouth and I am encouraging her by telling her it's sexy etc.
I put my hand down to try and get past her impromptu chastity belt and lo and behold, she has politely undone it and only the panties are there.
I flip her on her back and slowly take off her panties building up the tension.
We smash 2 times before a 3rd time that next morning.
[learn_more caption="NSFW  digital memory"]
[/learn_more]
Day two
The owner calls me and asks if I'd like to get a SIM card for my phone.  I say sure and he shows up an hour after the girl leaves.
We walk down to Parke Kennedy where there is all sorts of bustling activity and then down a small side street where we stop by at a place called Aventura Marina.  I have the best Ceviche I have ever tasted and Lomo Saltaldo which was decent for only 12 Soles.  This being my first meal out, I don't realize what a good deal it is.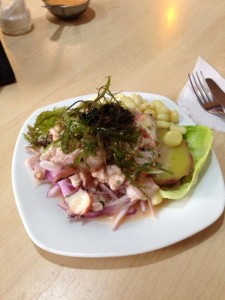 The owner of the place I'm staying is ok but completely blue pill and I can tell he hasn't been with a woman in some time when I start to tell him about going out the previous night.  He is shocked that I brought a girl home and seems upset that I did that without asking his permission (WTF?).
We go to a Claro store where I have the longest, most inefficient experience getting a SIM card.  It takes 2 hours to go back and forth between one person and the next to pay one person and place an order with another.  On one occasion the girl that was helping me that said to come back after I pay was just POOF gone.
I kept thinking there must be some economical reason for this system but it was worse that the Department of Motor Vehicles in the states.
We left the store finally after I got the phone working and I had the owner call Pilar ( the girl I told I would be in a few hours later ) and tell her where I live.
He decides to do more than that and ask her if she has friends he can meet and insists that she call one for him too.  He hands me the phone and she is asking how well I know him. She seems annoyed with me for his questions.  I didn't realize he said all this in Spanish and I'm trying to hide my visible annoyance at his meddling.
I stop into a supermarket called Metro and pick up some beer and wine along with a few snacks.  He is bothering me about calling the girl back and seeing if she found a friend yet.  I ignore him and tell him to relax.
We walk back to the apartment and he informs me that he will wait there to "interview" the girl when she comes over for "security purposes".  I am already planning my departure from this place after hearing that.
We get inside and he helps himself to a beer and turns on soccer while I change into training shorts and start doing burpees to get some exercise in.
He is nagging me about why the girl hasn't called and I ignore him.
She doesn't call and is late and after a while he just says he's leaving.
Shortly after he dips out she messages me and asks if it's alright to come over.  I say sure and start drinking beer.
She is about an hour late and I'm annoyed by this but I have nothing better to do so I don't focus on it too much.
She shows up looking good.  More pretty than the previous girl but slightly thick in the waist.  She's tall and has long legs. Big tits.
I am drinking beer still and she wants wine so I open a bottle and switch over.
We start watching youtube and I am DHV'ing hard.  I show her a scene from a movie I was in (the movie is terrible and would DLV in the states I think) and she is ooing and aaahing. I sense that I could go for the bang here but I want to get some info on a new place, after all that's what you do during a proper reconnaissance.  Plus this girl has great tits and I want to enjoy taking my time.  I feel I'm in no rush.
We walk outside and go to a place called Avenida Cinco which is a pretty nice joint.  Unfortunately it's dead as the night before.  We walk up to the bar nearest the entrance and there are two goofy looking guys standing there while two very cute girls are sitting there engaged in conversation and ignoring them.
The two girls look at me and I say hello while I order a pisco sour.  The one to the left I note, is very positive random for me. Beatrice is her name. I comment to one of the two guys at the bar who has a Ramones tshirt on under a blazer.  It's kind of a goofy look but I just assume he is a fan.  The guy has no idea what I'm talking about and I point to his shirt.  He tells me it's just a shirt.
I make a mental note that the guy is a moron.  The Ramones are awesome.
Rather than make adversaries I start talking with these guys.  One guy is half Peruvian and they are both Dutch.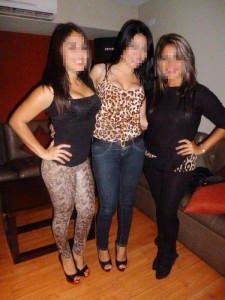 I start talking to Beatrice and her friend at the bar and soon I'm kissing the positive her.  Pilar is pissed and starts talking to the guy that doesn't know the Ramones.  The half Peruvian guy is trying to work his way into the set I have opened but both girls are ignoring him.
I decide to completely abandon Pilar for the much hotter girl Beatrice at the bar.  They are liking my cocky/funny approach and I'm kissing this girl.  Pilar is looking angry and the Dutch guy is all up in her face.   I see them walk out together and a single fuck cannot be given by me.
I excuse myself and go to the bathroom.
I come back and the girls are gone.  The Peruvian Dutch guy is there looking weird.  I ask where the girls went.  He tells me "She doesn't want to go home with you".
I roll my eyes.  "Where are they?"
He says "They already left".
I turn towards the exit and he stands in front of me.  I do not have the patience for this. With my right arm I brush him aside and walk out the door.
He is following me saying something that I'm not interested in paying attention to.  I see the girls getting into a taxi.  The girl I was kissing looks alarmed.
I walk up and ask whats the matter.  She says "Nothing, I've just got to go home".  I have no idea where this went wrong but I suspect that this guy started cockblocking me when I went to the bathroom as this seemed like a sure thing before I excused myself.
The place is basically dead so I decide to call it quits and head home.  I look at the half Dutch guy with disgust and shake my head before climbing into the cab.  These dudes are nothing like their countryman Neil Skywalker (unfortunately).
The next day Pilar is messaging me asking if I talked to the guy she left with.  I ignore this because I don't care what that guy has to say.  If he banged her, I don't care.  If he didn't, I don't care.  I think she was hoping for a reaction.
Then I get a message from Beatrice.  I forgot she took down my number. She starts saying she wants to ask me something via text, only I don't feel like going through the whole text thing and I call her to cut through the bullshit.
Apparently Pilar told the guys that I was a major jerk and was all over her at my place (not true), this was annoying to hear since I was the one to initiate leaving (she wanted to stay), also annoying was this half Peruvian that was trying to "white knight" and score points with the two girls at the bar.   He didn't have the balls to approach without me being there but he was quick to throw me under the bus when he thought it would get him laid.  That's something I really despise about these guys.  They try and pretend they're these chivalrous gentlemen just looking out for a maiden's best interest, but it's all an act they put on because they think it will get them laid.  The irony is that it almost never works and when it doesn't, they go back to pretending they were never interested in sex in the first place. How do I know it was an act?  Because when it was just us guys talking, he wouldn't shut up about girls.  Zero Balls.
Anyway, I tell Beatrice to text me later and that we'll catch up.
The 3rd day
My 3rd day in town and I'm already not liking the general attitude of the people here in Lima Peru.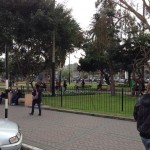 I sleep in and do a late workout that's pretty pitiful.  I walk down to Parke Kennedy that evening to get some food but the place with the Ceviche is closed.  I go next door to a place called La Cafeteria and I get treated warmly and with familiarity by the staff.   They are cool and shaking my hand.  The manager asks if I'm a fighter.  He points at my ear.  I say I used to be and he tells me about living with some Brazilian guys in Australia.
I bullshit with the staff and I'm texting back an forth with a few girls on my phone.  One girl is inviting me to Aura for a birthday party and another girl is wanting to come by and then go out.  I tell the birthday party girl that I will meet them later at Aura and tell the other girl I'd like to see her for a bit but that I have to have drinks with the owner of the apartment.  She is a little bitchy about it accusing me of already making plans with another girl but agrees to meet me at around 8:30 anyway.
This girl finally shows up at around 11pm.  I'm so irritated.  The only "good" thing is that she's drunk.  I smash her in about 20 minutes after she get's there and then I say I have to go.  She asks "why" all incredulously.  "You're late, I told you I had someplace to be."
She leaves sulking and I wash myself vigorously.  She had a stinky pussy.  I open the windows in the room.  I'm annoyed with myself for staying just for that.  She looked like a 6 in the photos but was a 5 at best.
I am tired at this point.  Going to a club doesn't sound good at all and I tell the girl I met I'm not coming when I get a text from Beatrice (girl from Avenida Cinco).  I tell her let's grab a drink.  She's in some place that's kind of far away but wants to meet about halfway in San Isidro at the Westin Hotel.
I agree and by the time I get there it's close to 1:30am.  We have one drink before they are closing but in that time I have got her right back into make out mode (aka pre cock blocked status).
I tell her to come back to Miraflores with me and we will go someplace there.  We go up to some place that's a club and they want 100 soles a piece to enter (might have been total, not sure)  I scoff at this and say let's go to Bierhaus (a place I wanted to check out).  Because of the name I thought it was a bar but it's a club also and they want 30 soles to enter.  I am tired of these bullshit cover charges to go into some shitty club so I whip out my iphone and show photos of me being a "luchador".  The guy just waves me on through.
I hate how cheesy that is but I hate paying to enter lousy places more.
We go inside and the place is pretty packed.  Packed full of ugly people.
And this is my big complaint about Lima.  Online there are some girls that are in the 6-7 range.  This made me think that there would be hotter girls running around in person.  NOT THE CASE.  At least not the case so far.  Sure you'll see the occasional cute girl but most are plain or look like they belong to the peasant class.  I would estimate 1 out of every 70 girls is attractive.
Anyway, I have a few Pisco Sours and then tell the girl we're leaving.  We get home and smash like crazy.  It's nice.  I get a bunch of digital memories but avoid the vagina because she has a huge bush.  I tell her to shave that shit for next time.
The next day we move into the new place which is a better location and even though it's smaller, it's much more comfortable and costs about half as much.
We leave and head to a place called La Mar street where there are supposed to be some very good restaurants.  There is a place called Pescado Capitales that is said to have the best Ceviche.
It is merely ok in my opinion and not as good as the little tiny place I first went.  Also it is 4 times the price which is annoying.  Beatrice is happy to be there though and knowing this makes me ok with it.  She has a pretty smile.
The restaurant itself is big and open and seems nice.
We leave and walk down the street for about 1 kilometer and I'm looking at the many buildings.  Miraflores is a clean area and I like the look of the city.
I ask about the price range to get a long term apartment and it seems like no one has any clue about the median rent rate.  It's all over the map 800 USD to 1300 USD.  Neither of these seem plausible to me but maybe it's true.
We go back to my place and smash again.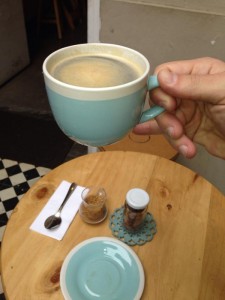 The next two days I am so tired I barely leave my apartment except to meet a girl for coffee (who was fucking fat and insisted on telling me about her religious awakening) and to get some food and water.  And then I was supposed to meet another girl who I had skyped with and was fine but pissed me off royally.  She screwed up the most simple instructions on where to meet me and was an hour late by the time she said she was on her way.  I lost my temper and said fuck off.  I just don't have the patience for that stuff.
I haven't worked out since the burpees on Friday and I'm feeling lethargic and disappointed in this place.
I'm supposed to meet up with the last girl again tonight but I'm not motivated at all.
I am still planning to go see Gotica and Aura but right now, if I hadn't paid in advance for my apartment, I'd be on a plane back to the states.
To be continued…..