The Rich Colombian Girl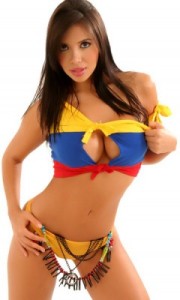 I had been traveling through Colombia and had found a place I liked, so I settled down and got an apartment. One day I was headed out of the apartment to go get some food, when I saw an attractive girl talking to my land lord. The first thing that I noticed about her where her boobs. She had a skinnier body, but these large natural boobs. As a boob man I was hooked. I came up with an excuse to go talk to my landlord, and introduced myself. To know what to say to a girl, just master The Perfect Conversation.
As I talked with her it was clear that me being American fascinated her. We talked for five minutes and I gave her my number. I didn't want to set up a date because it was clear that my landlord and her were friends, and I knew that my landlord had seen some of the many girls I had brought to my room. I texted her later that night and set up a date. We were going to go to meet at a mall nearby.
I arrived a bit late, to see her there waiting for me. She was looking HOT in a low cut shirt that really showed off her main assets (boobs) and overall just bangin'. It was there I first noticed the brand name clothing she was wearing. A rich Colombian girl, OK. I passed the day doing my usual routine, and later that night we went our separate ways. I was confident in a second date, I ended the date early and on a high note because it would have been very difficult to get her back to my place.
A few days later I set up another date. Because I left the other date while my value was sky high, I knew I could get her to do anything with me for the next date. So I went to my favorite. Movie at my place. This is my favorite because I basically have to do no work, and I get sex. I don't have to go meet them anywhere, I just have to stay at home and wait. I don't have to really escalate much, because if they are down for watching a movie at my apartment they are at least thinking we will make out. On top of all that I am very good at disarming LMR (Last Minute Resistance) so sex is almost guaranteed. Everything was ready.
She arrived at my apartment looking good as always. This time wearing a tight dress that, of course, showed off her amazing breasts. We watched a movie, the whole time I just slowly escalated kino. She never rejected even one of my moves. Then I kissed her. The next few minutes I remember so vividly, I wonder if I will ever forget them. As we kssed I started slowly unbuttoning her dress. When I finished the last button, parted her dress to reveal large breasts barely contained by a bra, her nipples barely peaking out. Then I reached my hands behind her back and unbuttoned her bra.
It was the nicest rack I had ever seen or touched, even writing about it gets my heart racing. For me, sexual moments don't get any better than this. I then pulled down her panties with little resistance. I don't think I lasted more than a minute and a half. Grabbing those amazing tits made me cum probably 15 times faster than my average. I remember seeing the wet pool on the bed, she was a squirter, but I wasn't going to complain. That is until I pulled out and looked at my dick.
Where the condom should have been was my dick, and at the base was the remains of the broken condom. I had came inside her.
I remember asking her how long ago her cycle is, and how long it had been since her last period. I knew that on a 1 month cycle, at two weeks in she had the highest chance of getting pregnant. "My cycle is a month long and i had my period two weeks ago." she replied. FUCK…
Ok, day after pills. Even though it was the middle of the night in a dangerous place like Colombia, I was going to get her those pills. I knew that the sooner she takes them, the lower the chance she would get pregnant. We found a 24 hour pharmacy and I got her the pills. It was only about thirty minutes after. Still kind of freaked, out I told her she better go and I went to bed, I dreamt about little 20Nations.
Two months later I was back in USA. I went home one day and checked my Facebook. There was a message from her. I clicked it, and there was a very long message. She was pregnant. How was this possible? She promised she hadn't been with anybody else. Why would she lie? She was rich. I still didn't believe her, and told her that. I closed Facebook and didn't get online for another week.
When I returned I saw that she had scanned a photo of a signed paper from the doctor saying she tested positive for pregnancy. This was happening. For the next couple weeks I repeatedly freaked out saying it wasn't mine, then calmed down and started talking about returning. A couple days later I would repeat the cycle. It had to be very confusing to her. My brother started a marriage because he knocked a girl up, and it has been pretty terrible for him. I wasn't about to do that same thing, but if it was mine, I finally decided, I would do what I had to.
Then I got another message from her.
"Tuve un aborcion." – I had an abortion. –
Wtf! I remember feeling mad and confused. She went on to explain why she had the abortion. It was all because of her dad. It turns out her dad is a big time politician, and in such a Catholic country, his campaigns wouldn't do so well if his daughter had a baby without being married.
I remember looking up information on him. Seeing pictures of him and his family, the girl with the amazing rack, so easy to pick out. I kept reading and saw that her dad was big time. I accepted it as the best. On one hand marrying her could have made me very rich, on the other hand he could be corrupt and marrying her could mean I end up in some ditch in Colombia. My rich Colombian girl was more than she seemed, but  overall, just another little adventure life threw at me.
Check out the beginning of my trip in Colombia here: