I love Colombia
This year was my first visit to Colombia. I initially planned to stay one month, I ended up staying five times longer. It's that great over there; it instantly became one of my favourite countries. There's nothing quite like it and the amount of hot girls is unmatched. Colombiana's are feminine, beautiful, sexy, curvy and generally have fun personalities.
I met a lot of amazing girls living there. Today I'll write about this girl I met in Medellin. She was beautiful, but also… quite loca (crazy).
Super Like
She looked smoking on her Tinder pics so I instantly used my "super like" on her (Super likes work great in Colombia). We matched and I took her on a date to a rooftop bar near my place in Medellin.
When I arrived she was already there and she looked gorgeous. She was wearing a tight short dress showing off her long legs; with her high heels on she was nearly as tall as me.
My previous dates in Colombia had been on auto-pilot but this time I had to step up my game again.
She gave a lot of shit-tests from the get-go. It was a rough start and a battle of wits. Especially since I had to do it in Spanish. I speak it decently, but I'm not fluent; I miss the subtleties that I can use in my native languages. But I won her over and she changed to flirting mode; playing with her hair, touching my knee, etc.
Kino escalated and I made out with her in the bar. Just from the way she kissed me and the way her breathing changed, I instantly knew this girl was a freak. This would be fun.
We finished the wine I tell her about this special beer we should try at my place (changing up the excuses).
While we walked back she briefly relapsed into shit test mode, but I handled it. We arrived in my apartment and immediately went into the bedroom. We started making out and the freak signs were confirmed.
She had some rape fantasies. The best way to describe it is that she would "over-respond" to anything even slightly dominant; like B-movie overacting. It was almost funny.
I got her naked; her body was so sexy, toned, tanned and perfect skin. The sex was great, she was really good in bed. Very sexual, very submissive, very freaky.
A great date, lots of fun. After that date I kept seeing her but when I got to know her better, things started turning sour.
Freaks gonna freak
I had a lot of fun with her; but as it goes with freaks, there was also a lot of drama. There's no relationship without some level of drama but this was definitely in the "too-much" spectrum.
She had some severe character flaws. She would block me for not answering her messages fast enough or completely freak out over Facebook likes. I think she was bipolar. One moment she would be making holiday plans, the other one she'd have a tantrum.
The sex was great, and it was pretty cool to see her on advertisement boards in the city, but it ended up being much drama to deal with, so I stopped seeing her.
Freaks like this are like a roller coaster, you've got to get in, enjoy the ride and get out before you turn sick. Luckily in Colombia, you don't have to feel too bad about next'ing a girl! 😉
Peace,
THC
[content_band bg_color="#ebebeb" border="all" style="margin-left: 10px; margin-right: 10px;"] [container] [custom_headline style="margin: 0;" type="center" level="h4″ looks_like="h3″ accent="false"]Bang Colombia[/custom_headline]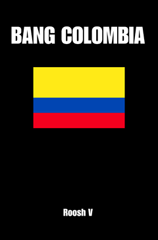 Bang Colombia is a book written by the infamous RooshV. It's for guys who want to go to Colombia mostly to fuck women. It contains tons of moves, lines, and tips learned after six months of full-time research in the city of Medellin, where he dedicated his existence to cracking the code of Colombian women.
[x_button shape="square" type="flat" size="x-large" float="right" block="false" href="http://swooptheworld.com/rooshv/bang-colombia" title="Click for more details" target="blank" info="tooltip" info_place="top" info_trigger="hover" info_content="Click here to view more details"]More details[/x_button] [/container] [/content_band]