In this post I'll share some key Thailand travel information to help you decide your itinerary. The next post I'll discuss how and where to find the best Thai girls.
Let's split up Thailand into four parts: North, North-East, Central and South.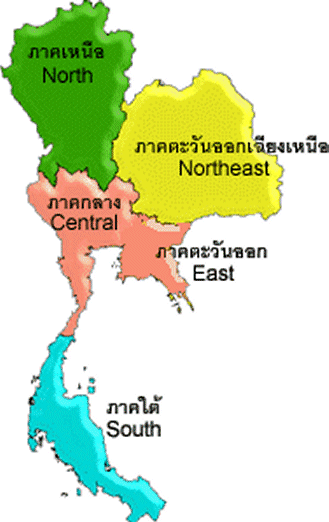 I recommend traveling around the country. Thailand has embraced tourism like no other country and it's quite easy to travel to each part by bus and the flights are cheap as well if you plan them.
I spent most of my time in Bangkok and it's my favourite Thai city.
Bangkok (Central Thailand)
Bangkok is officially the craziest city in the world. No other comes close. That's why I love it: anything can happen at any given time. A Tuesday afternoon beer with a buddy can turn into a two-day epic party binge if you're up for it.
Yes; the city is hectic, dirty, chaotic. Many people don't like that so they will only stay a few days and leave with this first impression. But the city actually offers everything; there are even peaceful parks where you wouldn't believe you're in a big city.
You just need to know your way around and find the gems. Staying for just one week isn't enough to explore this huge city of over 10 million people.
It's SwoopTheWorld's recommendation to immediately date a local girl, so she can be your guide and show you around town.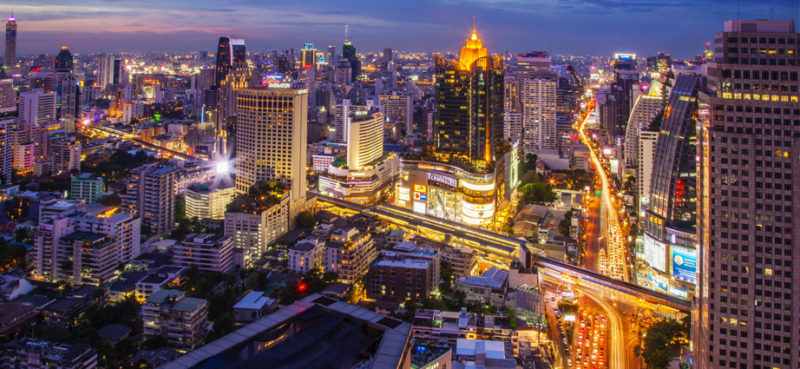 PRO-TIP: Where to stay in Bangkok (to game)
To optimise your chances of hooking up and having a great time in Bangkok I recommend to stay in the Sukhumvit area. Try to find a hotel or apartment as close as you can to one of the BTS stops (above ground metro system).
Preferably Asok, or Thong Lor/Ekkemai. This way you are really close to the action. A lot of nightlife is in Sukhumvit soi 4-12. But also you can make use of the shopping malls to set up your dates (e.g. Terminal 21).
My place was walking distance of the T21 mall and my routine worked like magic. I'd meet them for an ice cream in the mall and then walk to my home to watch some travel pics.
What to do in Bangkok (besides Thai girls)
If you want the cultural "check in the box" for Bangkok, you should visit the following places:
Wat Pho: Go here for your "tick in the box" tourist pic with the sleeping Buddha.
Wat Arun: Go with a girl that will help you figure out how to take the ferry to this temple. Excellent view at night.
The Royal palace: I snapped some pics driving by here from my tuk tuk. If you want you can pay the entrance fee and have a make a slightly different token tourist pic from the one at Wat Pho
Other places near Bangkok
Other places near Bangkok you can visit:
Pattaya: Slimy Disneyland for perverts. It's a gogo-bar world in the next level. Go check it out though, it's only a 2h bus drive away. Don't stay too long.
Hua Hin: Quiet beach town, still has some gogo-bar but has a very mellow vibe. Also a 2h bus ride away.
Ayutthaya: The historical capital of Siam (Thailand). Great for a day trip. You can rent a motorbike and see all the good stuff in 1 day and be back in Bangkok by night. Take a girl!
Chiang Mai (North Thailand)
Chiang Mai is your primary destination in the North. It has a completely different vibe as Bangkok. It's smaller, more quiet and it's a lot cheaper to live too. This makes it a popular spot for hippies and digital nomads.
The nightlife option are more limited, but it can be great to escape the chaos of Bangkok for a while. Rent a motorbike, cruise around, take some Muay Thai classes and do some tourism.
What to do in Chiang Mai (besides Thai girls)
For cultural experiences, be sure you don't miss these destinations.
Tiger temple: Visit a zoo where you can be in a cage with the tigers.
Visit the long necks: It's a nice day trip with elephants and this tribe of long necks.
Muay Thai classes: Take a break from partying and focus on getting in shape with some Muay Thai classes
Other places in the North
Other places near Chang Mai to visit:
Pai: Not so much for girls but some spectacular landscapes
Chiang Rai: Close to the Myanmar border. It has a white temple. Never been here myself, I'd like to check it out next time.
The islands (South Thailand)
Krabi, Koh Samui, Koh Phi Phi… etc.
It's what the foreigners love. You have your idyllic picturesque beaches that look like they're straight from a post card. Except when you put your camera away, you notice you are surrounded by backpacking foreigners with dreadlocks and Chang Beer singlets.
It's fun and worth visiting for a few days max. Don't go for girls or the overhyped "full moon parties". Your exotic value drops to zero here. Take your favourite girl from Bangkok for a week and chill.
Phuket
Phuket is pretty cool though. The island is much bigger and it's a pretty fun place, it has some nightlife and there a decent amount of Muay Thai schools and camps you can attend.
PART TWO
In the next part of this Thailand travel information series, I'll get into details on how to find the best Thai girls. If there's any specific issue you'd like me to address leave a comment below.
Greets,
THC