Part 4: Honduras
I was glad to leave Nicaragua behind. From Managua I took a bus straight to Tegucigalpa. Whenever I mentioned I was going to Honduras, I got a response ranging from "Be careful" to "Do you want to die?".
"At least stay away from Tegucigalpa!"
Both Honduras and El Salvador have a bad reputation for violence and their homocide rate. But is it really that bad?
Dangerous?
For sure some places are more dangerous than others, and looking at the cold statistics it doesn't look good. But these stats have to be put in perspective. 99% of the violence is gang related and won't affect you as a tourist in any way.
So don't let it deter you to visit. With normal common sense you don't have anything to worry about.
Follow these two pro-tips:
Don't wander around to areas you don't know anything about.
Ask the locals and do as they do.
That's it. You will be pleasantly surprised. Tegucigalpa is an amazing city. Whenever I told the locals that a lot of people had such a bad view about their city they had to laugh.
Disclaimer: On the other hand… Even though these countries not as a bad as they are portrayed to be, every girl I met had be robbed before in her life. These muggings occurred outside the city centres in places you normally don't come as a casual tourist.
Arrival in Honduras
I arrived in the bus terminal just outside the centre of Tegucigalpa. It was easy to find a taxi to take me downtown. I had reserved a private room in a hostel for around $30 a night. It had a perfect location; walking distance from the historical centre.
The hostel offered a free daily walking tour. I was the only person in the hostel, so once I unpacked my stuff, the hostel dude showed me how to get to the centre and we visited some interesting places: the central square, the national theatre, shopping malls, …
This was a perfect way to get a feel for the city.
The historical centre is quite beautiful, a nice place to explore with lots of people in the streets and you don't see a lot of gringos around.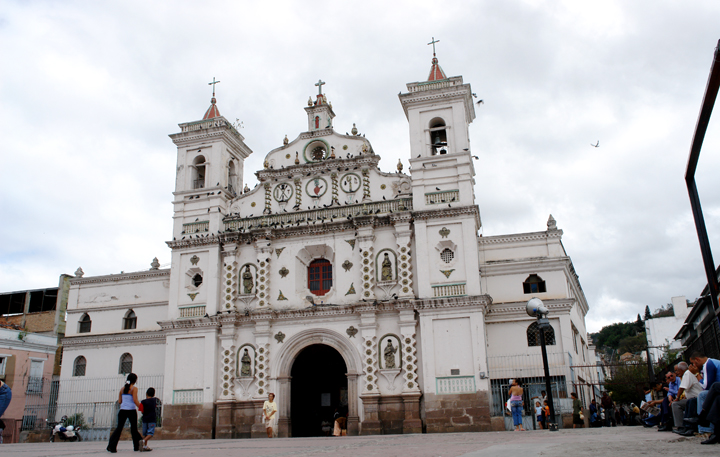 I was dead tired from the ten-hour bus ride, so I just bought a local sim card and called it an early night. Resting in my hostel room, I texted some girls whom I had pipelined and set up a date for the next day.
Online Game: The Coolest Girl
I met this girl at 3 pm in front of the Cathedral in the historic centre. From the moment I met her, I had an instant connection with this girl.
It didn't even feel like I had to game her at all. She was funny, smiling, positive and just cool. This doesn't happen a lot, it's so refreshing when it does.
We went to the oldest bar in town and tried some local beers and drinks. This bar is as real as it gets. It's full of old guys who are day-drinking and joking around, an amazing atmosphere.
After some drinks and with a slight buzz, I told my girl it was my turn to give her tour of her own city. I took her to a picturesque square that I remembered from the walking tour. We stopped in the middle of the square, surrounded by the old church, statues and colonial buildings and I made out with her there.
Very romantic 😉
I then proposed the genius plan to buy more wine and drink it at my place. Smooth as silk.
This was a first-date that I actually enjoyed. We hung out in the hammocks at my hostel and chilled till the night fell and the stars came out. When the wine was finished we went to my room, started making made out, zero LMR escalation; I had a great sexual connection with her as well.
Honduras flag: Captured.
I think she stayed till midnight and I didn't feel bored or annoyed for a minute. A really great night and one of the most effortless and fun dates in a really long time.
During my date I had been getting messages from other girls to meet up. Online game has some potential in Tegucigalpa. You'll run out of girls to swipe pretty fast but the matches you get are pretty solid.
But I didn't care about hunting notches and decided to spend the rest of the weekend with this cool girl.
It was the right call. I had a legit awesome time with her and her friends. We visited different places and did a lot of cool stuff.
We went on excursion to one of the mountain tops surrounding the city. They built a statue of Jesus, Cristo del Picacho, like the one in Rio de Janeiro. The view from the top is spectacular.
We went to a neighbouring town to do a wine tasting. Apparently Honduras makes wine: the more you know.
We went to a techno party and rolled on MDMA together, the quality wasn't as good as at home but still a crazy and fun night.
I really enjoyed my stay in Tegucigalpa. The city has a lot going on, I feel like I barely scratched the surface and I definitely plan to come back and stay for a longer time.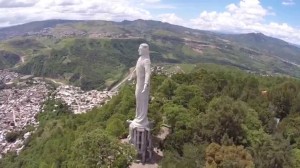 Day Game: Biggest Ass
Then Monday came, the weekend was over. My girl had to go back to school. I decided to try out some day game. I had already spotted the potential for day game during the walking tour. Time to field test.
Something I noticed, Honduras girls are very varied. But a lot of them have great asses. Big asses.
I went to a mall and saw a girl with a big, round ass sitting by herself. She was wearing stretchy yoga pants, it was like ass-poetry. I approached her and we chatted for her while. She was waiting for her sister. She seems into me and started getting flirty, playing with her hair, but suddenly the sister arrived.
I talked to both for a moment and exchange numbers with her and went on my way. I walked around the mall looking for more girls but a few moments later the girl with the big ass was already texting me. I must have been approved by her sister 😉
We meet up at the same place we met earlier. The sister already went home. As she walks up to me, I can now see the full glory of her butt. It's huge. Hyuuge.
I can't even lie about it; I like it. I'm getting a boner just looking at her.
We continue our conversation from earlier. She's not really smart; but seriously, that butt. Who cares.
I let her know it's my last day in Tegucigalpa so she knows there is no point in playing hard to get. It works in my favour.
After one drink we go to my place "to watch my travel pics". It doesn't really matter what excuse you use if the girl wants you, but you still have to play the game (read 20Nation's post on 'Excuses to get the girl to your place').
The watching of the travel pics doesn't last long and we start making out on the bed. Her ass is rock solid. It must have been the biggest ass I've ever had.
Until then the date had been going really smooth yet I'm getting a lot of LMR. It's always key to find out what is causing the LMR so you can mitigate. She was really worried about unprotected sex. I insure her that I have condoms and that it's safe.
Finally she relaxed and let's me take off her pants. What a glorious moment. Half way her pants get stuck on the widest part of her ass; I really have to wriggle it off: Praise the lord for big butt Latina's!
My second Honduras flag. I really like this place.
<3
Gotta Keep Moving
Too bad it was my last night, I would have been perfectly fine hanging out here for a while with just these two girls.
But I had already booked a flight in San Salvador so I had to get there fast. I stayed longer in Honduras than expected and I still had a mission to complete.
My extended stay meant I had exactly ONE MORE DAY to capture the flag in El Salvador!
That's for next week's post. Stay tuned.
Peace,
THC