Quick announcement.
It's the last month of 2016, and we are almost getting ready for a new year of wacky adventures.
SwoopTheWorld is getting a brand new design. I've been working hard on this for the past week. We will revise the information architecture to make the blog easier to navigate and easier for you to find relevant content.
The redesign will allow new features to be implemented more easily and allows SwoopTheWorld to keep growing in the years to come.
Some things to anticipate:
More responsive across devices (resolve picture issues)
New maps to find our content easily per country
An advanced grid search functionality to find archived posts
A user forum for our community to exchange ideas
Better social media integration
A video section (with actual new videos)
We made the decision not to take the blog down during this transition. You will be able to continue access all content. However, it is possible to experience some layout issues while we verify the new design and we may take down some menus/widgets/plugins as we are replacing them.
We have created nearly 400 posts since we have started this blog. So this may take a while.
Here's a sneak preview (with mockup posts):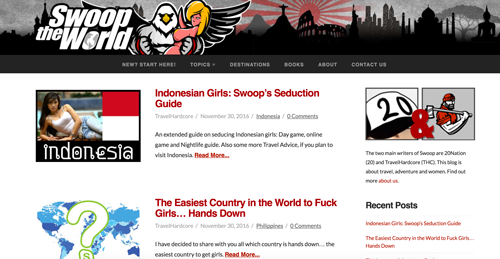 Peace,
THC & 20Nation