After countless requests and talking about it for a long time… we have finally done it, we have created a FORUM! It's called: Swoop The World Forum.
The topics of interest on this forum will center on:
We want to bring together a community of like minded people and provide a place where information can be shared, questions can be asked and stories can be told.
Everything of interest for the red pilled traveling man can be discussed but this will not be a political forum; there are plenty of other places to discuss these topics in the manosphere.
Together we will make this forum the number one place on the Internet for this travel niche.
First 100 Signups Get Special Status Forever
We are going to make this forum amazing and, to reward our founding members for helping to make it great, we are going to give the first 100 members a special status (with tag) on the forum forever!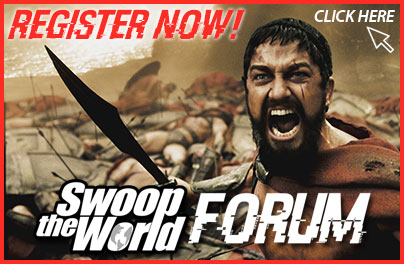 [x_callout type="left" title="Register Now!" message="The first registered and contributing users will receive a special user rank that will be kept indefinitely. So don't procrastinate and register your username of choice right now. " button_text="Register Now" button_icon="check" href="http://www.swooptheworld.com/forum/"]
Link: http://www.swooptheworld.com/forum/
See you there!