Inner style has been a regular reader on Swoop for a long time. We inspired him to take an 8 day trip to Cebu City, Philippines and the story below contains the amazing experience he had. He sent me a collage of all the girls from the story, unfortunately here at Swoop The World  we don't reveal the identities of anybody, so I had to put little Philippine flags on the faces of the girls. Enjoy.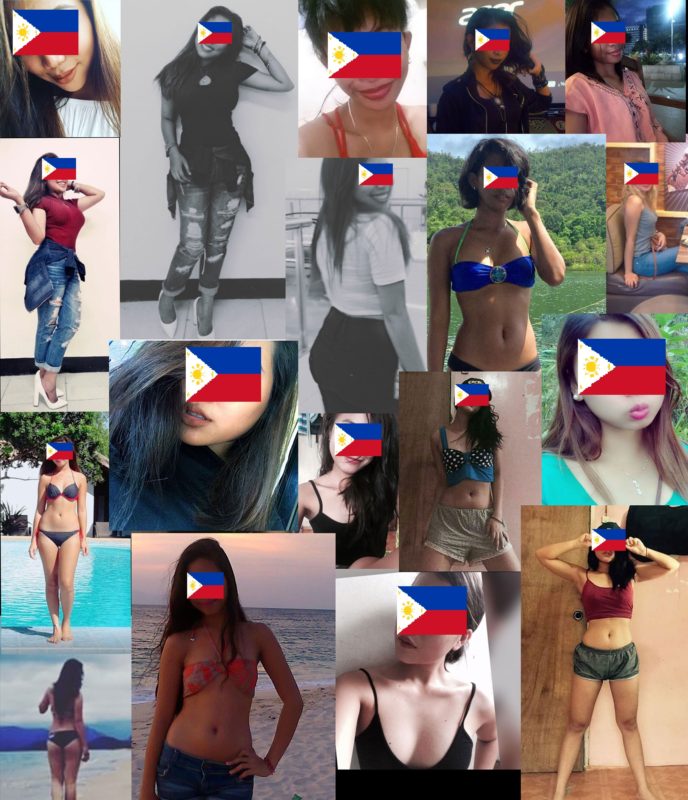 Just got back from a quick and crazy eight-day trip to the Visayas, the central Philippines. This place is something special — the perfect combination of beautiful beaches, rich and vivid culture, and hot and unbelievably horny females. I banged six different girls in my eight nights, and three of them came back for seconds. All but one was an 8 or above.
Myself
I'm 26, caucasian, 5'10. I'm fit but not incredibly so. My face is passable but nothing special. I have decent game and a deep understanding of the principles of attraction. Back home in San Francisco I can easily attract 6s and 7s, but girls past that think they're such hot shit and are lorded over by hordes. The feminism runs deep here. I make good money in the tech industry, but 💰 isn't very highly valued here. I like my women thick and submissive.
My Pipeline
By far the best way to game girls here is Tinder 🔥. Fork over the $10 for unlimited swipes. I had a very minimal profile with a single bad joke and three pictures. Within two days I had over 100 matches. These girls *will* message you first, but usually not the cutest ones. I was swiping right quickly, and I had at least 30 desperate messages from 5s and 6s. There are tons of 6s in the Philippines.
One in ten girls on Tinder is bangable, and one in twenty is hot as fuck — fewer goddesses than some countries (Brazil, I'm lookin' at you), but way more than enough to keep a man deeply satisfied. The hottest girls *will* respond to your messages, and they want you to succeed in getting them. But they're not gonna hand it to you, your game needs to be on point. Here's an opening line I used with incredible success:
Which of these is your favorite? You can pick two:
🚗 💅🏻 😘 🍺 💰 📚
Every single girl I sent this message to replied. Some didn't answer the question immediately, in which case I would playfully imply they needed to pass my test or I'd next them. But most of them picked two right away. It's perfect because no matter what they say, there's a perfect tease to follow. If they pick "🚗 😘" you make fun of them for already wanting to make out with you in a car. If they pick "💅🏻 🍺" you make fun of them for being a shallow party-animal. If they pick 💰 at all you tease them for having their priorities straight in life. It's foolproof.
The main theme I cannot impress enough is *you need to take on the selector's frame* They are clamoring for your attention, and you are playing fun games with them to weed out the best. You still need to be a man — they love dominance and money — but you are the selector not them. Often in game back home it's hard to "keep frame" that you're the prize, especially in a live environment like a club or party when the girls are at their most bitchy and high-value. But in the Phils the frame of "I'm the absolute shit, every girl wants me" is so easy to keep, because the girls will constantly re-affirm it for you as soon as they smell a hint of that confidence.
After opening these girls, get their number on WhatsApp. That shit is the best chat app, as it's end-to-end encrypted, and it lets you see if the girl has seen your message. Makes logistics for the hookup much better, and you can send gifs and images and do video calling, but there's none of that pay-to-play bullshit on the shitty apps like Viber or Line. It's all free which is why the all use it.
Quick note about ranking women:
I do it the proper way, as percentiles. A 9 means she's hotter than 90% of human females on earth. Round to the nearest integer (thus 5% of the population are 10s because they're over 9.5)
The Girls
The cute little dumb one
name: M
age: 19yrs
Face-Tits-Ass: 9-7-9
In the airport on my way to Cebu, I video-called one of my prospects, M, and told her to meet me that night. She said "I have my work but I will make time for you 😘" This girl was cute. 9/10 face and a super feminine little body, and more ass than I'd hoped for. She was 19 and super innocent, a "province girl" who'd only been in the city six months.
I go to the mall, SM City, and she's not where she said she'd be. Bitch. She texts me telling me she went home, so I give her shit for wasting my valuable time, then take a taxi to her place. She makes me food, then we make out. Her older sister cock-blocks me saying she can't see me until tomorrow. I press M to make her own choices, and she clearly wants to go with me, but her deep-seated cultural ties to her family win out. She's not much for a conversation and not a great kisser (very timid), so I decide to next her until she contacts me again.
The desperate one
name: S
age: 20yrs
Face-Tits-Ass: 5-6-6
I go back to my hotel (now midnight), ready to sleep and a bit pissed at M, when a random girl from Tinder tells me to come over cuz she's horny. This shit has never happened to me in the states. I swipe her pics and see that she's a very solid 6 — not hideous, but nothing special. I'm blue-balled already so I agree. When I get to her place she tells me her first ever boyfriend just left because they tried to fuck for the first time but he came before getting it inside her. She's 20 and still a virgin. A bit of an ugly face but a decent body. I can tell she wants a real fuck, so three minutes after arriving I start giving her a super dominant pounding. She literally loses her mind, and she orgasms four times before I cum all over her little tits.
She tells me she'll never forget me as long as she lives. I alpha-widowed her with one hour of my investment. She knows I'm never texting her back and she likes it that way.
Back to M
The next day M texts wanting to meet up hard. I agree, and tell her to come over and swim. She says she has no swimsuit (shit-test) so we meet at Ayala Mall and I buy her a bikini (shit test passed). I take her to the hotel and we fuck. She's super innocent and doesn't know how to touch a penis. She gets so nervous that her hands turn cold and she starts shivering (it was far from cold). I give her strong signals that she's in good hands, even though I know this will be the last time I see her. After I put it in she starts bleeding a lot, so we take a shower and hit the pool. We fuck one more time, this time she's a little less terrified of me and seems to enjoy herself. We grab dinner — she walks around town on my arm to show me off. She wants to go back to fuck again but I tell her I'm leaving early the next morning. She starts crying as I put her in the taxi to take her back to her home. She could be my sex slave if I invested in teaching her how.
The Perfect One
name: P
age: 24yrs
Face-Tits-Ass: 8-6-9
The next night I'm in Moalboal (Panagsama). This place is 👌. Small town with good night-life and incredible diving / snorkeling and world-class beaches. Check out Chili Bar at night and stay at one of the cheap hostels nearby.
I'm at Chili (one of the two bars that gets bumpin' on a Wednesday). Mixed crowd of about 50 people, probably 30 Filipina women and four other foreign men. Everyone's playing pool and flirting to shitty music and $1 beers.
I notice a cutie across the bar, but before I can approach she approaches me and introduces herself. I can tell she wants it already but that she wants me to play the game. We flirt, I blow her off casually to play pool with another girl, then isolate her at the end of the night by the beachside view. We start kissing and she takes me back to her home on a motorbike taxi to fuck. She's got a nice cute face, big eyes and big lips. But her ass is the killer part — the kind that pops in her booty shorts and jiggles when slapped. She likes it rough. Incredible night. Night game made easy.
The next day I snorkel, visit the nearby waterfalls and generally enjoy paradise. I go back to the same bar that night and the same girl is there again and super DTF. We play the same business and it's just as good the second time. She tells me I'm perfect and we fuck four times that night/morning. Definitely the "white god" factor at play.
Little Smart One
name: L
age: 22yrs
Face-Tits-Ass: 7-10-5
I head back to Cebu after 2 1/2 days in Moalboal. On the bus I make plans with a Tinder match who's really fit and tiny. I tell her to meet me for dinner near my hotel, but she says she can't meet until later. In California that means you're getting blown off. In the Philippines it means she wants to fuck your brains out, and doesn't need to go to dinner to decide if it's a good idea.
She comes over at midnight and instantly jumps my bones. The sex was OK and she was super feminine and energetic, but she was too skinny for my taste. She has incredible little titties tho, perky C cups on an 80lb frame, no ass and a 7 face. She was smart tho. Brief pillow-talk was genuinely interesting and I liked her post-sex vibe.
The Party Animals
I spent the next night in Bohol. This was the only night I came up empty. Shitty night-life in my opinion at Alona Beach. Mostly tourists and no good parties, just overpriced pub fare and bad karaoke. I was tired after a full day of snorkeling (incredible fish and dolphins on a $5 boat ride). Packed it in early. After another day in Bohol watching the tarsiers and traveling the forests with a cool older gentleman from Europe I met the night before, I decided to get the boat back to Cebu. I went clubbing that night, my first time at the big clubs.
I started at OQtagon by J. Ave. This place is big and upscale and filled with Koreans. So many Koreans. They are all too afraid to dance so the dance-floor is empty even tho the music was dope. At least 90% Korean tourists, and 2 guys for every girl. I see one hottie (a 9) with her three friends, but I decided to ask her way less attractive (5) friend to dance first, thinking I'll get the "wanted commodity" vibe on the return, but it backfires. Instead of investing in the only hot girl here, I decide to roll to Mango Square across town.
This place is OK, but apparently not as great as its former self. I heard three or four clubs have shuttered in the last two years. But there are still two good clubs. I finger-fucked a super wasted girl with a nice body but a weird face, then made out with and got the number of a super cute girl (a 9), the hottest one in the club at 3am. This is the kind of girl I would get blown out of the water with back home. She told me she was a good girl who never goes out, even tho I know that's not true. She texted me at the airport two days later wanting to meet up.
The Queen Bee
name: Y
age: 21yrs
Face-Tits-Ass: 9-8-10
This whole time the past four days I've been texting a stunner from Moalboal I met on Tinder — gorgeous face and a bikini-perfect body. She's super cool too, funny and cocky, and we met up once during the afternoon in Moalboal. After she flaked on me the first nite (the night I fucked P), I had to call her bluff until she realized I have the inner alpha and am not gonna do whatever she wants — she wanted to be my "tour guide" the next day and I said I'm not interested in a cheap tour guide. After I straightened her out about who's in charge, she couldn't stop texting me.
She took the four-hour bus ride to the city to see me off on my last night. But I'd already scheduled with L, from three nights hence. I told L to come over early, fucked all afternoon, then told her I had an early flight the next day and needed space to pack. She offered to help me pack, but I told her no and she left around 6pm. The Queen Bee got in from her bus ride at 7pm and we fucked all night and again in the morning. She definitely played the hardest to get, but was also the best sex of the trip. Perfect way to send me off. She *did* help me pack the next morning (my flight wasn't until noon) and made playful fun of me for obvious indicators that she was hardly my first girl of the trip (bikini in luggage, condoms in the trash can). I'm still texting and video-chatting her back home 10 days later and she tells me things like "you're for keeps" I could definitely wife her at the drop of a hat. In 20 years that may be a great option.
Three Key Takeaways
(1) These are still females
It's easy to get into the mindset that the Filipina is a different biological creature than the American Female Human. But at the end of the day they have the same drives, the same shit-testing and the same attraction triggers. Ideology (feminism, I'm looking' at you) is only the *thin surface* of the female brain. That deep dominance-hierarchy drive is at the bottom. Great lesson for back home.
(2) Play hard to get
She doesn't want a clown. She wants a sophisticated traveler who enjoys himself first and women second, and who can provide order to her feminine chaos. I have good *indifferent game*, and that's where I built attraction the most. It's not that hard to not give a fuck and tease the shit out of them.
(3) Enjoy your vacation — they'll follow
Logistics are hard here. If you know what you wanna do that day, do it. Don't work around her schedule. I had a 9+ girl drive four hours to see me, because she knew that I wasn't going to bend to her feminine whims.
Stay thirsty my friends.
Inner Style