After the adventures in Cuba, Fisto, THC and I decided to hit Springbreak in Cancun, Mexico. Springbreak has been on our bucketlist for more than a decade, so we had to do it. Springbreak is all about tits, bodyshots, hot drunk sluts and epic parties, right? Ow yeah!
Cancun
Cancun is a Mexican beach-town that consists of two parts: the "Zona Hotelaria' which is a narrow but long beach strip lining one resort next to the other, and the "Centro" which is the actual city. We choose to sleep in the centro as it offers cheaper accommodation and restaurants. All the Spring Break action happens in the zona hotelaria, an area that looks like Las Vegas. No, you have not been in Mexico when you only went to Cancun. Taxis between the zona hotelaria and centro are expensive (200 pesos), but you can also take a bus all day and night long for 9,5 pesos.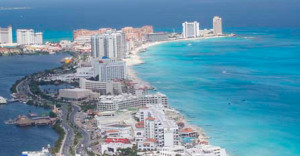 Standing out with Oxxo drinks
After dining ourselves into a food coma with delicious Mexican food, we decided to hit the springbreak action which is concentrated around Plaza Americana in the zona hotelaria. There you have many clubs such as Coco Bongo, Madala, Daddy O's, etc. Entrance tickets range from $40 for the less fancy spots to $90 for the more popular spots – these prices include open bar. No way we would pay $90 as budget travelers. More on that later 🙂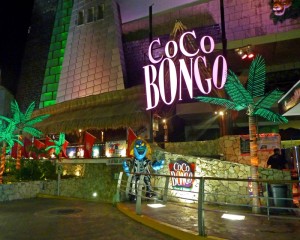 As in our Thailand tradition, we went to the Oxxo (the Mexican Seven Eleven) to buy cheap alcohol and mixers and we start drinking in the middle of the action to observe all the party goers. Hmm, that didn't look promising… The crowd was miserable mix of ugly fat American chicks looking like lobsters from their sunburns and American guys dressed in flip-flops and over-sized clothing. Together they looked like walking zombies with their party yard cups in their hands.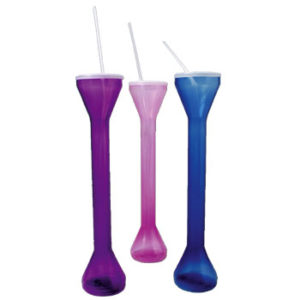 Although we looked cheap as well with our Oxxo-cups filled with our drinks, we were the only partiers dressed in jeans, dress shoes and a (fitting) shirt. That's all we needed to get approached by a waitress of a $70 club. She suggested herself to give us free entrance, in change for kisses on her cheek. She was kind of fat so I'm glad she wasn't asking for a French kiss, although I would have done it to get in for free. So we did give her a peck on the cheek and went inside.
Meet the bouncers
We enter the place and order gin & tonics. The buzz we got from the drinks was better than the quality of birds inside. But we didn't give up, yet. Our drinking without the all you can drink bracelets caught the attention of a bouncer. He called some more bouncers and the manager of the place but thanks to THC's Spanish, the tumult was soon deflated and we could continue drinking, for free. Yes, just making a good effort speaking Spanish makes you stand out from all the other partiers that only speak English, even though the waiters speak English as well.
Suddenly I notice a girl checking me out. A latina looking girl with heels on that made her booty stick out. She wasn't as hot as the last sentence would have you believe but she was definitely bangable. So I smoothly start talking to her, which soon turned into dancing and kissing. She was there with 1 other guy and a couple. Damn, that doesn't look like solid logistics. But then she starts grabbing my dick under my pants, a sure DTF sign in my book!
Meet the cops
So after a while the five of us leave the club and walk to their hotel (Fisto went already to bed in our hotel room). The other guy of their group was already getting pissed off because I was going to smash that girl, but they weren't a couple so I couldn't care less, at least at this moment.
Unfortunately the angry guy got caught peeing in the bushes by the cops. Either he had to spend some hours in jail (the option I suggested to the group), or either his friends had to bribe the cops (the option they ended up choosing).
During the bribing process I decided to grab a cab with my girl to her hotel, as it seems to be much further than expected. In the taxi I was treated with a wet and deep blowjob, just as I like them.
Once in her hotel suite we get into bed and start feeling each other up. Unfortunately, the others also arrived shortly. The angry guy was now even angrier because he had to pay the bribe and he storms into my girl's room, breathing heavily through his nostrils and left the room slamming doors. I continue the sexual escalation and start smashing her. She was dripping wet.
A smooth escape
The sound of me smashing the girl didn't really help the angry guy to calm down; I'm pretty sure he had a crush on her, let it be a lesson my boy. I could hear him in the other room shouting louder and louder how he "would smash face" and "break my nose".
I have a saying that barking dogs don't bite, but from the other hand I didn't feel like fighting with a guy that totally lost his temper, I'm no fighter like Fisto or THC either.
So I decided to round things up and came inside her. I put my clothes back on and decide to leave their hotel suite via the terrace as to avoid a potential fight. Golden touchdown in Mexico and a fight avoided.
Conclusion
Springbreak in Cancun is an overpriced cockfest full of drunk and ugly zombies with the odd "USA USA" screaming in between. Not recommended. Stay away.
Guest post by Smooth Operator

Hi, I'm Smooth Operator. Got my name after a legendary evening in Malibu where I was anything but smooth. My passions are traveling, exotic women and gin tonic. Currently I'm traveling with Fisto and THC in Central America.