San Jose, Costa Rica – Ticas, Drug Addicts and Chinese Immigrants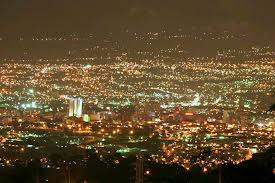 Welcome to Costa Rica
I had just finished my month long trip to Nicaragua and I was about to arrive in San Jose, Costa Rica. The long bus ride, left me exhausted, but I would still have a bit of time to see the city.
When I arrived, I found a taxi and asked him to bring me to my hotel.
"This hotel doesn't exist. They closed down yesterday." The taxi driver said.
I didn't believe it. The hotel was close to the bus station and it was common for taxis to want to bring me to a place much further away so they would make more money. I decided to find another taxi instead.
"That place just closed down." Wow, seems that the first taxi wasn't lying. I asked the taxi driver to bring me to a cheap hotel nearby and he agreed.
According to this guy, the reason that the hotel was closed down was because it was owned by a Colombian guy. This wouldn't usually be a problem, but his hotel was in the middle of a barrio of the city controlled by the Dominicans. These Dominican gangsters told him to leave over and over again until they finally burnt the hotel down.
Damn. Welcome to Costa Rica.
Chinese Immigrants and Drug Addicts
He took me to a 20$ hotel not too far away and I got a room. It still wasn't too late so I went exploring. I noticed that there was a ton of homeless people on the street and walking around. I must not have been in a good area.
I kept walking and got some food, then I stopped at a grocery store to get some more food to bring back to my hotel in case I get the midnight munchies.
I walked in and saw that there were two Chinese teenagers running the store. The girl was particularly cute. She wore these tight pants that showed off a suprisingly Latin ass.
"Puedes ayudarme encontrar algo? – Can you help me find something?" I asked the cute Chinese girl.
I started small talk, then started teasing her a bit. I got her laughing and she walked me back to the register to check me out.
"Tu tienes Whatsapp? – Do you have Whatsapp?" I asked her. She did and I spent the next couple of hours chatting with her on Whatsapp. Her parents wouldn't let her go out late that night, but we set something up for the next night.
I had pipelined a girl with a cute face from online and we were going to meet that night anyway.
We met at a bar in a nicer part of town. I recognized her cute face, but her body was not like in the photos. She had let herself get chubby and had that characteristic square body. If she lost just 15 lbs of wait it would have been fine. She had this naturally beautiful face and a pretty interesting personality and I tried to make myself like her for the Tica flag.
She insisted on buying my beers and dinner and it was clear that she wanted me badly. At the end of the night she asked if I wanted to go to her place and drink more beers. I looked into her naturally beautiful face and almost said yes, but as my eyes drifted downwards I realized that as cool as this girl was I just wasn't attracted to her.
"Es tarde, debo irme. It's late; I have to go." I told her.
More Drug Addicts and My First Look at Ticas
The next day I went exploring to see more of the city. I saw more homeless people than I have ever seen in my life. Comments from locals saying how the surge in the Costa Rican economy and the fact that Costa Rica is part of the drug route to USA, had given CR a very big drug problem.
I could see it with my own eyes. There were better parts of the city, but you could see these addicts everywhere.
As I walked I looked at the local Costa Rican girls known as Ticas. I had heard that they were very pretty. I had seen some cute ones in a club the night before and today I definitely saw some walking around. They were cuter than Nicarguan girls and even the best looking that I had seen in Central America, but still not as attractive as I had heard. There were other Latin countries with much prettier girls IMO.
These girls were much whiter than girls in most other Central American countries, so I think that plays a big role in the stereotype.
A Date with a Latin Chinese Girl
Later that night I met up the Chinese girl with a Latin ass at a local mall. She wore a different pair of tight pants; if you got it, flaunt it and she flaunted it well. We got an ice cream and talked for a couple hours. She had a very happy personality. Her Asian eyes were always more Asian because she would usually be smiling or laughing. What a sweet girl.
I didn't want the night to end so soon, so I suggested we go see a movie. About 20 minutes into the movie I kissed her. It was excellent. I won't kiss a girl in the movies or even before we get to our room unless there was a strong connection and we had one.
It was hard to say goodbye that night, but she lived with her strict Chinese parents and she had to go. I gave her a kiss goodbye and called it a night.
My Last day in Costa Rica
I only had one more day in Costa Rica before I left for Panama and I wanted to spend it with the Chinese girl.
I met her that afternoon and she showed me some cool places around the city. It was strange to talk to such an obvious Chinese girl in Spanish; I could hear her strange accent. To be honest though, it was kind of sexy; it made me want her more.
From there, I invited her back to my hotel to look at some pictures. The second she entered my room we started making out and I wasn't even able to open my computer to show the pictures. We had sexual chemistry.
I started taking off her clothes, expecting everything to just happen. However, this girl was fighting the desire she felt for me and she kept fighting for another hour or two. Finally, she gave into her desire and I was able to take off her panties. She was very tight.
The sex was excellent even though she was quite inexperienced. We did it two more times that day before she had to return home.
It was hard to say goodbye, but another country was calling.
I never got the Costa Rican flag, it was the first country I had visited without getting a flag. However, I was happy with the girl I had hooked up with. I will get my Costa Rican flag some day… I'm not worried.
What's Next?
The next morning I was on my way to Panama City, Panama. After Panama I was planning on going to Colombia. I originally wanted to go straight to Colombia, but the flights were ridiculously expensive from Nicaragua. It was better to check out Costa Rica and Panama, then fly from Panama to Colombia. I had this urge that I couldn't hold back anymore, an urge to return to Colombia. But first… Panama.
Follow the next chapter of the story in Panama here: