My one fond memory from working in corporate hell was when somehow I had arranged to land an expat project in Rome: Rent & travel expenses paid, double salary and half of the work, abroad. For one year corporate hell became corporate heaven.
I got a nice apartment in the center of the city of the seven hills. My job was basically showing up at the office, so there was plenty of time for horseplay & monkeyshines 😉
The best fun was of course when my friends came over to visit me and to experience the rich history and culture of this marvelous city. My friend Science was in the front of the line with the perfect excuse to get a weekend away from his girlfriend… An hilarious weekend was about to take place. Together we took the roguery to the next level.
Once every blue moon you experience a night where everything goes wrong and no matter what you do it just keeps getting worse.
This is the story is the opposite of such a night: Everything that could go right happened.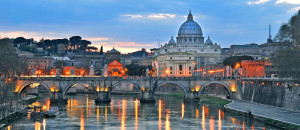 Perfect Night
At that time there was a daily pub crawl for tourists that started at the Spanish Steps or the Colosseum. The concept: a group of tourist meet, have free drinks at a first bar and party together for a night in various locations. It was a hit-or-miss depending on the night, the people that showed up and the weather. Usually the ratio guys to girls was pretty shitty but sometimes it was good for some solid fun.
After joining them for a few times I got to know the staff, so for the remainder of my stay I could join this pub crawl for free.
So that's how our great night started: Free pub crawl and free alcohol!
The First Bar: Plant a Seed
The group was fairly big (about 50-60 people) but not especially great that night, with about a 4-to-1 guy to girl ratio. The golden key of such a setting is to make your move FAST. After the first bar (where the drinks are free) all the other dudes will be drunk. With their liquid courage rising by the minute and the shitty ratio: You snooze, you lose.
There were only a few cute girls but 2 girls had caught our eye. They looked young, a bit shy and they seemed to be by themselves. The perfect set. We immediately started talking to them. It turned out they're two friends from Spain. They didn't speak English and we didn't speak Spanish (at that time).
Nonetheless, with some hand gestures and the few Spanish words we knew from songs we managed to make some small talk. They were both 18 and were on holiday with their parents. It was their last night and so they were allowed to go out that night.
It was hard to keep the conversation going due the language barrier so we decided to socialize with some other people from the group rather than stalling with these Spanish girls.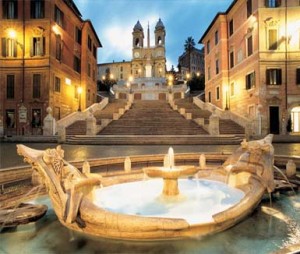 Second Bar: Make a Move
After the free drinks, everybody moved to the next bar and we lost track of our Spanish girls. When we finally see them again on the dance floor they are dancing with 2 dudes. Fuck, we KNEW we had to act fast and still we messed up.
But as we are cursing ourselves, we see the 2 guys walk away from 'our' girls to buy some drinks at the bar.
Science looks me in the eyes: Now.
We walk over to the girls and start dancing with them immediately. They don't mind. It was established anyway we couldn't communicate much. In fact I think just said 'hey', danced for 30 seconds and then started to make out with her.
I look over my left shoulder and I see Science making out with his girl as well. I look over my right shoulder I see two guys, open mouths and double drinks in their hands: Ouch.
Third Bar: Isolate
We had recovered but now moving to the next bar of the pub crawl was the most challenging part of the evening. It was a 10 minute walk, meaning we had to resolve back to talking with these girls in our shitty Spanish while fending of a fucking army of drunk cock blocking guys.
Luckily we make it to the final bar so we could stop talking and continue making out. Now it was time to take this to the next level. I feel like my girl was down. I tried taking her to the restrooms of the bar but there was a queue of 20 people: not an option. My booze-inspired plan B was to find a dark alley near by. So I grabbed her hand and walked her out of the bar and into some random streets. My idea was the darker the alley, the better.
Finally I find a suitable spot a few streets further. The street was still lit but there was an open leading to a little square that was dark enough to provide the privacy I was looking for. It looked like private property so my girl got a bit scared to go in. I'm reassuring her in a mix of 3 languages but just as I'm about to walk passed the gate I hear someone yelling.
"YO THC!"
It's Science! He had followed me from a distance and was walking towards us hand in hand with his girl (my girl's friend). For a moment I think this might complicate my plan or that it would make the girls rethink the situation… but the opposite is true.
The four of us sneak passed the gate and into the darkness. I take the left side of the square and Science the other.
My girl drops instantly drops to her knees, unbuckles my belt and starts giving me one of the sloppiest blow jobs ever. She's face fucking herself on my dick making herself gag occasionally in the process, now that's dedication. By the sound of it, the same was happening to my friend.
Just as I cum in her mouth suddenly a bunch of lights turn on, lighting up the whole square. A door opens; it's the janitor.
"Cazzo, what's all this noise. This is private property! I'm calling the cops!" [in Italian]
Apparently the dark square was the parking of an apartment block and we had woken up some people from the lower floors. With the lights on I could see them standing on the balcony looking down.
I pull up my pants and apologize to the janitor in my best Italian (which was also very shitty).
This had all the potential to get really annoying…
But wait, it's Perfect-Night, it seemed nothing could go wrong.
So actually the janitor quickly changed his mood; he' was actually amused by the situation. And our Spanish party girls were turned on by getting caught. As we leave the janitor gives us high fives and the two girls flash him their tits as their way to say "thanks for being cool about it".
Everybody is happy.
Sneaky girls
We walk the girls back to the bar because they're dad is about to pick them up. Before the father arrives they make sure they're not seen with us and are waiting a bit further like 2 good little girls. Another father lives another day with the illusion about his sweet innocent daughter: Sneaky girls!
We're also ready to go home but Science wants to go find some weed.
"I don't know man, I don't feel like asking around anymore, let's just call it a night", I tell him.
"Okay, I'll just ask ONE guy", Science answers. He literally asks the first dude that see on the way to our taxi: "Hey, do you have some weed?"
"Euh… sure guys, you have some". The random stranger takes out a bag of weed and gives us half of it, not accepting our offer to pay.
Really? Boom. Perfect ending to a perfect night: Total money spent: $0 – Total fun memories: 100%
Peace,
THC