Reader's Adventures: Chaos Hits the Clubs in Krakow, Poland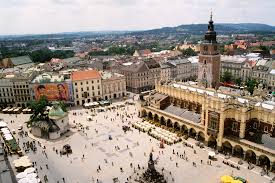 For our second story in Reader's Adventures, we hear from Chaos, another long time reader. Chaos went to Krakow, Poland and tells a hilarious story of a night of hitting nightclubs.
Location: Outskirts of Krakow, Poland. July 2012.

I had a few drinks with a Brazilian and a Australian dude I met in the common room in the hostel I was staying at. The Brazilian guy was a bloke in his early thirties and he let me know that this time was his fourth time in Krakow and this was his fourth week in the same hostel. To surprise me even more he told me that Poland is the only country he's been to outside Brazil, and Krakow is the only city he's visited in Poland. I thought god damn what a weird guy, he only goes to the same country,the same city and the same dormitory and nowhere else! I figured he's one of these many Latino guys who goes to Poland in belief of that Polish girls will throw themselves over them. He talked and bragged about his great success with swooping Polish girls, I took his talk with a huge pinch of salt because I've met too many of these guys who are big talkers about swooping girls but accomplishes nothing once they are out in the field.

Anyway, since he's been so many times in Krakow I figured he knows some good places to go to. We waited for his Brazilian friend and we went out to hit some bars.

The first venue we went to was full of backpackers and at the second one there was a sleazy British stag party going, god damn I hate those parties! I told the Brazilian dude that we need to find a better place or I'm leaving. Then we went to an okay place, but there was not much action going. At this point I already knew that this guy was just a big talker and that he probably never fucked a Polish girl. He and his friend were on the dance floor and rocking slightly from side to side like a zombie from the Walking Dead series. The place was almost dead, I had a beer with the Aussie and decided to call it a night. It was late and I was getting tired. But when I was about to leave the Brazilian dude showed up and convinced me to check out one more place.

We went far away outside the city to the outskirts of Krakow. The place was like German beer garden and in the corner there was a club that looked a Finnish potato cellar from the outside. Fair enough, there were a lot of people but no backpackers or British stag parties and best of all, it was not a sausage party!

The Brazilian and his friend went to the dancefloor probably to hold each others hands and and feel pity for each other, the Aussie met a gang of Polish skinheads outside the entrance that he started to chat with and I went down to the club to see what's going on….
I bought a pint of beer and decided to walk around a bit. In a corner I literally bumped into a Polish girl. SPLASH! My beer fell to the ground and my shoes got showered in beer and also hers..

Me: Izvinitche!
She: ( looked surprised) Vy Russki?
Me: Kaniszhna niyet! A vy?
She: No, I'm from Krakow. Why are you speaking Russian to me?
Me: I started to think about the Russian girl in the James Bond movie.
She: LOL! But I have blonde hair!
Me: Yeah but you can find brown hair colour in the shops
She: hmm..Who are you? Do you smoke? Let's go outside.

Then we started to walk upstairs but then she stopped and said " go out and wait for me, I'll be there in a minute." She turned around and I walked out and honestly spoken I didn't expect her to show up again.

But after a few minutes she showed up, with two beers! We sat down at a table in the beer garden and started to chat. She was 21 years old and had long blond hair and around 170cm tall with a slim body,nice ass and real killer legs. She clearly passed the boner test. She was a funny girl and easy to joke around with. I put my hands on her legs and her shoulder meanwhile I was explaining something and she showed no resistance. After a 20 min chat we had finished our beers and she suggested us to hit the dance floor and I accepted.

Everybody who knows me know that I'm not a big fan of club music and dance floors, I truly dislike it but sometimes it happens. Anyway,instead of dancing I started to do the most stupid moves I could think of. The weed eater,the lumberjack,the fisherman and all these other stupid classics, obviously she had never seen anything like that before.

She stopped dancing and started to laugh like hell and wonder what the hell I'm doing. After a few minutes of messing around couldn't resist her anymore so I grabbed her arms and pulled her next to me and went for the kiss. No resistance once again.

After a few minutes of making out on the dance floor I pushed her against the wall in a darker spot in the club. We made out some more and I rammed my leg in between hers and she went wild. She grabbed my hammer and felt that I was hard as a rock, I went with my hand under her dress and felt that she was indeed ready to rock! But now I had a big logistic problem! Where the hell should I take her to seal the deal? I was for fuck sake living in a dormitory 40 min away so that was not an option.

I looked around and I saw the bathroom, not exactly the most optimal place but what the hell, now or never! I pointed at the bathroom and her eyes got big as on a little puppy and said "are you crazy?". I smiled and grabbed her hand and took her to the bathroom. The bathroom was for one person in a time and it had a solid door so at least we had some privacy! It didn't take long before I was inside her. Soon she jumped on me, she had her arms around my shoulders and the legs wrapped around me meanwhile I was banging her but then she started to do some acrobatical yoga stuff!

When we were banging in that position she started to lean back until she was in a horizontal position, she stretched her arms out until she could grab the upper part of the toilet and all of a sudden

" CRACK!!!" The fucking toilet cracked down! Water, shit and paper were everywhere! The security guy outside the door noticed that something happened and he started shout and hammer on the door! I had to pull out and I couldn't finish. She told me that I should run as fast I can when she opens the door and she will take care of the security guy. I asked her if she's sure because it was not her idea to go to the bathroom. She said "don't worry! I will be right after you, I'll see you outside! "

She opened the door and I ran out as fast as I could, the security guy tried to grab me but he failed. When I was outside I waited one minute and then I saw her coming running out with her shoes in her hands. She laughed and we said goodbye and jumped in different taxis.

I have no idea how she solved the problem with the security guy and the broken toilet.

I never saw her again.

Poland is great, but I never came.
Lol nice story Chaos. Too bad you never got to talk to her again, I'm curious how you talk your away out of destroying a toilet seat. Thanks for the story Chaos and as always if anybody wants to submit their own personal adventure to Swoop The World, send an email to swooptheworld@gmail.com