Leaving Colombia
A quick update post on what's currently going on.
I've recently left Colombia. I had an awesome time there. I've spent about two months there in total. It became one of my favourite countries and it will be hard to beat. I spent my last week in Medellin with the best setup, living right next to my gym, right next to a cheap restaurant and with two amazing girls in rotation.
It was really hard to leave all of it behind.
But the urge to explore and discover new places started to grow; and afterall this website is called Swoop The World. Hence since last week I'm on the road again.
This is my plan of action: I'm going to explore Central America, starting in Panama and going up all the way to El Salvador. I'm skipping Guatemala and Belize, since I've already been there last time and they're not really worth the revisit.
I've made this crude sketch to visualise the trip: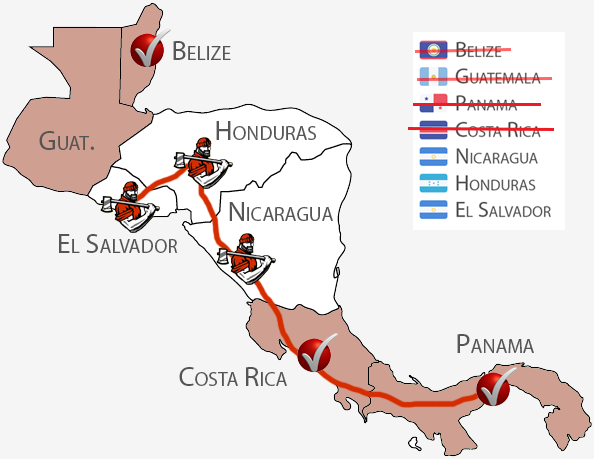 Trip so far
I've spent a week in Panama City, which was a roller coaster of experiences: Lone wolfing, some good luck, some bad luck, cock blocks, dry spell… but it ended with a triple up.
I am currently I am in Costa Rica. I will write the extended post and Lay Reports this Friday, so check in shortly. I can't complete the post right now, I'm currently too distracted. I met a really cool girl in Panama, 19 years old. She came to visit me in Costa Rica. We are hanging out in a beach town for a few days.
It's a great change of pace to do a mini-trip with her, but she can barely leave me alone. I'm pretending to make some spread sheets "for work" so I can complete this short post 😉
More soon,
THC