Paisas in Medellin, Colombia – The Temptation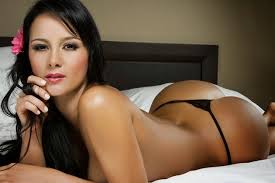 I arrived in the airport and reflected on my amazing time in Barranquilla, Colombia (read about it here). I had been oversexed and literally had cut my penis somehow. My last two days of sex had been very painful and I told myself "You must not have sex for a bit 20, you must let your penis heal." The Beautiful Paisas (girls of Medellin) may have complicated that plan a bit. This trip gave me a love, hate relationship with the Colombian temptations known as Paisas.
Blonde Paisas
I hadn't had much time to pipeline (set up dates before arriving) because I had been so busy with girls in Barranquilla. However, I had one girl that really stuck out; a freshly turned 18 natural blonde girl. If I could get this girl she would be just the second natural blonde I had had in Latin America. She was young, hot and unique… worth a shot. I had set up a date with her my first full day in Medellin.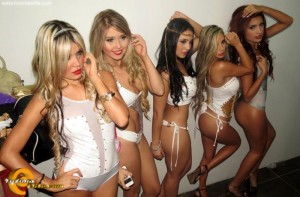 What are Paisas (Girls of Medellin) like
Before I get into my trip, let me tell you a bit about Paisas in comparison to Costenas (Girls from the coast like Barranquilla). Paisas have white skin in comparison to most of Colombia. It is that way because it was a Spanish colonial city, so many girls have a really high percentage of Spanish blood. Costenas on the other hand have a reputation of being slutty and easy to bed.
Paisas have the reputation of being the most beautiful in all of Colombia. This is especially true for the guys that love light skinned girls. I won't deny the beauty of these girls, even though for me, skin color doesn't mean much. Paisas also have the reputation of being the most stuck up (they know about their reputation of most beautiful) and of making guys wait the longest until sex. This makes this place with perfect weather (perfect temperature year round) and beautiful women everywhere not QUITE a perfect place to live.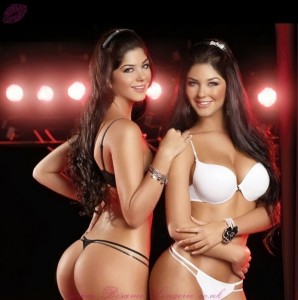 Where to meet Paisas online
The best place to find Colombian women online is here. You will find many women that are serious about meeting up with a foreign guy (Paisas are famous for flaking on dates so this is a big bonus). If you are not confident on your internet game you can read the book I wrote about online dating here.
My First Night in Medellin
I arrived at my apartment in Parque Lleras pretty late. I had heard about the great nightlife. The tons of clubs and bars and the park where people would hang out and drink. I met up with another foreigner Tigre and we had a couple of beers and relaxed in the center.
Girls were not at all in my mind after the marathon of sex I had had in the last few days in Quilla and the fact that my dick had taken a pounding. I had no trouble staying away from sex and just relaxing and talking with this guy.
I saw all the curvy Paisas walking around Parque Llearas and I understood their reputation for beauty.. There were clubs and bars everywhere. Logistically it was really well done. Everything was around the park.
We called it a night early and said we would meet up the next night.
My date with the young blonde Paisa
I spent the next day going out and seeing more of the city. A little exploring. I had some time to kill until my date with the young blonde Paisa at six o'clock.
Medellin didn't seem at all as dangerous as it's reputation hints. Even statistically it is one of the more dangerous cities in the world. Talking to locals I learned that it is, but only when you are in the wrong part of the city. The nicer parts (where I was) was not that bad at all. I could tell. I felt 100% safe walking around in this part of the city.
6 o'clock finally came and, as usual, I was about 20 minutes late. She was there waiting for me and she was not hard to spot.
The young blonde Paisa was surprisingly tall and, best of all, she looked even better than her pictures. I love it when that happens.
Right away I felt a connection with this young Paisa. She was actually fun to talk to. We walked around for a bit as she showed me some places close by.
It was a fun date and one where I wasn't thinking at all about sex (because I couldn't). It was… nice.
I walked her to the metro and as we crossed the bridge over the busy highway to the metro I grabbed her hand, pulled her towards me and kissed her.
Yeah… the connection I had felt transitioned into the kiss. It was really good and actually… really romantic. The city was on the side of a hill and we were at the bottom of the hill, so behind us the city lights showed brighter than the moon. Quite possibly it was one of my favorite moments from my 1 year Latin American adventure. It made me remember that life isn't all about sex.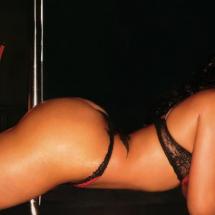 What to do on a Friday night?
After the awesome date with the young blonde Paisa, I didn't feel like gaming. I met up with Tigre and we decided what to do. Go to a club? Kind of a waste for me, I physically couldn't have sex and on top of it, I really wasn't interested in any other girls at the moment. Then, Tigre mentioned something… a strip club.
He told me about a strip club in a shady part of the city. I had heard about how awesome the strip clubs in Medellin were from another friend. "Sounds like a good time." I said.
We walked into the strip club to see a big ass'd girl dancing on stage. She was slowly taking off her clothing piece by piece. We sat down and ordered beers.
I've been in strip clubs all over the world and I had never seen more big ass'd strippers in my life. If that's what you like, then Medellin is the place for you.
We talked and enjoyed the show. It was not a strip club for foreigners, but it was one for locals. My favorite because I could always pull a stripper from these type of places pretty easily like in this story.
I also liked the knowledge of knowing i'm in a shady place. It keeps things feeling more interesting and makes you feel like you are seeing something most foreigners will never see.
It was a fun night, free of sex. Just a couple of guys relaxed and enjoying the show.
The next few days and the move to Centro
I saw the young blonde girl the next couple of days. I was yet to experience the world famous flakiness of Paisas, but I had only really been going after one girl. The dates were still good and I never pushed for sex. We would just go places, talk and make out.
I was running low on money and knew I had to get out of my more expensive hotel (Only like 35$ a night). I also wanted to see the real Medellin, so I got in a taxi and searched for cheap hotels in a more "real" part of the city.
I went to the center and he showed me some hotels for about 15$ a night. Hell yeah. Then, he gave me some great advice. This area can get dangerous at night, but if you get a hotel next to the Police station, you will be very safe.
I took his advice and the next night I was in Centro, a not so safe part of the city, but since I was close to the police station, I felt OK about it. Here felt more real. Cheap food everywhere and the streets were full of people going about their daily duties.
My hotel had no front door. It was the only one free when I tried to check in and it freaked me out a bit because all the other hotels in the area had barred windows and a serious front door. "Fuck it."
Seeing the young, blonde Paisa again
Every day so far I had seen the young, blonde Paisa. This would be our fourth date. We ended up back at my 15$ hotel and on my bed. We made out and I felt her tight body. Fuck! I was horny.
I was getting hard and I could feel the pain it was causing the scab on my dick. I glimpsed down my pants. It definitely wasn't healed. I should wait.
We kept kissing and she rubbed her tits in my face. I wanted her… fuck it.
I took off her top to expose those perky breasts and there was no way I was going back. I put on a condom and had great, slightly painful sex. Totally worth it.
On top of it all, I did like this girl. It was a good night.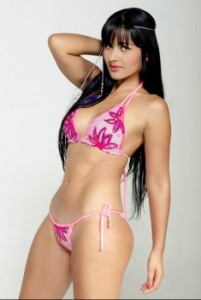 Online date
The next day my young, Blonde Paisa wasn't free, so I set up a date with a girl I met online. She was 20 years old. She had the typical Paisa look: long black hair and white skin. She also had this ass that just popped.
I was supposed to meet her at the metro and on my walk there I noticed a sexy looking girl walking next to me.
"Tu sabes donde esta el metro? – Do you know where the metro is?" I asked her even though I knew the answer.
"Si por aqui – Yes, this way." She said and we started walking together and talking. She was a student at a university close by. I got her Facebook and said goodbye.
I met her at the metro and it was an hour before I had her back at my apartment and I was  behind her hitting it doggy style. Surprisingly sexy and at this point I had given up on taking care of my ragged dick. Her ass was not a let down. It was a good night.
The day game Facebook
After I sent my online date back home I messaged the girl I had met earlier on Facebook. She responded instantly and we set up a date for later that night.
We met at the same metro and when I saw her she was looking very nice. When I saw her at first she was in jeans, but now she was in a tight dress and heals. I figured a girl looking so good needed to be brought to a nicer bar, so we hopped in a taxi and went to have some drinks and talk.
We talked and drank for a couple of hours and I talked up my travels.
"Quieres ver fotos de mis viajes? – Do you want to see pictures of my travels?" I asked her.
"Ok."
I called for the check and twenty minutes later we were in my hotel room and I was undressing her. Same day lay. It was good. Although I will admit this girl had no boobs, it was all in her ass. But still… sexy.
The hotel clerk
I saw my young blonde girl whenever she could. I genuinely liked her, but my time was almost done in Medellin. We went and explored the city, seeing the best architecture in Medellin and taking pictures. I still have tons of pictures from that time. It was raining and we had some pretty epic rain make outs, complete with photos.
I had been flirting with a cute clerk at my hotel. She worked the graveyard shift and I would tell her about some of my trips whenever I would see her.
She added me on Facebook and I got to hear the sad story of her life.
A poor girl who lost both her parents. She worked the graveyard shift to support herself and her little brother. It was a sad tale, but she was a sweet girl.
On my last night in Medellin I called her into my room saying that something was wrong with the bed. While she was in their checking it out, she looked so hot. She turned to me and I kissed her. She accepted the kiss and minutes later that skinny Colombian girl was lying naked on my bed.
Some people will say I'm a monster for taking advantage of this sweet, poor Colombian girl others will say I'm a good guy for giving her what she wanted. Either way, it was a good night.
On my way to the mother of Latin America… Spain
Early the next morning I had to wake up for my flight to Spain. It was a sad goodbye with my young, blonde Paisa and I had had a lot of good memories with other Piasas and met some really cool expats in the process. I will definitely be coming back to Medellin.
Next stop Spain. Read about my trip to Spain:
http://swooptheworld.com/madrid-spain-bittersweet-flag/