Medellin Hardcore
Colombia is easily one of my favourite countries in the world. And Medellin is one of my favourite cities in Colombia. The city has a lot to offer and is very different from barrio to barrio. From 'the centre' to Laureles to El Poblado, each part of the city has it's own charm.
I was staying right on Parque Lleras, gringo- and party central of the city. A little bit too close to the action for my own good. It got a bit out of hand and let's just say I found out why it's a bad idea to mix uppers and downers (and alcohol) on a near daily basis. It really fucked with my system.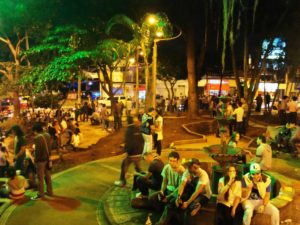 I had an awesome time though and I met some of favourite girls during this times. Hot looks & fun personalities. But when my month lease of my apartment was over I decided I needed to detox for a while.
Cali was the last big city I still had to check out. So the next morning I took the overnight bus. 20Nation and Scotian had already stayed at an apartment there, so I just booked the same place.
Detoxing
I went cold turkey from day one. No more drugs, no more alcohol, no more junk food. I had a tough time coming down. I didn't sleep the first week, I was feeling like shit. I got extremely anti-social and my productivity dropped to zero.
The only thing positive during these first weeks was my focus on sports and eating healthy. I knew I just had to ride it out and suck it up until I started feeling better again, but I made to commitment to myself that no matter what I would do 1 or 2 hours of sports a day and eat healthy food.
Going cold turkey and the lack of sleep completely killed my sex drive (and work drive) during the first week. I was still horny but I couldn't be bothered to go out on a first date, I dreaded the effort of being social.
Getting Better
I started using ColombianCupid, a local dating site, as an experiment. The site works surprisingly well. There are cute girls to be found and it seems a lot easier to meet up with them than with Tinder girls, whom generally are pretty flakey.
On that site I found a girl that wanted to come straight to my place. I had a bad experience before with meeting a girl from the internet straight at my place, so my guards were up but everything worked out perfectly.
She was no top shelf material but she was young and cute. More importantly, it got me out of my funk. She showed up in high heels and with a tight dress. She seems very shy from chatting with her online but she was totally different in person. She was talking a lot from the moment she stepped out of the taxi and she didn't shut up until I got her in my bed.
She had the smoothest skin and the tightest pussy. It was really great sex.
The Week of Fetishes
After her and by continuing my daily sport and nutrition routine, I was slowly moving back to my baseline. I was starting to feel better and my drive came back again. But suddenly I was getting an impulse of fetishes.
Maybe it was an uncontrollable desire for variety. My girls from Medellin were model types: tall, skinny and young.
Now my new fetish was big butts and milfs.
B.O.O.T.Y.
First, I wanted the biggest booty I could find in Cali. Luckily Colombia is the perfect place to get stuck with this fetish. Again, ColombiaCupid delivered. A huge advantage over Tinder is that you can search on body type (breast size, hip width) on age, on ethnicity, etc.
I found a black girl who, looking from her profile pics, had exactly what I was looking for. I set up date with her near my place. When she arrived and got out of the taxi: Wow, I was not disappointed. Even better that I had hoped for. She had a tiny waist but her ass and her legs were HUGE. Perfect for my fix.
As I walked into the bar some guys were looking at us, they knew exactly what this was about. She was actually a lot of fun. We had a couple of drinks and I took her to my place. It was a glorious moment when I took off her pants, they got stuck halfway down her butt (hallelujah!).
Great sex. She told me I was the first gringo she had ever been with. Her friends had been telling her gringos are shit in bed. Glad to have set that straight for her. You're welcome, next gringo.
M.I.L.F.
My next fetish was to date a milf (around 35 years old). I quickly found one online (thank you ColombiaCupid!) who had big fake tits AND a big ass. The date was really shitty though. She was quite awkward. But looking at those tits and that ass, I powered through it, I kept gaming her and finally made out in the bar and took her home.
She was giving up a lot of LMR (Last Minute Resistance); no surprise since she had made clear from the start that wasn't looking for a one night stand. But once we were making out in bed, she got too horny herself and the resistance disappeared.
The fake tits were decently done. But the surprise of the night was that her ass was fake too. It's the second fake ass I've had in Colombia. The first one was cool as a novelty experience but now… I have to say, they can make great fake tits but I'm not a fan of the fake butts.
It looks great in clothing, it looks a lot less when she's naked and it just feels weird. After sex I kicked her out, I had no connection with her and her fake butt was a disappointment. Never heard from her again.
Looking back
This was such a weird month for me, with the recovery, my anti-socialness, lack of drive… but I'm glad I recovered. The consequence is that I can't really judge Cali as I didn't give it fair change. I didn't do any nightlife and I hardly ventured out of a 5 block radius from my apartment.
Just food, sports and sleep. I think the city has a lot more potential than what I've gotten from it. To be sure, I will have to come back one day.
Lessons learned from this weird month:
Health: Know your moderation when it comes to living the party lifestyle.
Fake asses: Not as good as fake tits.
Peace,
THC