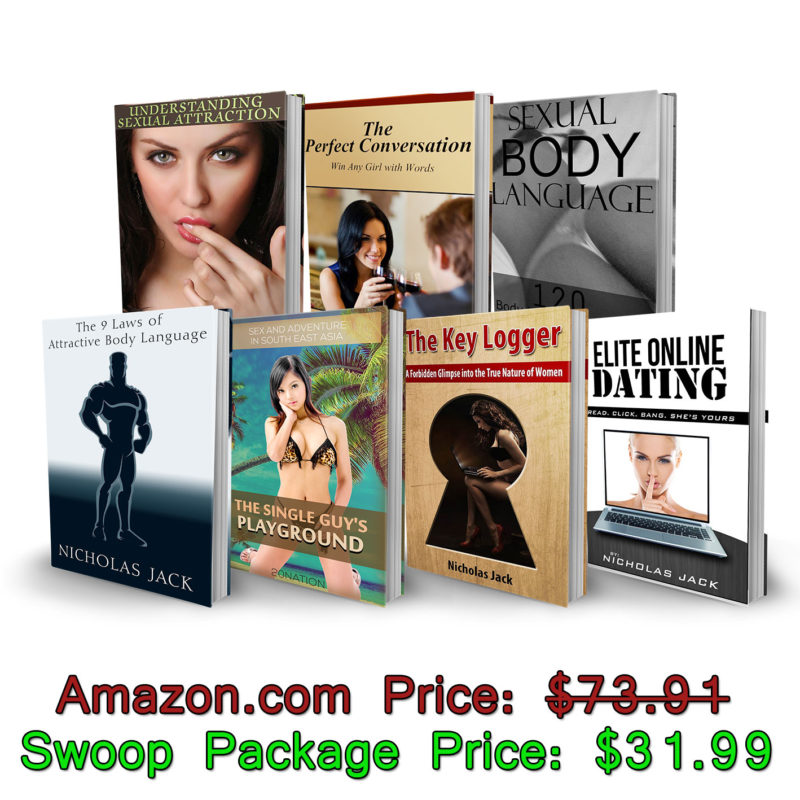 Get the 60% off deal for just $31.99 by clicking here!
At last I have made all 9 of my books available at 60% off when purchased from SwoopTheWorld in a package.
The Single Guy's Playground: Sex and Adventure in South East Asia – Find out if you should travel to South East Asia in this epic story of my first pussy paradise adventure and how I met THC
Elite Online Dating: Read. Click. Bang. She's Yours – I am an online dating specialist and in this book I share all my strategies and secrets that have landed me hundreds of women
The Key Logger: A Forbidden Glimpse into the True Nature of Women – How I installed key loggers and got the passwords of ex girlfriends only to learn that they weren't who I thought they were
The Perfect Conversation: Win Any Girl with Words – A step by step guide on how to have the perfect conversation with women
The 9 Laws of Attractive Body Language for Men – Everything you need to master the most important aspect of dating; body language
Understanding Sexual Attraction: What Makes A Woman Want You – To be attractive to women, you must first know what is attractive to women
Sexual Body Language: 120 Body Language Signals That She Likes You – Never get rejected again by learning how to read women
Bonus: The Asian Guy's Travel Guide on Where to Go to Get Girls – A world travel guide for Asian guys
Bonus: The White Guy's Travel Guide on Where to Go to Get Girls – A world travel guide for white guys
All these books in epub and pdf formats, so they are very easy to view through whatever device you use.
I even added in two of my books that you can't buy anywhere else into the package. If you want a guide on the best options to travel based on your race, these books are perfect for you.
The Best Price I can Give You
60% off is the best price I can give you. If you buy all these books on Amazon (books with hundreds of reviews and tens of thousands of sales) it will cost you Almost 75$, so paying 32$, is basically me giving away 6 of the 9 books. Learn the essentials about travel and women and help support my world travels by buying now!