PART 3: Nicaragua
Read the other parts of THC does Central America:
Part 3: Managua, Nicaragua
Part 4: Tegucigalpa, Honduras & San Salvador, El Salvador (next week)
After my stay in Jaco, my plans changed. Fuck this hippy beach shit. I need to leave this crappy beach. I remember I'm on a mission: One month or less to capture the flag of every Central-American country.
From Jaco I take the morning bus with my girl back to San José. She goes back to Panama, I leave the very same day to Nicaragua.
This time I go by Tica Bus. I dreaded the long bus rides, but they are actually pretty comfortable.
Central-America Bus Pro-tips:
Bring a sweater on the bus, they rank up the AC to the max and you're on there for 8 to 10 hours.
They won't stop for a restaurant break. You can buy some food at the border crossing but you should bring your own food along for the trip.
The seats are comfortable enough to sleep, even in the class "Turistica".
I slept for most of the way. The only annoyance was the border crossing, which was very strict. Everybody had to get out, every luggage had to get opened, every bag of ever luggage was rustled through. I had to explain to one of the custom officers what my GoPro cam was. Apparently it looked suspicious to him.
It took two hours to clear our bus for passing.
Welcome to Nicaragua!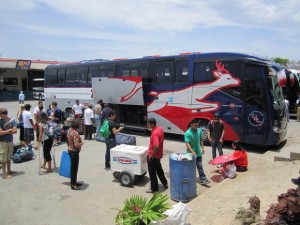 Arriving in Managua
I arrive pretty late in the night. It's dark and the bus terminal is in a ghetto looking area. The moment I get out of the bus a homeless looking guy with a reflecting yellow jacket shows up grabbing my luggage.
"Let me help you sir!"
He speaks perfect english. I tell him to leave me alone.
"Don't worry sir, this is my job sir!"
I know he is just hustling for change; "Really, thanks but no thanks. I don't need your help."
His strategy suddenly changes. "You want to party? Cocaine? Girls?"
Hmm, I wonder if that was part of his job description too.
I walk away from the terminal to the taxis parked outside. I show the cab driver the address of my hotel. He's looking long and intense at the paper. Then he decides, yeah I know it. I'll take you there for three dollars. Cheap, I think to myself, so I don't bother haggling for a dollar. We put my stuff in his car, get in and start driving…
…for ten meters.
Then he stops.
The big sign in front of us reads out the name of my hotel. Ripped off.
Fucking taxistas. I call him out on his scam,  just give him a dollar and take my stuff out. He's still arguing but I ignore him and walk into my hotel. At least the first obligatory rip-off is out of the way.
Day Game?
Nicarague is fucking hot. And it doesn't cool down at night. My first hotel didn't have AC, it had a fan installed on the ceiling with three settings:
Barely fanning,
not fanning hard enough,
and "Fanning so loud, it wakes up the neighbours"
I barely sleep at all.
The next morning, I decide to visit out some shopping malls. I didn't pipeline so I wanted to check out the local talent and do some day game.
Driving from my shitty hotel to the mall, I realised that the bus terminal wasn't in a ghetto area; the WHOLE CITY is a ghetto area. You'll hardly see any buildings over three stories high and half of the buildings are constructed with corrugated sheet metal.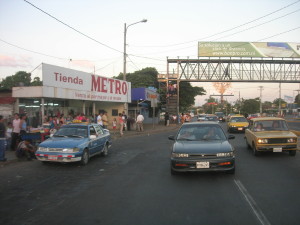 The shopping mall probably was cool and prestigious at one time in the sixties, now it just looked run down. I was surprised the mall was actually pretty lively and there was a big crowd.
But the real (unpleasant) surprise were the people: There were NO hot girls out.
I'm not saying "not a lot", I'm saying NONE. I went to several crowded malls, passed thousands of people and I saw no more than three or four attractive (not hot!), bangable girls.
Most girls are short, stocky and overweight, with unappealing faces. But even with lowered standards, I didn't find a girl worth the effort of approaching.
So far for Day Game!
Nightlife vs. Tinder
It was Saturday night and I had heard a lot of good things about Nicaraguan nightlife. But the traveling and the night in my shitty hotel had worn me out. I couldn't bring up the energy to go lone wolf clubbing.
My energy level was at most sufficient for a laid-back date, so I texted a few Tinder girls. I only had a few leads.
A moderately attractive girl texted me she was adventurous and wanted to meet me for a threesome. Hmm, this is going a little bit too easy. What's the catch?
"I'll come pick you up with my boyfriend."
Wait, what?
"Yeah, he likes to watch."
Damn internet weirdos. Next!
The other lead I'm texting says she'll pick me up and show me some parts of town. Awesome, that sounds laid back enough.
She shows up with her car at my hotel. She looked fine from her Tinder profile and she actually looked exactly like her pictures; but she had zero sex appeal and a voice that makes scratching a black board sound like Mozart.
This combined with my low energy, I don't even try to game her. This date would just be a tourist trip.
We drove around town and she showed me several land marks and gave me tons of info on what to do. So it still turned out to be an okay night.
Still… No Nicaraguan flag.
Changing cities: León
My experience in Managua was very different from what I had heard about the place. I was tired of this poor city where ironically the hotels are still more expensive than Colombia: it felt like a bad deal staying here longer.
Time to focus on tourism! In the morning I take a minivan out of Managua to León, a touristy, picturesque student town up north. I'm really glad I visited it. It has an Antigua (Guatemala) / Cartagena look. And there's actually some stuff to do.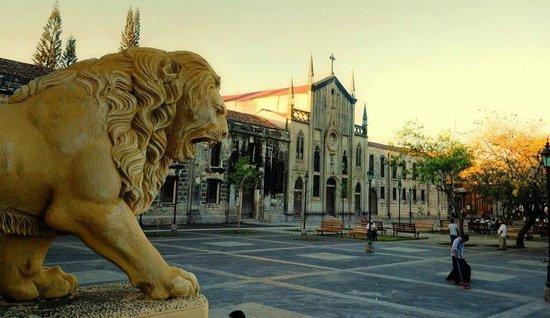 One of the coolest things to do here is Volcano boarding.
Which I can highly recommend. You hike up an active volcano just out of town, after which you can choose to slide down on a wooden plank and try to break the speed record, or use a wooden snow board to zig zag your way down. Both are a really cool experience.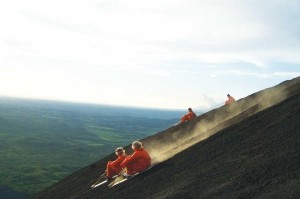 Student Girl
One of the girls I met on Tinder was actually living in León, I don't even know how I matched with her. I text her I'm in her town. She's excited and we agree to meet up at night.
I meet her on the central square in front of the Cathedral. She's a decent looking, solid 6 but she has, as the Polish would say "Masz kurwiki w oczach", a very sexual look in her eyes.
We get a Nicaraguan beer in a nearby bar, which is actually pretty decent, and I take her on a walk through town. We sit down on a bench in front of an historic building, watch the stars and make out. Very romantic 😉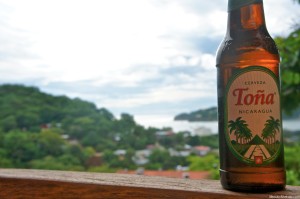 To save some money I had taken a private room in a hostel. This could be a cockblocking element for the night, but for once I catch a break. When I arrive at the hostel, there's a new reception guy who had no idea wether my girl was a guest at the hostel or not, so he lets us in; no questions asked.
The next hurdle was that my room was located right next to the common area. Next to my door was a window but it had no glass in it, just some rails. Basically there was just a curtain to block the sounds from my room to the people hanging out in the hammocks and coaches outside.
This didn't help the LMR I guess, which was MASSIVE: Nine out of ten on the THC's Scale of LMR.
"We can't have sex, we just met!"
Whatever I tried, the panties weren't coming off. I then remembered this move from Fisto in Vietnam. I just got naked myself and said, "Okay, I'll just do it myself" and start jacking off next to her.
It worked like magic.
"At least help a little bit", I say and I put her hand on my dick.
This made her reach the horniness threshold after which she couldn't resist anymore. Finally her panties come off and she comes sit on my dick. We try to fuck as quietly as possible, given there is NOTHING blocking the sound; which was a challenge on the crappy and noisy hostel bed. She's biting the pillow not to make noise.
Good lay. Nicaragua flag: captured.
The Flag Mission Continues
Mission Status: On track!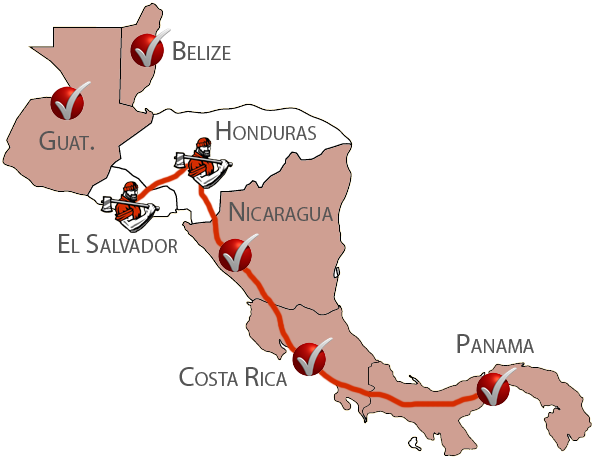 Three countries down, two to go.
I was considering to stay a bit longer in Nicaragua to experience the nightlife in Managua -it was my last hope for the city- but I was too excited to get to the next destinations.
This is where the real adventure begins:  Honduras and El Salvador!
Stay tuned for next week's post!
Peace,
THC