My time in Guadalajara was coming to a close. THC and I had already started planning our trip to Mexico City and afterwards to the Dominican Republic.
I finished my last 3 days in Guadalajara the same way I started them… with 3 new lays. It seemed very fitting for such a great city. The goodbyes were sad and I had very little time after fitting in the girls of my harem with my new notches. Eventually it was time to go to Mexico City.
The bus ride was about 10 hours long, and THC and I spent half of it bull shitting the other half trying to sleep and failing. I had stayed up nearly all night long with one of my girls because I had wanted to spend the entire bus ride sleeping. But for whatever reason I didn't sleep more than 30 minutes on the bus. Fuck.
When we arrived at the bus station in Mexico City I was absolutely exhausted, but there was work to be done. I hate how taxis rip people off at airports and bus stations, so I asked around for the cheap way to get to our hotel. A guy at a local shop gave us directions on how to get to the area and we got into a bus.
It was our first taste of the ridiculously crowded public transportation in Mexico City. THC and I sat there with our suitcases and backpacks as people eyed us. I'm sure they were wondering:
"I don't even have a place to stand in this packed bus and these rich gringos are filling it up even more with those bulky suitcases."
The bus got more and more full and the angry stares from people got more intense; it started making me uneasy. Especially since I noticed some dudes dressed in matching clothes gang type clothing and gang type tattoos.
Then the driver notified us that it was our stop. Thank god. We got off and went into the subway. Mexico City has subways going all throughout the city. I never expected them to be so crowded, especially for the time of night that we were there.
We finally arrived in Centro Historico (Historic City Center) and we took a taxi to our hotel. We ended up paying probably 1/5th of what it would have cost if we took a taxi, for budget travelers like us… totally worth it (even though we went in a bit of a circle).
The Hotel
We arrived at our hotel only to find out that the rooms that we RESERVED, weren't available. We reserved two separate rooms because THC and I like to bring girls back. The problem was that all they had was a room with four small beds.
This wouldn't be too much of a problem for only one night, but I had pipelined a girl that I was going to see later and I didn't think she would be down with THC in the room. Combine that with the stress and exhaustion we had been experiencing and… well we weren't happy.
After some angry talks and demanding that they give us free meals at the restaurant, we finally took the 4 bed room. It was a Saturday night and it was too late to get a room anywhere else.
I checked on the girl I had pipelined and she was on her way. I had been pretty excited to meet her. She was tall with a nice curvy body. She only sent me modelling photos (that usually means nothing) but I was a fan. She was 100% white (all Spanish blood), she had green eyes, light brown hair (which she died black), and Angelina Jolie's lips.
I waited for her outside of a well known church close to the hotel and she finally arrived. She was wearing a tight black dress that accented her curves perfectly. Just like from the pictures, the first thing I noticed was her lips. Wow. She looked similar to Angelina Jolie, but those lips were exactly the same. I wanted her. Even running on 3 hours of sleep in 36 hours, she still made me very horny.
We decided a walk through Centro Historico. She was a cool girl, who loved to joke. I teased her and joked with her back; matching her vibe. Everything was going perfect.
As we were walking she mentioned that Mexico City is where all the crazy people in Mexico go. Looking around I saw what she meant. Walking around that night were plenty of obvious drug addicts, satanists and goths, and all sorts of people dressed in weird clothing.
I watched a guy staggering towards a girl. Something was really off about the guy, I could tell it just from seeing him for a half a second. The girls back was to him and he just continued walking towards her, staring at the back of her head. Then he bumped into her and started apologizing. Through glazed eyes the guy tried to start a conversation. The attempt failed miserably. Nice try crazy dude, keep it up and eventually you will find the right girl.
I also noticed the short, square, chubby and un-attractive bodies of the typical Mexico City girl. I had heard about this, but I hadn't seen too much of it in Guadalajara. It wasn't until arriving here and seeing the masses, looking at all those people and one girl out of 20 is bangable. In comparison, Guadalajara was probably 1 in 5.
We went to Starbucks then we started walking back towards my hotel. I didn't say anything about where we were going.
We arrived and she looked a bit surprised.
"No voy a tener sexo contigo. – I'm not going to have sex with you." she told me.
"Esta bien. It's Ok." I replied with a smile.
I warned THC that I would be coming back with a girl and even though he was just as exhausted as me, he left our room with four beds so that I could go for the lay. Good man.
I kept teasing and joking with her all the way to the bed and when I finally went for the kiss it was easy and the LMR… just as easy.
She was naked on my bed 15 minutes later and even though I was absolutely exhausted and in a tiny bed, I got the notch. I had just gotten 3 in a row my last 3 days in Guadalajara so that was my 4th notch in 4 days. It was a good little streak for Mexico.
NSFW pictures CLICK HERE
The Personality
When I was back in the states I accidentally started talking to a girl from Mexico City that I met online. I added her and she wasn't even slightly interested in me for the first couple months; ignoring my messages on Skype or, when she did respond, saying short, simple and closed sentences. Then one day I sent her a pretty charming video message (every guy should be utilizing those things).
She responded immediately and I started webcamming with her. Then, as usual, everything changed. Webcam is the game changer for me every time.
This girl was pretty cute, but it turns out she had a really bomb personality. Not the "good personality" that girls brag about having in the USA (funny, challenging, interesting) which isn't a good personality at all, but a feminine, sweet, outgoing and interesting personality.
Even though I had my harem of 6 girls in Guadalajara I found myself wanting to talk to her every night on Skype. Was it because she was hot? I had hotter girls in my harem. Was it because I was horny and hadn't banged her yet? Maybe… ;). But most likely it was because she had a cool personality; a girl I could talk to for hours.
We talked almost every night for a a couple weeks, then I went for the (NPI) Naked Picture Investment. By sending a naked picture she invests in you and is much more likely to remain with feelings for you.
I have gotten A LOT of girls naked online for the NPI and this girl was THE hardest I have ever encountered. It's possible it made me like her more and when I finally did get it, it guaranteed this girls feelings for me (which really wasn't much of an issue because we would talk all the time, but I pushed for the picture mostly because I'm a horny dude).
We continued talking and naturally, me going to Mexico City was exciting because we would finally get to meet. The meeting was set for the day after I arrived. It would be in a park in Centro Historico.
The date arrived and I found her standing outside the park wearing pink, overdressed in comparison to everyone around her. She was short with a sexy, exotic looking face, she wasn't a white Mexican like the girl from the night before, she had more native blood in her, maybe even 100%. At 19 years old, she reminded me of a young, beautiful Aztec Princess.
Not only was she about 5′ tall, she was very thin. She had a body that brought me back to the girls in South East Asia. I liked the package, but that sweet personality was the real gem.
I kissed her within two minutes of finally meeting her.
We sat in the park for a while, our personalities clicking perfectly as always, and afterwards walked through the city as she took pictures of me in front of buildings and landmarks.
Then we headed towards my hotel, I did the typical thing and didn't mention where I was going. We arrived and she looked visibly shaken. I took her up to my room. We started kissing and I escalated towards sex when she stopped me.
"Acabamos de conocernos. We just met each other." She said.
I was amazed, when I had put in even 1/10th the work on pipeling I never got this much LMR. This girl was really not used to hookups like this. After talking every night for about two months, getting her naked on camera, and dozens of hours of talking, she was putting up LMR. I called her out on it.
"Si, en persona, pero nos hemos estado conociendo por mucho tiempo. Yeah, in person, but we have been getting to know each other for a long time." I replied.
It really made me appreciate her more that she did put up some LMR after everything though, it meant that other guys have most likely gotten a similar wall when going for sex.
The sex was amazing, in part, because I genuinely really like this girl. Her personality changed her from a hot girl, to somebody really worth something. That sweet, feminine, outgoing, caring and fun personality was like a drug.
It was my fifth new notch in 5 days, but at the moment it meant very little.
I won't upload any digital memories of her… for obvious reasons.
My Last couple days in Mexico City
The following day THC and I went to Teotihuacan, it's an ancient Aztec city, filled with old buildings and gigantic pyramids. It was one of the most amazing places I have ever been. I would recommend to anyone in Mexico City to take a 30 minute outside of the city to see this wonder of the world.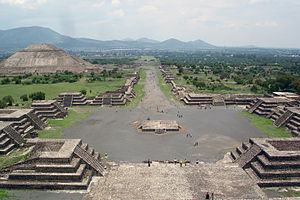 We spent the entire day on a tour seeing the ancient city and a couple parts of the actual city and returned back home, working on the blog and calling it a night.
The next day was my final day in Mexico City before my flight to the Dominican Republic the following morning. Naturally I wanted to see my girl with the amazing personality.
We spent the day together. There were some places in the city I wanted to see and get pictures in, so she showed me where they were and took all the pictures.
It was an amazing day and that night in the subway was one of the hardest goodbyes I have ever had with a girl. But it had to be done, the adventures needed to continue and I was about to discover a new country, the Dominican Republic.
We are all lucky if we find a feminine personality
In the last couple years I have been with A LOT of women, I can say this girls personality was probably my favorite. What does that mean? It means this is probably the only girl I will return to a place to see her again. A women's worth is, to a point, in her looks, but that only gets her so far. If any girl wants any relationship with a guy she should develope a feminine personality, just like my little Aztec Princess.
Start from the beginning of my Mexican adventures in Mexicali:
http://swooptheworld.com/mexicali-mexico/
Continue with us to Dominican Republic: