Memories of my Indonesian girls
I'm chilling in my "casa", it's raining outside and the sun is shining at the same moment… The only rainbow I see is one in black and white. From the balcony I watch girls pass by in any shade of color from white, to tanned, to black.
I'm waiting for one of my girls to come over after her work, when I get a text message from Indah.
"Happy halloweens, I'm feel miss you"
I don't know why, but I can appreciate a text message with bad spelling like that. Reminds me of the exoticness… She's trying her best to write me in English even though it's horrible. I think it's cute.
I take a trip down memory lane as I remember some of my Indonesian girls.
FYI: these are obviously not their real names for privacy reasons.
Indah
In one word: hilarious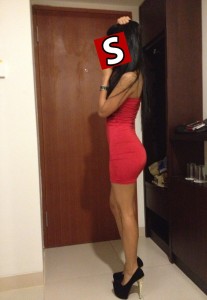 I met her online, actually it's the girl from this post. It's a shore, so I don't expect much loyalty from her, but I saw her a lot while I was living in Indonesia and I always had a great time with her.
She barely spoke any English but somehow that increased the fun. We'd watch a scary movie together and she'd ask: "Ghost?"
Yes, Indah. That's a ghost.
She had no filter between "having a thought" and "acting it out". So if I'd tell her she looked sexy in her tight dress, she'd jump on the bed and do a sexy dance, so hot.
After my trip to Bali I came back to Jakarta and I had bought her some Bali socks as a souvenir, she got so happy she ran around the room, stepped in my closet and jumped back out to hug me.
Actions like that say more then she could have ever told me in English.
I'm still in contact with her and she'll send me some sexy nude pics from time to time.
Summary
– Great sex, medium drive, sexy ass
– Fun, crazy, hyperactive
– Barely any English
Batari
In one word: awesome
Batari is the girl from "the letter" (this post). She may not seem that nice from that story, but once I got her of the pedestal she was a legit cool girl. Her english was perfect, she's from a good family and she had her own car.
She'd pick me up to drive around. She showed me her university and I met some of her friends, I always had a lot of fun hanging out with her.
She was super sweet to me and bought ME a welcome back present after I went to Bali… so romantic. But the best gift she'd gave me came afterwards 🙂
I really like her and I actually promised her to come back after a month. That didn't happen, I got side tracked in the Philippines. She stayed loyal to me for about 3 months, but then I lost her. Last I heard she has a boyfriend now.
Summary
– Great sex, amazing body, high drive
– Fun, witty, smart and cocky
– Perfect english
Cinta
In one word: crazy
This was the second girl I met in Jakarta that I pipelined. We met at an Italian restaurant, I needed some real food after all the rice meals. She actually also came in with quite the attitude and a bunch of DHV (display high value) stories about how awesome she was.
She was wearing a short dress that showed off her legs and boobs. I could tell she was a wild girl. I had to use a very slow escalation process not to seem eager. She seemed like the girl that loved to reject guys to feel better about herself; I had to proceed with caution.
She had her own car so I had her drop me off at my place, where she joined me to "watch pictures on my laptop" and by then there was plenty of sexual tension and very little LMR.
I had a lot of fun with her and she showed me her place as well, which was pretty decent for a Jakarta girl. But she was a little to unstable, that became clear after a while. She'd get more demanding:
Cinta: "I want to see you now"
THC: I can't sweetie, I'm busy for work (the best excuse in the world)
Cinta: "Fine! Then I don't see you for a week!"
THC: Fine.
Cinta: "Aaaaaarrgghhh"
Little games like this got old fast.
Summary
– Great sex, high drive, good body
– Out of control, too demanding
– Very good english
Eva
Eva was a bit more introverted, shy girl, but actually that's what I liked about her. She was the "good girl" and compared to the high confidence of my other Indonesian girls, her shyness was a great I loved having her in rotation.
She took me on a great tourism trip throughout Jakarta, where we visited the mosque, the old town, tried local foods, it was great.
It is still the best way to travel, especially if you're alone. Get to know a cute local girl and have her show you around. You won't be following a stupid guide book, or cross the city hidden behind a map. You'll see it through the eyes of a "real" local and have some of the best experiences.
I'm still in contact with her, but nothing too exiting.
Summary
– Average sex, low drive
– Shy but sweet
– Okay english
Anda
In one word: model
Anda was one of my best online experiences. She didn't look that great at all on her profile picture and I almost closed her profile when I realized she looked a lot like my Thai girlfriend… That got me intrigued and I started chatting with her.
When she started sending me her other pictures, I was more then pleasantly surprised. She was looking really fine. I won't post pictures from her professional pics for reasons of privacy, but she looks stunning.
Besides she had a very charming personality and she was well traveled, so it was easy talking to her about the places she had visited.
I'm still in contact with her. She messages me when she travels and sends me her pictures when she has a shoot. Hot!
Summary
– Great sex, sexy body, high drive
– Well traveled, smart
– Great english and other languages
NSFW digital memory picture, click below.
NSFW pictures CLICK HERE
 [wpsgallery]
Thinking back, Indosian girls are really warm and very sexual. They have surpisingly curvy bodies for Asia… It's an undiscoverd treasure.
If you liked this post, check out:
Also: Bookmark our blog NOW and make sure to check us out regularly for updates on GAME, ADVENTURE and CITY REVIEWS for MEN. 
As always, if you have questions or feedback, leave a reply in the comment box below.