Madrid, Spain And The Bittersweet Spanish Flag
I had just finished a year long trip through Latin America. I just spent a month in a half in probably my favorite country (Colombia, posts to come within the next couple weeks) and I was on a plane to Madrid, Spain; the mother country of Latin America. I was excited.
I had traveled all throughout the world, but this would be my first time in Europe. That feeling of mystery, hope and magic that I would sometimes get from traveling returned. I was excited to touch down in Europe, to start off my European tour. I was particularly excited to see Poland, Romania and Ukraine.
I landed and immediately felt the difference. I had not seen so many white people since I left USA a year earlier. I found my hotel without much problem and made friends with a Peruvian traveler going solo on a Eurotrip.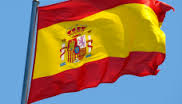 Spanish women
As I walked around the city, I couldn't help but compare the women to the women in Colombia. I had just come from Medellin(a city that is famous for beautiful women) and the comparisons were disappointing. I was staying a bit outside the tourist area, so the majority of women that I saw were Spanish.
I noticed their big noses and bodies with no curves to be found. They had Ok looking faces, but after just coming from Medellin these girls really paled in comparison. On top of that, these girls were 10x colder when you tried to talk to them. How could such common women have such entitlement? Needless to say I wasn't a fan of Spanish women.
The tourists
The next day I went with my new Peruvian friend to do some site seeing. Madrid is a beautiful city with a ton of culture and interesting things for a tourist to see. I saw some Picasso paintings and a couple other well known artists. As I was seeing this I got to see all the tourists. Madrid has more of a family and older age vibe, so I didn't get a great idea, but the tourist women were more attractive than the local women.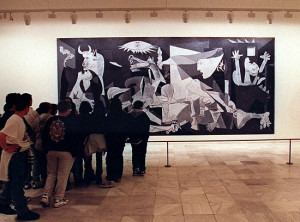 After spending a year travelling Latin America, seeing blue and green eyes was very sexy. Seeing blonde hair was just as good. As a man who likes diversity in his women, I was starting to crave white girls. Women were here from all over Europe and there were some cute girls, still… I still subconsciously compared them to women in Medellin, Colombia (because a couple days earlier that's where I was). The comparisons still favored Colombia.
The Bittersweet Spanish Flag
I was surprised at the level of jet lag I had. I felt awake for maybe 2 hours of the day and the rest of the day I was half asleep and confused when I was supposed to be sleeping.
My time in Madrid flew by and the next thing I knew, it was 12 am and my flight to Poland was in 6 and a half hours. I went out and had some drinks. Talked to some tourists. Time flew by and it was already 3 am.
"OH shit!"
I went straight back to my hotel and starting packing. I don't have a huge budget so I wanted to take a night bus I had heard about to the airport. Somebody drew me a map and I took my luggage and walked to the bus stop.
As I was walking I stopped and checked the map to make sure I was going in the right direction.
"Estas perdido? – Are you lost?" I heard a voice ask.
I turned to look where the voice came from and I saw a Spanish girl. She was about 25 years old and, like most Spanish girls, normal looking without much curves.
"Yo quiero encontrar el autobus que va al aeuropuerto – I want to find the bus that goes to the airport." I replied.
She offered her help, telling me I was going the right way. I smelled alcohol on her breath and I could see in her eyes that she had just come from the bar. She was headed home and her house was in the direction of my bus stop. We talked and I flirted a little bit, until we arrived at her doorstep.
"Yo vivo aqui – I live here." She said.
"Gracias por todo – Thanks for everything." I replied.
As she was walking up the steps to the front door to her apartment I thought to myself " WTF Nick? You don't have your Spanish flag."
"Perdoname, puedo usar tu bano? – Excuse me. Can I use your bathroom?" She stopped and motioned me up the stairs.
She closed her front door behind me and I sat down my luggage. I looked at my watch. 4am, my flight will leave in 2 hours. Damn. Ok Nick… no fucking around.
The next moment I went straight towards her, put my hand on the back of her neck and kissed her. She pushed back for a second, then accepted it. Five seconds later, a fire was lit within this girl and she went berserk. She almost ripped my shirt off and the only thing occupying the mind of this girl was pure passion.
I stripped her naked, right there at her front door. I had to ask where her bedroom was. Seconds later… I got my Spanish flag.
This girls passion was sexy and the sex was surprisingly decent. I got caught up in the moment.
I came, rolled off her body and I lay next to her on the bed, exhausted. Then the thought entered my head "your flight!" I looked at my watch and it was 4:30. My flight would leave in 2 hours.
I told her about the time and rushed to put all my clothes on.
"No te preocupes, la estacion esta cerca – Don't worry, the bus stop is close." She told me as I got dressed.
It made me feel a bit better. I said goodbye and walked towards the station. I found it without much problem and asked somebody where my bus was.
"No estas en la estacion correcta – You are not at the right bus stop." … fuck. I asked about the right one and they told me it wasn't far, maybe 10 blocks away.
Time was ticking away and I wasn't sure what to do. I got a taxi and asked them to hurry there. I found the stop and checked the time almost 5 am. There were a lot of people with luggage waiting at a stop, so it was easy to find where to wait.
The bus was supposed to come every 20 or so minutes, but it must have come RIGHT before I arrived, because I had to wait another 20 minutes.
As I was on the bus going to the airport, I looked at my watch. 5:20.
I arrived at the airport at 5:45. I went and talked to my airline about getting my ticket.
They asked me if I had printed off my ticket."uh no." Who prints off their tickets these days? This was the year 2014. They told me they couldn't get me on the flight on time because I hadn't printed out my itinerary. What bullshit.
I used a budget airline called Ryan Air. They would not work with me at all on getting on the flight. I silently promised never to take this BS airline again.
I missed my flight to Poland and there were no more flights to Poland for the next 3 days… but here I was… ready. I had lost all the money I spent on my flight to Poland and I had to find a cheap flight. As a budget traveler, losing 300$+ is a hit you don't want to take.
I searched for more flights and found one to Berlin, Germany. It was close to Poland and I found a decent deal. I booked it. I reflected on what caused me to miss my flight. I got the flag, but in that moment it felt so bittersweet. Money was tight and 300$ wasted made it even tighter, but I did get a pretty lucky opportunity in the last moments of my time in Spain to get the Spanish flag.
I spent the next 10 hours hanging out in the airport. I hadn't slept the night before and my internal sleep clock was already screwed up so I was in a half sleep daze the whole time. Interestingly enough, this was not the only time on my European adventure I would spend 10 hours waiting in an airport after not sleeping, the second time was thanks to the war going on in Ukraine, but that's a future story.
Next stop… Berlin, Germany. Stay tuned.