The Hua Hin nightlife scene is an often overlooked alternative to Thailand's main party towns, but the town does have its attractions for night-owls. There are a range options to choose from and I'd definitely recommend it to anyone looking for a less well travelled alternative to Bangkok, Pattaya, Phuket and the rest.
The local authorities like to promote Hua Hin as a family destination rather than a party destination, but that doesn't mean that you can't have a great time after dark…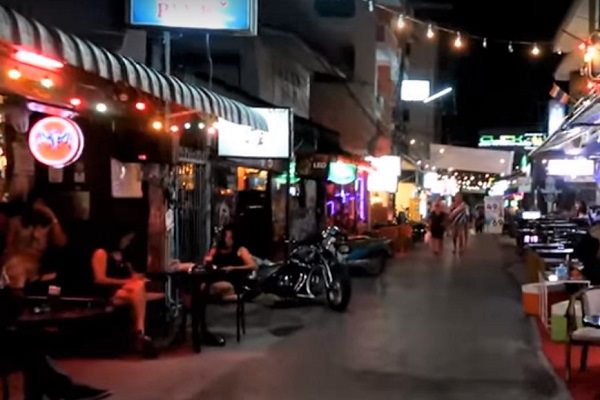 Soi Bintabaht; the main Hua Hin nightlife zone
As is sort of typical in popular touristy towns in Thailand, Hua Hin's main nightlife area is centred on just a few narrow streets and alleys in the centre of town, with the main area being Soi Bintabaht. This is the area where you will find the biggest collection of bars. In fact, Soi Bintabaht and the surrounding lanes and roads consist almost entirely of bars, with a few small nearby restaurants, massage parlours, and cafes.
The Soi Bintabaht area is quite often referred to as the Hua-Hin red light district but I think that this is a little misleading. This place is not Pattaya, so don't expect anything too crazy…
This is a great area to hangout in if you enjoy loud music coming out of every bar in sight, and a happy-go-lucky carefree atmosphere. Expect to see countless sexy women outside the bars trying to entice customers in, and be warned, some of them can be quite persistent.
Soi 80
During the last few years Soi 80 has slowly but surely emerged as a popular alternative to Soi Bintabaht, albeit a much more toned down version. This has for the most part become the area of choice among local expats who want to enjoy some slower paced Hua Hin nightlife. As an added bonus there are a few smallish restaurants in and around this soi where you can get some decent western food if you need your fix.
Soi 80 is also a great place to meet some really nice expats who are always happy to share their experiences, or to point you in the right direction if you have any questions. I'm not sure why it is, but Soi 80 just seems to attract a nicer crowd than Soi Bintabaht.
Hua Hin nightlife; discos/clubs
The sort of nightclubs which many tourists have grown accustomed to in their own countries are generally a rare find. You are not going to find a nightclub here in the true sense of the word. The closest thing you will find is what I call discos and there are only two of them in Hua Hin at present.
1. The Hilton Nightclub – This is quite a smallish venue which tends to be frequented almost entirely by tourists, a handful of expats, and lots of Thai women… many of whom are hoping to end up with a date. It is also a popular venue for many of the working-girls from Soi Bintabaht who have not managed to snare a customer at the bars where they work, so be aware of this if you want to avoid this sort of thing.
To be blunt, the Hilton disco is a place where ladies go in search of Western men, and a place where Western men go in search of some female company. You will find three types of women here: bar-girls, freelance working-girls, and ordinary single women hoping that they might be fortunate enough to find a date.
In summary, I would say the Hilton disco is a great place for tourists who are looking for a taste of the Hua Hin nightlife clubbing scene, and particularly for guys who are looking for a date. It also stays open later than the bars along Soi Bintabaht, so it is about the best choice there is if you are not ready to retire for the night when the bars close.
2. Hi 4 Nightclub – Hi 4 is a predominantly Thai venue which is attached to the Hin Nam Suay Hotel. It is a very well-known and well-established venue within the Hua Hin nightlife scene. It attracts large crowds of middle class Thais, but it is also frequented by some foreigners, most of whom are expats rather than tourists. Strictly speaking, Hi 4 should close at the 01:00 just like all other entertainment venues, but like the Hilton disco, it almost always stays open long after that. The local police tend to turn a blind eye…
Hi 4 is a great place to go if you want to try and find a date while having a blast at the same time, and this applies to both men and women. The local ladies here are much more likely to be regular ladies rather than working-girls. Personally, I would choose Hi 4 over the Hilton disco every time. The only downside is the fact that it can be difficult trying to get back into the centre of town due to a lack of public transport during the early hours of the morning.
Hua Hin nightlife the native way
If you want an authentic Thai nightlife experience, and you know how to control yourself after you have been drinking, then jump into a Tuk-Tuk, or hop on a motorcycle taxi and ask the driver to take you to a place called Luk Nam, pronounced Look Naam. You will find this venue directly across from the Big C supermarket along the Pala U Road.
I have been to this venue on a number of occasions and I have never seen one tourist or expat on the premises. Luk Nam is basically a Thai-style bar, restaurant and nightclub all rolled into one, and it typically only starts to come alive at around midnight.
This is generally where Thais head to when everything else is starting to close. As a result, it is not uncommon to see groups of locals who have clearly had far too much to drink. As is to be expected, this can also be a recipe for disaster leading to fights. However, providing you don't intentionally try and chat up some guy's girlfriend, and providing you don't become provocative or arrogant after a few drinks, you shouldn't encounter any problems at all.
Whenever I have been to Luk Nam, which has always been against the advice of expats, I have always ended up being invited to join a group of friends. Most of the locals can't quite believe seeing a tourist or an expat there, and most will immediately try to make you feel as welcome as possible. Of course, very few of the locals there can speak any English, so yes, expect a language barrier, but you can really have a great time, and if you are really desperate to find a date, just let your new-found Thai friends know, and then don't be surprised if you suddenly have a whole group of people trying to line you up with a date.
Restaurants
Being a tourist hotspot the place is full of local eateries that cater to most tastes. Whether you want to eat at small roadside stalls and cafes just as most of the locals do, or whether you want to wine and dine in style, you will never be far away from a place which is capable of meeting your needs. In particular, and in common with other coastal destinations in Thailand, the seafood options around the pier are excellent, and a popular choice with both tourists and well-heeled Thais from Bangkok.
If you want a place where you can dine, drink, and then dance, head north along the main road in town and you will see a number of places to choose from. If romance is on your mind you'll be happy to note that they are good places to find a date. Most of the waitresses in this part of town are university students, and you will usually see groups of office girls there who are out for a fun time.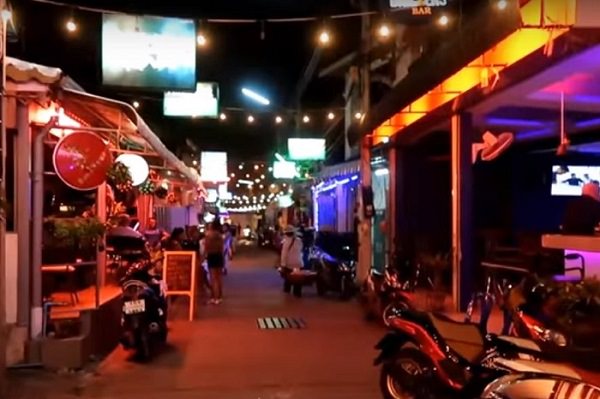 Final Hua Hin nightlife conclusion
Hua Hin doesn't offer up all the fast-paced craziness you can find in the main tourist destinations in Thailand, but it has a style of its own. For me personally, Hua Hin offers a really nice balance in catering to a wide range of tastes and desires. Whether you are young, free and single, or whether you visit with your family, you can always go out and enjoy a great night out on the town.
If you've enjoyed my thoughts on the Hua Hin nightlife scene, but want more on my thoughts about sex and dating with Southeast Asian girls, the check out my site: AsiaLibertine.com