Haitian Women Have Ass – Part 2 in Port-au-Prince, Haiti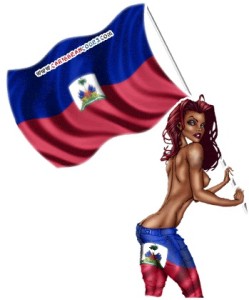 Follow my first story about Haitian women from the beginning; check out part 1:
http://swooptheworld.com/haitian-girls-have-booty/
Haitian women DO have ass
The Haitian girl and I walked up to my hotel room and I made sure to let her go first. That ass was huge. I had been with a lot of girls, but I had never been with a girl with a body type like this. A huge ass that was surely all muscle. I hoped I would find out.
We got on my bed and I started going to work. Breaking down her LMR with my routine. I understood it was a shore and I had made it 100% clear that I'm not interested in paying for sex. If she wanted to be with me, then she would have her shot.
Communication continued to be very interesting. Communicating in a mix of English, Spanish and French was actually fun. However, she started shit testing me. She knew what I wanted and she wasn't giving it up easily.
She asked for drinks and food and everything. I never like the idea of buying someones affections so I tried to limit the things she wanted and ended up getting us a couple beers and snacks.
I was hypnotized by her ass. Maybe it's because I'm from an all white area of USA or maybe it was the low cut jean shorts, but I can say that I was out of the ordinary attracted to her booty.
I pushed and pushed and after about two hours of her teasing me and slowly taking off each article of her clothing… I was able to get the bang. When we got to doggy style position, I almost finished immediately. Wow.. that ass! I felt like I was an explorer from the 1800's exploring Africa and taking a new, exotic type of woman. A couple hours later we did it again and it was just as sexy.
Moral of the story is… it's true… Haitian women DO have ass.
NSFW pictures CLICK HERE
Haitian women that stroll around town
After waking up the next day and saying goodbye to the girl with the huge ass. I knocked on THC's door to find him busy with a girl. I decided to go for a walk to find food.
I walked into downtown Port-au-Prince and as I was walking, I saw a small black girl with a booty that just POPPED. This was even more apparent thanks to the tight, thigh high dress she was wearing… it was sexy. I was on an ass high thanks to the night before… and I was ready for more.
"Excusez-moi!" I chased her down and got her attention. I asked if she knew where a decent place to eat was. She said she knew of a place close by and she agreed to show it to me. I took her there and bought her lunch. We talked and got to know each other. She knew more Spanish than I knew French, so the majority of our conversation was in Espanol.
I talked up my travel photos and asked her if she wanted to see them. She agreed and we walked back to my hotel. 5 seconds after entering my room I kissed her and 5 minutes later I was getting my 4th notch in Haiti… 40 minutes after meeting her in the street.
NSFW pictures CLICK HERE
Haitian women that don't speak English or Spanish
I had talked in Part 1 about opening a girl in terrible French and then going to THC to help me learn a bit more. The girl I had opened had still been interested and I was about to meet her for a date.
I met her at a park, then I started going through basically all the French I knew and about 15 minutes later, I was out of things to say.
I made an excuse to go back to my place. We got there and I started kissing her immediately (there was nothing more we could talk about).
I started escalating and she got worried. Then said that she had to leave.
What happened?
She was dead set on leaving so I walked her outside. She said she wanted to see me again, but it was so weird how she just shut down like that. I wasn't sure if I would see her again.
The next day I wake up to a knock on my door. There she was. I let her in and brushed off my groggy feeling. I started escalating again with her.
This time she accepted all of it and I took off every article of clothing without a problem. Then the panties came off and I was getting my fourth notch in Haiti.
She was SO tight. I remember back when I used to believe the myth that black women are loose. That has been disproved over and over again on my adventures. She was the perfect size and sex was really nice.
She would really get into it and her mouth would be open all the way as she made I weird sound; a sound I have never heard another girl make. To be honest… it was strangely sexy.
She had a decent ass as well and she didn't break the stereo type that Haitian women have ass.
The Haitian women I never got to meet
The next couple of days I had a LOT of Haitian women wanting to meet up, but something terrible happened… I got sick… really sick. I had made all these connections on the website Carribeancupid and some day game and I was too sick to meet them. It was terrible.
The next couple days were filled with me messaging girls I wouldn't have time to meet, as our adventure was drawing to a close.
National Holiday
THC and I had been looking forward to a local national holiday. We were imagining what it would be like: parties, people dancing in the street and good food everywhere.
Unfortunately that wasn't the reality. Most people in Haiti hate their government and since it's all the light skinned Haitians with extreme wealth, a lot of them have gotten violent against light skinned people during national holidays.
THC had to pass the entire day locked up in our hotel as we had heard there were mobs moving throughout the city.
Good bye Haitian women
The next day was our return date. The ridiculous expensive hotels were too much to be able to stay for any longer. We got on the bus and went back to the Dominican Republic.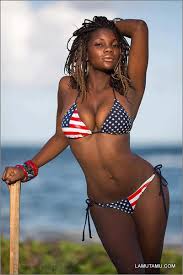 What I learned about dating Haitian women
First of all, foreigners have an unfair advantage in Haiti. This is partly from looking very different, partly from them not hardly getting any tourists and partly from poverty. Getting girls there is not difficult, all you need is a little French and a spirit of adventure.
Meeting Haitian women online
Online dating is a viable option in Haiti. Carribeancupid was what I used and I was able to get more girls wanting to meet me than I had time to meet.
Meeting Haitian women during the day
The other good option is just walking up to these girls during the day and leaving your Whatsapp or local phone number with them. Your value is so high that this is VERY effective. When you walk up to these girls and start talking, you may find that they don't seem interested. However, that is because you are so intimidating to them. Most likely these girls have never talked with a foreigner. Leaving your number with them, will give them time to gather their thoughts and you can expect a text message soon after.
Meeting Haitian women at night
I didn't find that this was a great option. There is a very high percentage of prostitutes in Haiti and although it's possible to shore, meeting women online and during the day are much better options.
If you want to see some video of our adventures in Haiti, check out THIS video that THC made of our time in Port-au-Prince, Haiti.
Follow the next chapter in the story in Nicaragua here: