Guatemala Adventure PART 3 is a continuation from PART 1 and PART 2, make sure you check these out as well!
Volcano Hiking
We're still hungover and exchanging stories from our wild party night. It's Saturday noon. Saturday is the only BIG party night in Guatemala City and we still needed to find Guatemalan girls: we can't miss that.
But we had been drunk, high and all over the place so we hadn't really got the chance to explore the city or area. One thing we agreed upon was that we couldn't leave Antigua without hiking the volcano.
In our usual improvised style, we leave the luggage in the hotel and stop the first taxi that passes to take us to the volcano: No package tours for us.
It's our lucky taxi streak, because again we find a cool guy that asks us an honest price. So we make a deal for him to pick us up after the hike and drop us off in Guatemala city.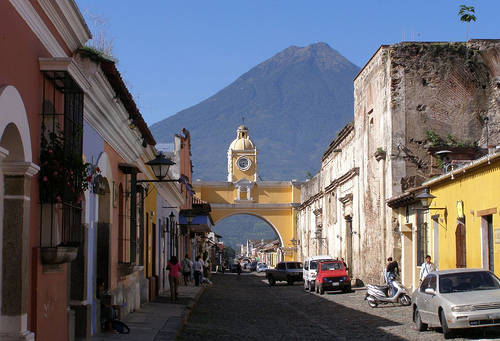 Pacaya
When we arrive at the foot of the volcano, there are freelance tour guides hanging around, there are horses for rent and walking sticks for sale. Pussy options. Only after they earnestly insist we agree to take the guide.
Let the hungover volcano hike begin! As a testament to how ad hoc our hike was: Fisto was still wearing his flip flops and Smooth Operator was wearing my Muay Thai shorts because he forgot his own shorts. This got some funny looks from the locals. Our guide tried to arrange some walking shoes for Fisto but he would not have word of it.
As we start walking I realize how out of shape 3 weeks of partying and drinking had made me. The climb was very steep and the lava ground made the steps a lot harder.
The guide keeps rattling his volcano trivia but we only care about seeing the lava. We take a break at the half way point to lift some volcano rocks and are busting each other's balls about who lifted the smallest rocks.
Kings of the Hill
When we finally reach the top we're a little bit disappointed because there's no lava to be seen. We must have misunderstood that from the guide. Nonetheless it's an impressive sight. It's very misty and isolated and could remind you of a landscape from Lord of the Rings.
Before we start our descend, we do some fighting poses on the edge of the crater that made for some awesome pictures.
The descent is a piece of cake, except maybe for Fisto on his flip flops, and naturally we arrive at the starting point well ahead of time. It would be one hour more before our taxi came back so we decide to meet him ahead and walk towards him on the only road that leads to the volcano.
As we walk away we see a group of tourists preparing, renting the horses and buying the walking sticks. They're wearing survival gear and have backpacks full of hiking gear and supplies.
"It's a 1 hour hike guys!" we laugh as we walk by in our shorts and t-shirt.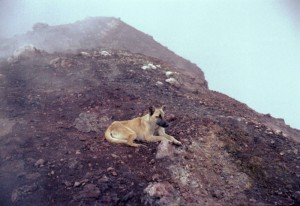 Beers and Cold Play
On our way down we stop at the first roadside shop and buy some cold Guatemalan beers. I guess they didn't get a lot of visitors because not for long we're hanging out with a group of locals. We make some small talk with them in Spanish. One of the guys is a fan of Cold Play and every time we mention a song of theirs, his face lights up. We made a new friend.
They buy us a round of beer and we return the favor. Even though we didn't have much to talk about, I really enjoyed this interaction and I could tell they did as well. It was a cross cultural bonding over beers and music. Totally random but now a very nice memory.
When our taxi drives by we say our goodbye's.
Now, it's time for the real deal…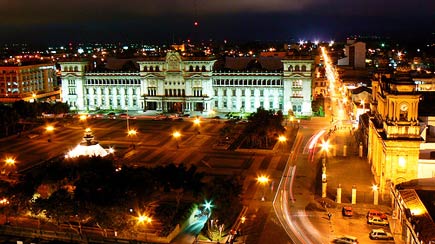 Saturday Night in Guatemala City
We didn't have any luck with the Guatemalan girls so far and it was our one and only shot at exploring the night life in Guatemala City. Of course that is the moment I get sick.
I hadn't been feeling in great shape for a few days but the final party night in Antigua, the lack of rest and the physical endeavor tipped the scale. On our way back to our hotel in Zone 10 I got fever.
No way I'm gonna let this ruin my final shot at night life in Guatemala. So before we stop at the liquor store, we stop at the pharmacy. I take a shitload of Ibuprofen and something to calm my stomach and we start pre-gaming with shots of vodka.
Yet after 2 shots I have to make a run for the bathroom where I puke my guts out. This is not looking good!
Impromptu Again
Puking did make me feel better but I decide to stop drinking and let Fisto and Smooth Operator finish the bottle.
Once the bottle's we realize the clock's ticking. It's an absolute LAW that pre-game drinking always takes twice the budgeted time. So now we're out on the street under time pressure and with no idea where to go… Will we never learn?
We walk in the HardRock café and ask some of the staff for recommendations. A heavily pierced guy full of tattoos recommends us a place that's supposed to be walking distance. Since it's better than nothing, we start walking in that direction. But as we are walking whether we can rely on his recommendation, he didn't seem like the guy that goes to the high end places looking for high end girls.
Guatemalan Girls Intermezzo
We ask a group of girls that cross our path. They are cute and speak decent English. They recommend us a  few places and they seem more reliable that the piercing guy, they WERE after all the kind of girls we are looking for. I'm still feeling like crap and it impacts my game. I'm not in a witty mood so I just witness the interaction as an observer.
Fisto and Smooth Operator are killing it. Smooth Operator is excellent at using misinterpretation to make it seem as if anything she says is sexual. Thirty seconds in a girl is laughingly slapping his arm (= winning). Also Fisto is dropping one witty remark after the other and I'm thinking this set should be a video on frame control. Even though his Spanish was still lacking, he flipped in around to work in his advantage. Another girl in the group is really into him and tries to kiss him on the cheek.
Even though they're doing great, the girls had to go. They were going home and they're mom was on her way to pick them up.
Going home already?? Yes. Because even on Saturday night, there's a curfew in Guatemala City and apparently it was already getting close to that curfew.
Will we fuck or are we fucked?
The girls leave and we're left with our dicks in our hands. Where to go? How to get there?
The time pressure and the prospect of missing out on our one and only party in Guatemala heats up the tempers. We are standing on a random street corner screaming at each other on what we should and should have done.
But suddenly our midnight gringo debate gets interrupted by a girl's voice…
"HEY GUYS!! HEY GUYS!!!!"
Across the street a beamer had stopped. There was a guy sitting behind the wheel and a girl is hanging out of the sunroof.
"GUYS, COME OVER HERE!!!", she continues yelling.
We walk over and see there's another girl sitting on the back seat.
"Where are you guys going?" the sunroof girl asks us.  "We're still deciding… We heard about Club Plus or something."
She talks to the guy that's driving in very rapid Spanish. Then she says: "That's a cool place. Get in, let's go!"
We look at each other, shrug our shoulders and try to fit ourselves in the car. Smooth Operator sits in the front with sunroof girl on his lap and Fisto and me squeeze in the back with the other girl. That's how you fit 6 people in a beamer.
The guys drives off the moment our doors are closed. We introduce ourselves. They left another party and were now looking for an after party, apparently Club Plus is located out of the center and stays open a lot later: What a blessing.
Sunroof girl is now frantically talking on her phone in Spanish. She keeps repeating the name of the club. Suddenly there's another beamer driving besides us. A guy driver acting cool and another girl waving at us. Great, sunroof invited friends, the balance is restored: 3 Guatemalan girls.
The Club
It's quite a drive to the club and I'm still feeling like crap. Fisto and Smooth Operator do a great job on establisting a fun vibe and befriending the driver. I'm still focussing on not throwing up again and not showing I feel like shit. I'm sober and I fall in a very dangerous trap when you are out to get laid: I start analyzing and over-thinking.
That's a mindset you really have to avoid especially when you are going out and you need to match to the energy vibe of partying girls.
The whole way, I ride a long quietly, still in observer mode.
We arrive at the club and the friends from both cars meet up and we get a chance to check out our new friends. They're young well-off Guatemalans. We figure the two guys are their gay girlfriends. The girls are not top shelf but they are dressed up with high heels, nice dresses and matching purses. Definitely bangable. I force snap myself out of my bad mood and use the new group dynamic to get my mind back on the game.
As we walk to the club, the girl next to me stumbles on her high heels. With my sober reflexes I catch her before she falls. She's now in my arms and she's not making an effort to let go. I already know this is in the pocket.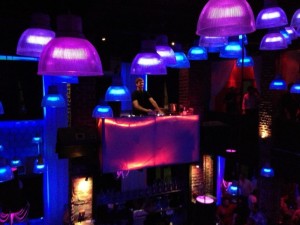 Party time
There's a huge line and annoyingly selective bouncers. Fisto walks up to them, chats them up, shows them some pics on his phone and gets us in without waiting in line. Social proof: acquired.
Inside we order a bottle at the party is started. The club is awesome. The walls give light, they're playing great electronic music and everybody's having a good time. But most of all… there are some really hot Guatemalan girls here. We never saw this quality Guatemalan girls during the day and definitely not in these amounts. They are all dressed sexy, high heels, long hair and have a surprisingly white complexion.
In fact the girls are so hot that I'm facing a dilemma: Go for the sure thing, my girl who has been subtly touching my hand the whole time or try to upgrade.
I would have upgraded any day of the week but since I didn't have the flag, I decide to play it safe.
Quatlity Time
They play a salsa song and I start dancing with my girl. Before the song is over, I'm making out with her and I'm feeling up her ass.
Over my shoulder I see that Smooth Operator has locked down the girl from the other car and is also making out.
The evening gets a bit blurry but after some dancing and making out, we convinced the gay guys to drop us and the three Guatemalan girls back off at our hotel. They reluctantly accept and drive us home while lecturing the girls to behave.
During the ride Smooth Operator informs me that the 2nd guy wasn't actually gay but he was on a date with the girl that's now sitting on his lap, licking his neck and feeling him up: Game vs. No Game, who goes home alone?
There's a bit of drama when our guard won't let us in our own hotel with the Guatemalan girls but with some good cop (me trying to be diplomatic) – bad cop (drunken Fisto ready to kick the gate in) we convince him to let us in.
We immediately split up our girls.  I have no LMR and she readily strips naked once we're in my room. She has pale skin and a nice big round ass. I completely forgot I was sick and I enjoy banging my first Guatemalan flag.
Three friends go out and meet three Guatemalan girls: That's Triple Quality Time!
Bonus Sunday: My Sexy Guatemalan Waitress
I forgot to mention it in the previous parts but Smooth Operator and I had gone out to day game in the Center of Guatemala before we left to Antigua. There I got the number from a waitress that was working in the restaurant where we had lunch.
This girl was really cute and I really wanted to meet up with her. Our interaction had been very brief and I hadn't contacted her for a few days now.
But today was Sunday and I was logisti-fucked. Today was our last day in Guatemala. Our flight out of the country was at at 3 am the next morning, so we had already checked out of our rooms.
Smooth Operator encouraged me to go for it. I didn't feel like going on a date if there was no possibility of taking her home. Since we were both exhausted, we took one room to share so we could rest there comfortably during the afternoon, leave our luggage secured and take a shower before catching our flight.
This meant my logistic option had improved a bit; still it was a shared room but at least I would have the option to take her home if the date went well. Not ideal but we would work out a plan.
I call up my waitress and she answers immediately; "Of course I can come, I thought you weren't going to call me!"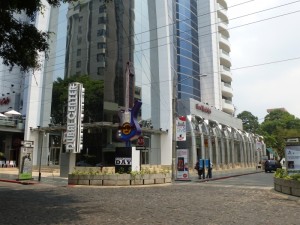 Last hours in Guatemala
I get her to meet me for a drink at the Hard Rock café (conveniently in front of my hotel).  When she gets out of the taxi, she's looking cuter than I remembered. I had seen her in her waitress uniform, but now she had clearly done an effort to look her best.
She was wearing really tight jeans and sexy black boots with short but fine heels, and a black top displaying her boobs but in a subtle and modest way. She was very light skinned which contrasted well with her luscious black hair: Wow, I love it when you feel pleasantly surprised like this on a date.
As we cross the street, I "protect her from the traffic" by holding her back and then taking her hand when it's safe to cross. This is very natural and a great way to initiate kino (the art of touching). I don't let go of her hand and neither does she, so we're already walking hand in hand and have a "lover's vibe" before the date even started.
Hard Rock Date
We have a few drinks and talk about our lives. She has got the sweetest voice ever and actually enjoy spending the date with her. She's a real good girl. She doesn't party a lot and works hard at her restaurant to make a living. It was going to be hard to get her straight to my room but I was under time constraint.
Where I normally vein that I'm staying for a long time in the country, possibly even move there, today I decided the switch strategy.
I told her I had to leave Guatemala and go back home 'for a while' before I could return.
"When are you leaving?"
"Tomorrow very early", I told her I was so sad that I only got to meet her on my last day, and I actually meant it. She was just so sweet, cute and kind.
Knowing we had this time constraint she agreed to come watch a movie at my hotel.  I text Smooth Operator, who had been taking a power nap in our room that I was coming over. When I arrive, the room was as if it was my own: Wingmanship.
Beautiful Goodbye
I take it easy and only slowly escalate but the LMR (Last Minute Resistance) is fierce. I have to pull out some heavy contra-LMR artillery: The emotion card, the dramatic look-away… but finally she caves.
I get her naked and her body is amazing, flawless light skin, decent sized gravity defying boobs and a sweet little  Latina booty. She didn't have sex for a long time and it hurt her to get my dick in, but after that she totally went for it. Still waters run deep… She makes the really nice moaning noises (a big personal plus for me) an we have amazingly good sex. She comes so hard I can only see the white of her eyes for a minute and she's shaking in her legs.
She can't stay too long as she's living with her mother and me neither as it was almost time to take a shower and catch our flight.
I was sad to say goodbye to her. Not often you have an instant connection with a girl so I curse I didn't meet her earlier. On the other hand, this is about as good of a goodbye you can experience in a country.
I was leaving with a good feeling and some great memories to cherish for always. And that concludes the Guatemalan series.
THC