After Belize City we went to the islands Caye Caulker and San Pedro, it got pretty crazy over there too… but today I'll tell you about our first days in Guatemala.
Sunday, 2:00 pm, Belize City
From Belize to Flores, Guatemala
We had just got off the boat in Belize City; the plan was to get to Guatemala and we were deciding what to do. Since it was Sunday we knew the city would be an absolute ghost town again, so we decided we would be better off going straight to Guatemala. We had found online that there was a bus leaving daily at 3 pm that could take us to Flores (in the north of Guatemala).
Yet when we arrive at the bus station, they calmly inform us that the line has been cancelled for already 6 months. Great, the one time we actually prepared something, we got screwed.
Fuck it, we'll go ourselves. Let's find a taxi that can take us to the border.
There were plenty of "ad hoc taxi drivers" hanging out at the port so we started negotiating with them. Some of them asked for ridiculous prices, others were more reasonable. We played them out against each other and ended up with a very good price and since it was the 3 of us it was actually cheaper than taking the bus.
Taxi from Belize to the border
We were on our way. I was happy to move to the next destination but also a bit sad I couldn't meet up again with my 2 dates. They had been texting me whole week and I would have loved to smash my park girl and re-smash my waitress girl.
Our driver Jake seemed like a pretty cool guy.
Half way through the ride I remember I still had some coke in my pocket that we bought on the islands. We didn't know what to expect at the Guatemalan border so we just decided to finish it in the car.
"Jake, are you cool if we finish up our coke in your car?"
"No problem brother, be my guest!"
Jake puts on some sweet tunes and at least the trip to the border became a little bit more fun. Near the border we crossed a bridge over a lake and it seemed like the whole local village had turned out for a Sunday pick-nick. Kids playing and girls in bikini swimming in the lake… So that's where the Belizeans are on Sunday!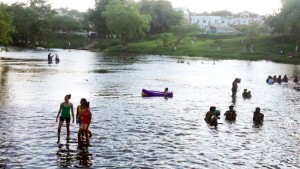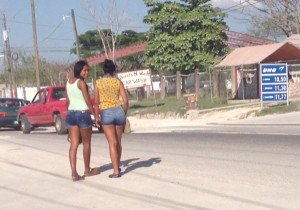 Guatemala border
Crossing the Guatemalan border was cake. This time we were prepared and made sure we had enough Belizean dollars left to cross the border but it was pretty cheap. We get our passports stamped, say goodbye to Jake and walk over into Guatemala.
We thought about taking a bus from the border but immediately we're surrounded by Guatemalan guys offering to drive us to wherever we want. We had no idea if there even were buses on Sunday so convenience won over budget.
As we drive away from the border we have to stop at a few military check points. "Against the banditos", our driver tells us. But as soon as we're past them he asks us if we want to buy some coke.
"Here it's cheaper than in Flores amigos!".
No thanks, we're good!
Arriving in Flores, Santa Elena
The city of Santa Elena was much more lively than we expected. I was expecting a small quiet town, but it seemed much bigger and more modern than Belize City. It was nice to be in a city again where you actually see people.
"Take us to a place close to the night life, José!"
He takes us to a hotel on Flores, which is just a bridge away from the town center. When we hear the prices of our room we  are pleasantly surprised, Guatemala is a lot cheaper than our previous destinations. The rooms are nice and we have a great view on the water from our balcony.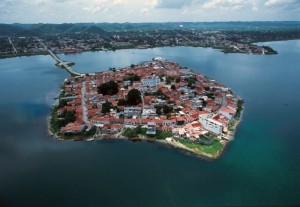 The only bad thing about this hotel was the manager. He could not leave us the fuck alone.
"You want to go to Tikal? You need a good restaurant? You want to go to Guatemala City? You want to do a tour?"
Dude, we just arrived we don't know what the plan is. We will tell you if we need anything. But it didn't register, he kept coming up with new questions or proposals. We had to close the door in his face to get rid of him.
After dinner Smooth Operator and me decide to go out and check out the nightlife. Fisto checks out, he had a few rough nights on the islands in Belize (you'll read about it in the upcoming posts). We walk around the island but the island is absolutely dead. We ask around and everybody confirms that we won't find anything good for tonight.
We're tired too so we accept our defeat and head back home to catch some sleep; at least we'll be rested to visit the Tikal temples.
The Tikal temples
We wake up and head out for breakfast and the first thing we see is the annoying hotel guy. Has he been sleeping outside our room???
"The bus to Tikal leaves at noon amigos, you buy tickets now? Or Guatemala city, I have good price!"
Dude, let us wake up for a second. We're going to get breakfast first, then we'll tell you. He tries to get us to eat at the hotel's restaurant but we walk out, just to get away from him. When we're at the end of the street, Smooth Operator tells me, "Look behind you, you won't believe it…"
In the distance I see the annoying hotel guys sprinting after us. It reminded me of the scene from Terminator 2 where the T-1000 chases the car and hatches on to the car.
"I have discount also for you!" he says out of breath when he finally catches up. You try too hard man! I wonder how much business this guy has lost for his hotel.
Good thing we didn't buy the tickets from T-1000 because five minutes later we meet a guy at the restaurant where we're having breakfast. He's super relaxed and offers us a much better deal: Sold. We buy both the tickets to Tikal and the tickets for the bus to Guatemala City leaving at night.
The bus to Guatemala City leaves at 8:30 pm and we would be back from the temples at 8 pm; a little tight but we'll risk it.
Chicken bus
A mini van picks us up at the hotel and we're off to Tikal, which is about 2 hours from Flores. The bus is full of back packers. We play a little game of "find the cliches" and nearly every item on our list of back packer cliches is represented: Dreadlocks guy, fanny pack guy, tank top with the local beer logo guy.
We're sitting next to some German girls, they're not cute but Smooth Operator speaks fluent German and I can say a few things so we talk a bit to them in German. The whole conversation is one big cliche after the other.
"How do you say 'cheers' in your language?"
"If you haven't been to place 'X', you haven't experienced the real 'Y' they have the best 'Z'"
When we arrive, the whole bus had decided to stick together and take a guide to show the temples. Fisto, Smooth Operator and me decide to explore it on our own.
Amazing experience
We were lucky because it seems like there are no other tourist around that day, which really enhanced the experience. Besides the occasional guard we felt as if we were exploring the park alone. We would walk through the jungle and suddenly arrive at a huge open space with magnificent Mayan temples towering over the trees, a truly impressive sight.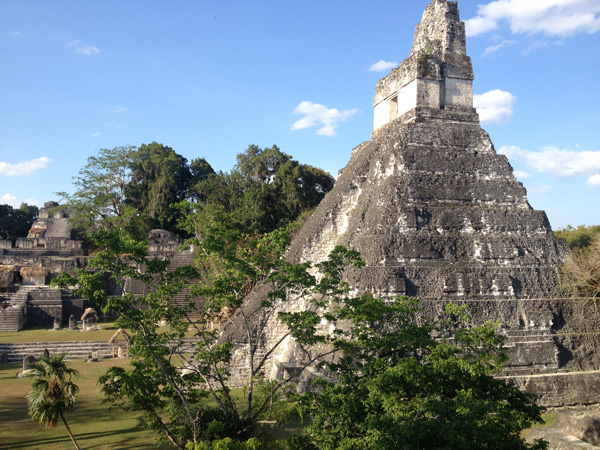 Ever since one stupid tourist fell down the steep stone steps and died, they have put up signs that it's not allowed to climb the temples anymore. You're only allowed to use the "easy access" wooden staircase they built.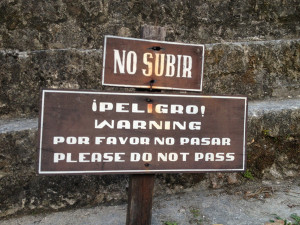 Since there's no challenge in that, we wait till the guard's out of sight and climb the highest temple we can find. Once on top the view is breathtaking. Jungle as far as you can see and other Mayan temples peaking over the treetops in the distance. We take a few moments to let it sink in. It's a must visit for Central America.

We go from temple to temple and climb them whenever there's no guard around, it counts as our workout.
Time pressure
The bus is supposed to leave at 6 pm to Flores, giving us just enough time to get our luggage and catch the bus to Guatemala city. Perfect in theory, horrible in practice. Of course everything would go wrong.
First the rest of our group decides to arrive 20 minutes late and when they finally arrive all the girls have to go to the toilet and buy souvenirs. Fuck that, we don't have time anymore to wait for this shit. We talk to the driver of another van that was ready to leave, explaining we would miss our bus.
"Sure, you can switch places, I'm leaving right now."
Great at least we won some time we think. But as he starts driving we already regret it. He's driving like an old lady and not even ten minutes after we left we see our original van passing us by at high speed: Murphy's Law.
He also stops to pick up 2 hitchhikers and at one point his baseball cap falls off and flies out the open window. He actually stopped the van and drove backwards to go find his cap.
I really didn't want to miss the bus, after the boring night in Flores, we were ready for the action of a big city again. But by some miracle we arrive just in time at our hotel to catch the night bus.
Relieved, we are now on our way to the action… because 2 days in Guatemala and no flag yet??
The real adventure starts in part 2: Guatemalan chicks, back packer parties and volcano hiking. Stay tuned!