Arrival in Guatemala City
This story is a continuation from Guatemalan Adventure (Part 1) – Read Here
The night bus to Guatemala City was rough. The seats were uncomfortable and the AC was blasting away so I didn't get a lot of sleep. I was relieved when we finally arrived.
As usual, we had not prepared or investigated a single thing. We acquired some information on the spot by talking to people from our bus who had done their homework better. Guatemala city is notorious for violence and dangerous in certain areas, so you have to know where you're going. The city is divided into 21 zones and each has a different level of safety.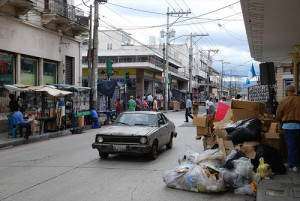 Since we were ready for some decent nightlife we decided to stay in the high end zone; that's zone 10. Incidentally this is also considered the safest zone as there are many businesses and high-end hotels with private security that keep the area safe at night.
We stopped a taxi and asked him to take us there. We made some enjoyable small talk with our driver Edwardo; he was a very helpful guy. The big hotel chains were above our budget but he found us a hotel for 30 dollars per night right across the Holiday Inn.
Great job Edwardo!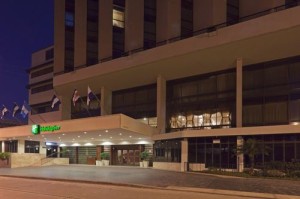 Ready to party
After the disappointing capital that is Belize City, we expected Guatemala City to be banging any given day of the week: This is absolutely not the case. The more we asked around for places the be, the more our enthusiasm melted away.
"No, no, no… No party tonight. Thursday it starts. Friday a little bit more. But Saturday is really the best day."
Fisto took this as an opportunity to catch up on some sleep. But even though it was a Tuesday (the worst party day of the week), Smooth Operator and myself were not deterred by these warnings.
We walked around in Zone 10 around midnight but the advice was correct: All the restaurants were closed and the whole area was dead. We did find a few bars a couple blocks from our hotel where we had some beers, but we were nearly the only customers; no cute Guatemalan girls in sight.
Change of plans
Since we're not going to waste away till the weekend started up this city, we decided to go out to Antigua. Antigua is a city nearby Guatemala city, famous its well-preserved Spanish Baroque and spectacular ruins of colonial churches, but we had also heard that the nightlife was better than in the capital during the week.
We called our driver Edwardo to bring us to Antigua and he came to pick us up.
Since we're in Central America and there's cheap(er) coke all around, we decided to inquire with Edwardo where we could find some before driving to Antigua. He didn't seem like the type of taxi driver that would know, but sure enough he said "Ok, I'll take you".
He brought us to a street corner and when we got there he was visibly nervous. I don't think he had gotten this request before. He got out of the car and talked to some guys chilling on the street corner, they look and point at our car and then three of them walk over to my window.
"What are you looking for?" and he grabs a hand full of small bags from his jacket.
We get our coke and Edwardo nearly drives off with screeching tires. We're laughing because he was so nervous but as soon as we're out of the street he's laughing along with us. Now he's on board and before we even arrive we're doing taxi-lines again.
Arrival in Antigua
Antigua is a smaller city and is a protected UNESCO Wold Heritage Site. The buildings are colorful and all the streets are in stone and a big volcano is rising up in the horizon. It felt like we had traveled back in time, a really cool place. As we drove around we saw there were a lot more tourists here but we also spotted cute local girls.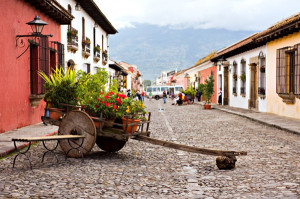 We found a hostel with a very reasonable price owned by Jews: "Shalom Antigua" or something.
Smooth Operator had to find a dentist but Fisto and I were in a very 'energetic' mood, so we started pounding beers. By the time Smooth Operator returned we were cheerfully intoxicated. We did however find out about the place to be that night.
We had settled on the recommended Reillys.
We got some food to sober up, took a shower and we were ready to go out.
The party
When we arrived at Reillys it was still kind of empty but across the street there was another place that was playing loud music and had a small queue to get in. Okay, let's go there then.
Inside the atmosphere was more "backpacker" than the bus ride to Tikal. The crowd was very international and almost exclusively white. There was a very "Happy family" vibe, with a lot of different mixed groups of people that had clearly met at their hostels earlier that day and were now stepping up their socializing with the help of local beers.
A lot of flip flops, guys in shorts and at LEAST four people with dreadlocks: Not our preferred setting.
Especially since we didn't see any obvious girls from Guatemala and we were still hunting for the flag. But fuck it, let's make the best of it.
Two girls next to us are making selfies. I take one of the girls' phone and say she looks terrible on these pictures. Smooth Operator starts chatting up the other girl instantly. They're two Israeli girls and had also just arrived in Antigua together. They weren't anything special but it was a good set to get ourselves in a social mood.
The token "oh wow you travel and I travel too"-conversation takes place, but she also initiates some kino (subtle but deliberate touches); my slut radar has detected a target. They ask us to join them upstairs where it's less crowded but since we were still looking for our Guatemalan girls, we say "Maybe later".
Not much later we're in our usual modus operandi: We're all over the place, we all lost each other and occasionally we run in to each other at the bar if a girl didn't work out.
I finally find a cute petite Guatemalan girl. We talk a bit, she speaks fluent English but she's extremely shy. I take her to the dance floor, we grind, but I can't escalate enough. Without realizing I had been time traveling because suddenly the music stops and they announce the party is over.
I tell my girl to come to the "after party" but she's making excuses that she has to drive her friend home… I make out with her but it's clear I'm not getting her home.
I meet Smooth Operator again and he has the same problem. The girl he had been making out with had to leave as well.
"Where is Fisto", I ask him. "He already left with a girl."
Now people are starting to leave. It's too late to approach new girls now.
"The Israelis!" we exclaim simultaneously.
We walk around the club and find them talking to 2 other guys. The guys didn't look like much competition and they weren't. We storm in, take over the conversation and within three minutes my girl is slapping my arm and the other dudes have bounced. My slut radar (and my drunk brain) tell me to go sexual fast. Somewhat mid sentence I interrupt her and  put her hand on my dick. Her eyes light up: A bold but right move.
We make out a bit till we get kicked out by the bouncers; the party's really over.
Praised be the God of Logistics
"You know we are staying in a Jewish hostel", I tell my girl.
"No way, that's right next to ours!"
Sometimes you get a lucky break like this and all logistics magically work out. The four of us walk back to our hostel and my slut radar was right: This is solid in the pocket. When we arrive we easily split up; Smooth Operator takes his girl to their hostel and I take my girl to ours.
There is zero LMR and we're already naked before I can decently close my door. I had already heard some good things about Israeli girls and all these things were confirmed by my new Israeli flag. My girl really got freaky. She was loud and great at dirty talk with a very sexy accent.
I smash her a couple of times and we may have woken up the complete Jewish hostel.
I'm happy when she gets a call from her friend that Smooth Operator is about to leave. That's my key to send her back to her own hostel.
Good sex and sleeping alone in my bed: a perfect combination.
Good Morning
The next morning we all meet up for breakfast and exchange our stories. It was also the first Israeli flag for Smooth Operator. Fisto also had a wild night with a crazy girl. As good as our logistics, so bad were his. He had spent half the night driving aimlessly around in taxis because she couldn't find her hotel.
We are laughing and in a good mood despite the hangover; breakfasts over adventure stories taste the best!
Stay tuned for Guatemala Adventure (Part 3) with volcano hiking, day gaming, Guatemala City clubbing and capturing our Guatemalan flags!
THC