Guadalajara Part 3: Drug Cartels, 3somes, Bondage, and blood thirsty father-in-laws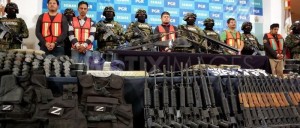 Check out Guadalajara Part 1 here: 
http://swooptheworld.com/my-first-few-action-packed-days-in-guadalajara/
It's been a while since I have updated everybody on my travels through Guadalajara. I will start in order.
The Land of the Narcos
I went into what is currently THE MOST DANGEROUS state in Mexico. Looking back, maybe not the best idea, but I survived so no big deal.
I was going to spend five days there visiting the family of my main girl and going to the week long fiesta that they were having in that city. I saw on the news that while I was there that there were constant attacks on the federal police stationed there because of the cartel problem and a Navy admiral was also assassinated there. The news kept me on my toes.
I was constantly making sure I knew my exit routes and the fastest way out in whatever place I went. Maybe it was a bit of overkill, but reading about all the shit that was happening while I was there… made me paranoid.
It felt like Mexico as I had imagined it. The streets looked like Mexico, the music was the "Banda" music I associate with Mexico, it finally felt like I had arrived.  I continued my trip and met my girls family and realized… these people know how to party. They started early and finished in the morning. Dancing, drinking, and singing all night.
Most the nights I spent there was more of the same. One night I went back to where I was staying at 4 am because I was exhausted and woke up to a call at 11am saying that they were going swimming. My girls family had partied all night long, no sleep, then at 11am was ready to go swimming. Fucking nuts.
From day to day it wasn't strange to see convoys of police trucks filled with guys wearing masks (so the cartels wouldn't know who they were. It wouldn't be a big deal, but it's not uncommon for drug cartels to go for a guy's family.) going at high speeds down random roads.
It was an exciting five days, in a town that I later learned was known for being filled to the brim with "Narcos" or members of drug cartels. My main girl actually told me I had spent my five days in her city partying with Narcos. She wouldn't tell me exactly who and honestly it's hard to tell  because they all seemed like good dudes.
I've always thought of Narcos in the worst possible light, avoiding them at all costs. It's not the worst idea, however, most are just guys looking for a decent paying job. They aren't out to get the un-suspecting tourist, they are just making their way through life just like the rest of us. Still… I wouldn't suggest pissing any Narcos off.
NSFW pictures CLICK HERE
My #2 girl
I have basically been dating two girls here in Guadalajara, and the rest of the time fitting in new girls in between. My #2 girl is a girl with an amazing ass and GREAT curves. Sex is always exciting and heated.
One day #2 and I start talking about threesomes and she tells me she would be open to try it, as she has been curious. We started our search for our 3rd member, I will find her, whatever it takes. We've turned down a couple other couples wanting a 4some. No thanks.
Another day with my #2 I ask her what type of porn she likes to watch. She is embarrassed, and I have to drag it out of her. You know what website she opens up? Some bondage website. This is one sexual girl, that is just starting to get into her kinks, and I'm happy to help that sexy girl out in discovering them. It's something I haven't tried either. We try some stuff while I tie her up, but we can get more interesting later.
NSFW pictures CLICK HERE
The House Wife
As I mentioned earlier, I was fitting in new dates whenever I wasn't spending time with my two main girls.  One of those was a house wife that I felt a little guilty about, before realizing that with this girl… if it wasn't me it would be the next guy. The sex wasn't bad.
Awkward, Tall, and Skinny
Another girl came here from another city just to see me after I did my patented webcam game. It went from her rare messages to her taking a bus to see me the next day thanks to my cam to cam skills.
When she arrived she looked cute, with her tall slender body. But she had an awkward personality. It was difficult talking to her and it took a lot of fun out of the seduction. She missed her bus and stayed the night with me. It wasn't great sex, not too much emotion involved. After sex it just felt awkward until she went home the next day.
Great Rack
I hooked up with another girl I had met during a night out of lone wolfing. I got her number, and it turned into a date. She was 18 year old with huge tits. In fact when I first saw her she was sitting down, and I wrote her off because her boobs looked too big and I thought she was fat underneath the table. It wasn't until 3 hours later, when I saw her stand up that I realized she wasn't even close to fat. Just very gifted. I was down.
I did a park bench date, and it was pretty standard. Next thing you know she's on my bed and getting naked. Nice tits. I was happy. Happier when I realized she had another gift, amazing blow jobs.
NSFW pictures CLICK HERE
The Tiny Latina
I got another date online; one that I had been working on for a while. She was tiny, but had curves. She had a very shy personality, but it was sexy because it was feminine. I was able to get her to bounce back to my place, and with little LMR (Last Minute Resistance) I was able to get the hookup. She ended up spending the night, and the sex was really good. The only problem was that this girl was so tight that after a while it would start to chafe.
The Kidnapped Rich Girl
I met a girl who had actually been kidnapped. She was kidnapped for a month and it honestly blew my mind. I guess her dad has a lot of money and it can be really tough in Mexico when people learn that you come from money. She was the first girl I had difficulty hooking up with. No matter what I did I couldn't get her back to my place. When I finally did on a cooking date, she wouldn't give anything up. She was very difficult. I used an LMR technique I call the 1 day freeze out (going cold when you realize you aren't getting anything. Tell her how you don't understand, and that in your culture it means that she isn't interested. Continue the freeze out for 12 hours. Warning: Only use it when it's clear she is interested). It was clear she was into me, so after one day of freezing out she was ready to do what she had to do.
This girl is all ass and no boobs. Not my typical type, however, to be honest I do like this girl. Maybe she has potential to join my main 2 girls. When she came over after the freeze out, there was 0 LMR.
The Clothing Designer
She had a banging body, and was a talker. My game was: listen to this girl and try to understand everything she was saying to me in Spanish. I just held solid body language and teased her and everything went well with her going back to my place. We arrived and I tried to escalate, but she wasn't having it. I did the 1 day freeze out again and again, a day later, it worked like a charm. Another amazing ass, damn I love Latinas. And I will say, a girl that knows how to dress with style and to her body… gets extra points.
There are another 6 or so other girls in there, but nothing newsworthy. I'm starting to cycle to a lot of my day game numbers and I'm noticing more LMR and them absolutely not entertaining a same night lay. Still they are interested so I will stay at it.
The pregnancy
My main girl had been being weird, and I had no idea why. She would respond to me, but was distant. She would agree to see me, but not with enthusiasm. Something was wrong, after some annoyance I met up with her. It was a flat night, not much emotion, something felt off. At the end of the night she told me something. "I missed my period. It's 10 days late. " She had been avoiding me ever since it didn't come. It all made sense.
She was very Catholic and it was very clear she wouldn't be getting an abortion. I thought back to how I had made a mistake with the pregnancy with the Politicians daughter in Colombia and I wasn't going to do it again. I told her I'd be there for her.
We continued talking about her family and then she told me how to act around her father. I wondered why she would go into so much detail. As she told me about his past murdering countless people and his involvement with cartels it became clear. She told me he was in a cartel, then took it back when she saw the shocked look on my face. I had wondered where her dad got all his money. I still had not met him… and I didn't want to.
I immediately made her go and take a pregnancy test. She said she would do it when she got home and I spent the next few hours imagining how I would avoid being murdered by her father.
I got a message from her on Facebook; she had gotten the results. "Are you pregnant?" I asked. Negative. Wow… Dodged a bullet there… possibly literally. Since then, our relationship has struggled and I think it's done. My #2 girl has now become my #1 girl, but I can't complain. 1st world problems.
Looking Forward to what's Next
Overall it's been a good time here in Guadalajara. In less than a week THC and Scotian will be joining me and there will be much more action to come. This is all child's play compared to the synergy and mayhem that happens when the three of us get together! Now… I wait.
Guadalajara Part 2 and 1
Part 2: http://swooptheworld.com/guadalaraja-part-2/

Part 1: http://swooptheworld.com/my-first-few-action-packed-days-in-guadalajara/
How to get laid in guadalajara
http://swooptheworld.com/how-to-get-laid-in-guadalajara/
Continue the adventure with us in Mexico City:
http://swooptheworld.com/mexico-city-aztec-princess/