Getting Laid in Bali – Guest Post by Axel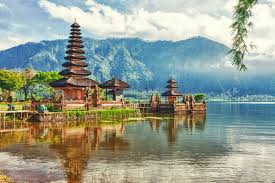 Bali, Bali, Bali – Heaven and Hell on the same day. I've lived in Bali for 2 years (on and off) but as you'll read later, it wasn't because of the abundance of babes. You'll find a dynamic mix of backpackers and Indonesians here (accompanied by the usual plethora of hookers and ladyboys) but Bali might not be the destination choice if beautiful Asian girls are your priority.
Here's what you need to know about getting laid in Bali.
Where to go
The first place any guy starts looking for girls in Bali is Sky Garden ($10 entry). Everyone has his or her opinion about it. Ask any pretty Indonesian girl and she'll say she hates it – 'too crowded' 'too many drunken Aussies.'
Then ask her if she's ever hooked up with a guy from Sky Garden – 'Oh yea, my last two boyfriends I met in Sky Garden.' If you want to get laid, head there first.  In Sky there's going to be a nice mix of both Indo chicks and Western girls. As well as the ever-present mix of local pros.
Sky Garden is located on Julan Legian, at the heart of Kuta, which is where most travellers and tourists end up when they get off the plane. Stay more than 3 days in this place at your own peril.  Although it's great for pulling drunken girls from clubs it's less than ideal to stay there – It's dirty, crowded and full of hawkers.
On Jalan Legian there are other clubs (Bounty – full of drunk Aussie teens), (MBargo – same as Bounty), (Eikon – good but small, free entry) and numerous other bars. Street game is a no go here simply because of the hawkers and taxi drivers that mean all opens are ignored on the street.
The other night spots are Seminyak for more hipster partying, with good clubs like Mirror and most notably La Favella.
On Sundays, Deus in Canggu, and Single Fin in Uluwatu come alive with surfy-hipster chicks and surf dudes. These places are generally harder to pull from and there is a lack of Asian girls. But if blonde surf chicks are your thing then don't miss out on these two events..
Daytime
Almost no one does day game in Bali (there just aren't many good places to go with tones of girls around.) Start at one of the beaches, like Kuta, Seminyak or Padang. Beachwalk shopping Mall is also good, but it's rare to see a hot girl alone here, come with a wingman if possible. I've had a foursome with my wingman and two Japanese girls by opening them in Beachwalk and later seeing them in Sky Garden where we could pull.
The Girls
When compared with other East Asian countries, like Thailand and the Philippines Bali just doesn't stack up. Balinese girls are notoriously uninterested in Western guys, and they keep themselves to themselves. After two years in Bali I've only ever hooked up with 2 Balinese girls, (although one of them was completely wild in bed and I ended up making her squirt which was an added bonus)
If you're hitting on an Indo chick and it's going well, 7 times out of ten she's from Jakarta, and 9 times out of then she's from Java. (Jakarta is in Java btw) The problem is, there simply aren't that many girls from Java in Bali, and half of them are pros.  Still, when you do find one, they're usually easy to hook up with and are horny for foreigners.
Girls from Indonesia can be thought of as two categories because of cultural differences. Balinese and 'the rest' (java, Sumatra, Sulawese etc.) Balinese, you might as well forget about. Most are average looking anyway and often don't speak English well.
Girls from Java however are much more open and interested in meeting foreigners. In fact, many girls from Java simply won't date Indonesian guys. Overall I found girls from Java aren't particularly attractive, although there are the occasional stunners. Most are skinny and have nice petite bodies, but their skin and teeth often leave a lot to be desired.
It's hard to pinpoint the personality type of Indonesian girls. Some say they are 'golddiggers' but that doesn't seem to be true on closer inspection. Many are loyal, clever and self-sufficient. As is typical for Asian girls, many are addicted to their smartphones in an almost obnoxious way.
I've found that around half of all Indonesian girls I dated wanted me to pay for their half of the meal/drinks which may give you an idea of how they compare to girls from your own country.
The Best Way to Meet Girls in Bali, Indonesia
The easiest way to get laid in Bali is actually online (like everything these days with the way the world is going), this is a great website and meeting a beautiful girl on here (they have amazing bodies) can really make your trip to Bali incredible (beaches, sights, monkeys and beautiful exotic women).
Pros and Cons of Bali
The good – Every night in Kuta there's something going on and there's a good chance to pull backpackers and girls from Indonesia. As a foreigner girls from Java will instantly see you as someone with high status.
Bali is the party island of Indonesia so it's common for Indo chicks from other (less touristy islands) to come here and look for a Western boyfriend or just get fucked by a foreigner, who they see as 'exotic.'
Bali is also pretty cheap and it's possible to live on $15 per day. There are a good variety of parties and things to do in the daytime, like world-class surfing, shopping snorkeling and watersports etc.
The bad – Bali has a massive pollution problem. Indonesians think nothing of littering and I regularly see people throw rubbish on the ground whilst standing ten meters from a bin (it breaks my heart.) The sea can be dirty and the traffic is terrible. The other con is the Balinese girls being the complete opposite of DTF or even approachable.
Should you go?
Overall, Bali is far from the best place in Asia to meet Asian girls – but you can do well meeting Euro backpackers and Aussie girls in Kuta and Seminyak. Tinder and online dating can work well, but probably more so in Jakarta where there is less competition. One of the things with Bali is the surf culture attracts a lot of guys, pushing the ratio in the wrong direction and many Java girls living in Bali already have Australian boyfriends.
Bali is well worth a visit from a cultural perspective (it's known as the Island of 1000 temples) and there is a lot to see and do, but for meeting and banging babes there are far better places in Asia to do that.
Read more posts on Indonesia in our Indonesia Archive
Read more articles on Swoop The World