My hangover is slowly fading away -it was a double day hangover- but I expected nothing less after a New Year's party with the complete Swoop The World crew reunited. As I'm chilling with Fisto at the pool of his hotel, we think back about the crazy times we had in Asia. I think back about my second Filippina girl ever: Venetia.
Venetia
One word: Brave
It was my first trip to the Philippines and my first trip to Boracay. Boracay is a small island with some amazing white sand beaches, it's a famous destination for both relaxing and nightlife (read about my 2nd trip to Boracay with Fisto here).
It was already dark when my friend Smooth Operator and I arrived. We were walking along the beachfront footpath looking for a hotel when we were greeted by a group of massage girls. They were all wearing the same color of t-shirt and greeted us with the typical Pinoy "Hello Sirrrrr" (said with the most adorable accent).
I made them all give us high fives and told them I expected a little bit more of this welcome committee. We talk and laugh for a while and one of the girls is giving me some decent looks. We still had all our luggage and we're exhausted from our party in Manila the day before, so we tell them we will see them later.
They had their fixed location on the footpath parallel to the beach so the next day we ran into them again. They tried to sell us a massage but I quickly change the conversation, we joke around for a while and get some laughs. I tell them I have to steal their friend for a second so I can have a talk with my target girl alone. I take her to the beach while Smooth Operator talks to her coworkers. Already I sense she's not comfortable, she's nervous because she is still working and she can't leave her spot for too long because the boss might see her. I tell her let's meet for a drink at night after she's done working.
"Okay, let's meet at 9:30 here" she says.
When I show up at night, Venetia is still inside her little massage salon taking a shower and changing out of her silly massage outfit, so I make some small talk with the other girls.
Then things go wrong. She comes out and tells me she can't go.
Wait, what?
Didn't we agree to go for a drink? That's the reason I'm here in fact.
"I can't have a drink with you, but we can stand here and talk."
Pfff, I was getting annoyed and my first reaction was to say "fuck it" and bounce, but then I figured there must be a reason behind this change of attitude. Something's going on here, she was way more flirty before.
I decide to plow through this one.
"Okay, let's at least sit down over there, so we can talk just you and me for a while.", I take her a bit further away from her colleagues so we can talk out of earshot. This was a good move, she was actually just trying to save face in front of her coworkers. She is really worried about what the coworkers and the boss think about her.
We talk for a while, I find out that's she's working 7 days on 7, from 9 am to 9 pm for 364 days a year. Actually this year she had TWO free days because she didn't use up her one free day on Christmas from the previous year. That's rough.
It's a tough setting, I can tell she likes me and I want to increase the kino but her colleagues are keeping a close eye on us from a distance. I have to isolate her completely so I come up with this little scheme for the two of us.
She will pretend to go home (to the left on the footpath) and I will pretend go back to my hotel (the opposite direction). I will then go back via the beach sneaking by the colleagues and we will meet up secretly, hidden by the darkness on the beach. She's intrigued by my sneaky plan but very hesitant.
"I'm worried someone will see us".
I joke that I'm a secret agent at home and I do this for a living.
"Okay, let's do it", she's on board.
We say our pretend-goodbye's and each go our ways. I ostentatiously say goodbye to the coworkers as well. Once I'm out of  their sight, I go the beach and make a U-turn. It's quite dark on the beach away from the lights of the hotels and restaurants so it's easy to sneak past her little salon and the cock blocking colleagues. I get to the point of reference on the beach and sit down waiting for her.
I takes her a while to show up and I almost start to wonder if she chickened out when I see a shadow approaching hesitantly: it's her. She immediately hugs me, relieved and excited by the "Secret Mission" we start making out.
It's actually a very romantic setting, the white beach, the sound of the ocean, a clear sky full of stars and a forbidden love. It works as the perfect aphrodisiac and things heat up fast. Now the mission is ready to move to the next stage. Via the same sneaky beach route I sneak her back to my hotel.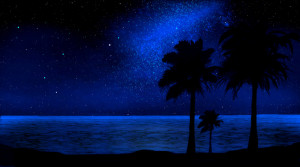 Once in my room, it's time to complete the mission. She undresses and she has an amazing little booty on her, I smash her hard. When I'm done the bed had moved to the other side of the room: Mission accomplished.
It started out as a shitty situation, but I turned it around into a challenge and it ended up being a fun and exciting adventure on a tropical island…
 Summary
– Great sex, forbidden love
– Funny, sweet and positive personality
– Romantic adventure