Changing hotel
Yesterday I checked out of my hotel.  The plan was to move into the much cheaper albeit, less impressive guesthouse that THC and 20Nation are staying.
Before I left, THC came over and we got a workout in.  I'm pretty disappointed with where I've let my fitness level sink to but I'm already feeling much better after two workouts.
I was able to get the front desk girls number, she's smoking hot.  This was a bit of a surprise since she was friends with my first girl, Gertrude.
The Driver came and picked us up and told me that there's an apartment that will be available this Tuesday.  He took me by the building which is right on the Malecon and there's several spots nearby for meet ups.  Looks like it will be logistically a very good spot.
Food coma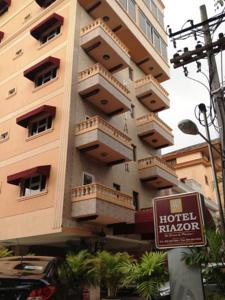 From there we went over to the Hotel Riazor cafe and I ate myself into a food coma.
By the time I checked into the new hotel I was falling asleep.  I ended up waking up around 6 hours later.  I guess all the partying finally caught up to me….
That night we started drinking in typical fashion, that is to say, excessively.
We started with big Jumbo Presidente lights and THC had somehow acquired some Belgian Maredsous 10 Tripel (10% Alcohol) Beer that we were waiting to cool off.  The trouble was that we were so thirsty, the Jumbos were gone while the Maredsous were still warm.
Luckily I'm a genius and suggested that we go down to the hotel bar and have a few beers there while we wait. That soon turned into four more beers a piece (I know this because I had to pay the tab today) and we had the Maredsous.
I admit, I am not much of a fan.  Tripel Karmeliet is still far superior in my opinion.
We went back upstairs and opened up a bottle of vodka and some red bull.  Those red bulls were more of a commodity than the vodka and I'm sure there was some subversive slight of hand going on by THC's pours (though I can't prove it).
We finished that and TorontoKid appeared in the doorway like a ninja.
We went by Mint night club but it appeared to be dead when we approached the door.  There was a girl working out front with some doormen  and I said I wanted to see here.  She said "Come back next Friday when I'm working and we will see".
I didn't have the patience or the wherewithal to explain all the variables that would have to be factored in to me being able to come by so I guess we WILL see.
Our group jumped back into the taxi and headed toward some bar in Zona Colonial that TorontoKid knew about and the taxi driver was demanding we pay him double the amount.  Double amount was a paltry sum, but I resent the "gringo tax" these guys try and charge.
I put the kibosh on that bullshit and told the guy to pull over.  This was right in alignment with my normal "stepping out of cars in the night" moves because we were in some shady area. Smells like an adventure brewing.
Zona Colonial police
We walked down this shady street that had some kind of apartment buildings on the side and had a low hanging ledge.
I'm not sure how this happened but we started doing pull ups off the ledge and this attracted two police officers on a single bike and they came over to search us.
The driver, purposely pulled out his 45 caliber pistol and then replaced it in his front pocket while the other guy came over to search us.
I could not help but think that it would be easy to take that pistol if I needed to.  These guys were so careless with their bullying.  The guy with the pistollaro wasn't paying attention with his weapon hanging out of his pocket  TWO FEET FROM US and his comrade could be easily overwhelmed.
When my guy came and searched me I playfully searched him back and he laughed.  They let us go and we continued on towards the bar, me of course having no idea where I was before finally recognizing El Conde.
By the time we arrived it was after 1 am (pretty late for here) and we were the only gringos there (that's good at least).  There was not much in the way of talent and I found myself chatting up a rather large girl who had a pretty smile and freckles (positive random for me).  She spoke a little English which was a nice break from having to practice my non existent Spanish.
THC and TorontoKid were making fun and even I was wondering what the hell I was doing but she passed the boner test. Thankfully I did not pursue her and kept wandering around and then intermittently meeting the guys at the bar for "Black Label and Cokes" since it was the same price for regular Jack Daniels.
MY SPANISH SUCKS
It's a real sticking point for me right now chatting up girls.  Things fizzle out after a short time and there's not much I can do about it.
We left and made our way to some sort of park where a group of people were sitting outside and drinking.  Some old man was there with a magnificent white beard and I wanted to pull it.  He refused until he could put on his sunglasses and then I yanked on that thing and he laughed heartily (He forgave me my Spanish disability).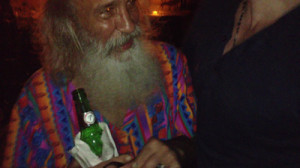 A little street dog came up and I taught her to sit and pet her for awhile.  She was very sweet.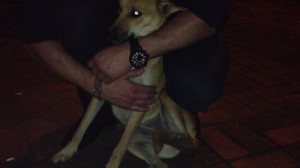 The night ended with us going to Barra Payan (highly recommended) for sandwiches.  It was odd because as soon as I walked in I realized I was here before, the very first night I went out by myself on my first trip to Santo Domingo.
I was sitting in the EXACT same spot at the counter which is what triggered the memory.
Unfortunately the only girls in the place were three German girls that I normally wouldn't look twice at sitting adjacent to us and kept looking over.  I felt it was my obliged duty to approach while THC recorded the interaction. There was one blonde in the middle who was all about "putting me in my place" and was acting as if she was some princess.  I proceeded to talk to her and her friends although I was not very motivated.  TorontoKid came up and winged me for a bit before 20Nation joined us.  I was more interested in eating my sandwich than continuing the conversation so I left them to talk.  The blonde ended up falling in love with 20 and he denied her so that was amusing.   All in all it was a very tame night but fun.