How to improve your success with Brazilian girls?
Brazilian girls are some of the sexiest, most exotic and coolest girls in the world. Because of their amazing bodies, their great personalities and their radiant smiles, you just can't get enough of them.
I guarantee this guide will teach you all you need to sleep with as many Brazilian girls as you want.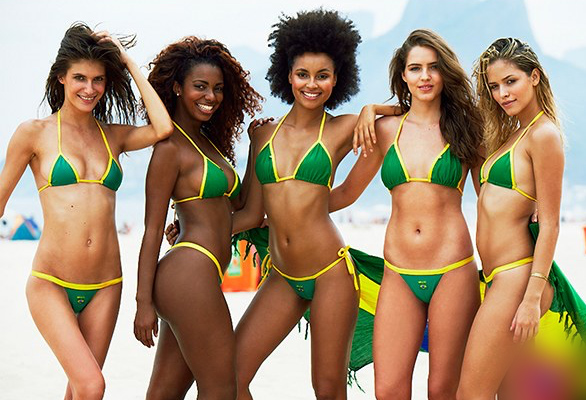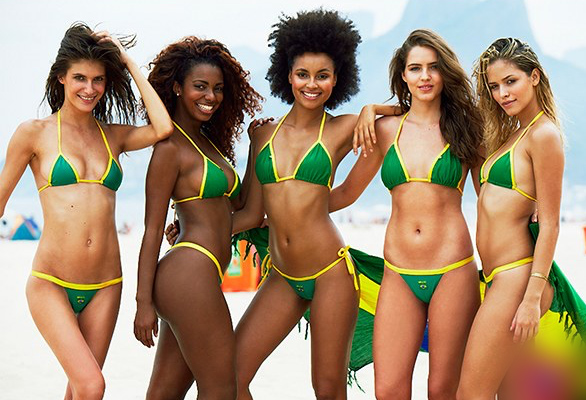 However, my first time in Brazil things were not as easy as I expected. I got a lot of flakes and it was tough to seduce the high quality girls.
Do you also feel like you could improve your success on dating Brazilian girls?
I went through the same process.
So determined to improve, I got to work. With the help of local friends and a LOT of trial-and-error, I managed to double my success with Brazilian girls. I spent literally months non-stop seducing and dating Brazilian girls.
Now I collected my insights in this post: Swoop's Guide on Dating Brazilian Girls. Follow these tips and I promise you, it will bring you more success with Brazilian girls.
Just look at my story:
My first trip to Brazil I banged 3 girls in 3 weeks. After applying everything I had learned, this went up to 30 girls in 12 weeks. That's a 250% increase in success rate.
Also the quality of my girls went up. I've dated incredibly hot women: a samba dancer, a local porn star and model looking girls.
What will you learn from this post?
In this guide I will break down how to improve your success in two simple steps:
How to meet more Brazilian girls
How to have better dates with Brazilian girls
But first, let's start with some background information on Brazil and Brazilian girls.
Brazil, the coolest country on earth?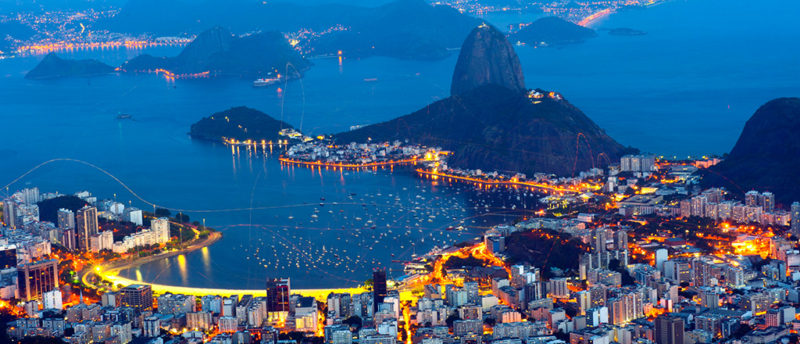 Brazil has exotic beaches and waterfalls, some of the most beautiful women on this planet, amazing food and the nicest people. It's easy to see why it would get voted as the coolest country on earth.
In this section I'll share some high level insights I learned from dating Brazilian girls and some information on the country itself.
Is Brazil a safe country?
I get this question often. The answer is… Yes and no.
Brazil is generally a safe country but it does have it's problems. You should absolutely not worry about going there. But you should be careful when you are there.
There is poverty related crime so you should use common sense to keep yourself safe.
Follow these guidelines and you'll be fine:
Don't wander alone and/or drunk into areas you don't know.
Ask the locals where it's safe and where not.
Don't flash your wealth. I.e. dress down (like the locals) and don't show off your valuables (expensive camera/jewellery).
If crime should occur it will be 99% non-violent, like pickpocketing or someone snatching your phone and running off.
During my stay my phone got stolen twice. Each time because I got careless. The first time I was able to recover my phone but I had to fight a gang of ladyboys for it. It's a funny story but I do not recommended it.
What you should know about Brazilian girls
Brazilian girls are very different from their Western counterparts, both in looks and in personalities. Even compared to other Latin-American countries, Brazilians have their own habits and vibe that's unique to Brazil.
To get you excited let's talk about their looks.
All the colours of the black & white rainbow
For generations many different races have been mixing in Brazil and the results are very interesting.
There are black girls, brown girls, white girls, mulatas and even mixes with Asians or native Indian. You have curly hair, straight hair, skinny bodies or curvy bodies… In Brazil you will find absolutely everything.
Have a look at the finalists of Brazil's Next Top Model TV-show: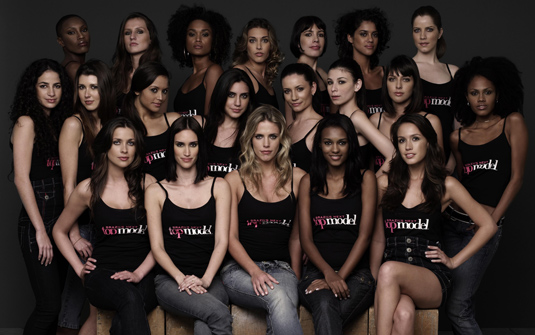 A common trait most Brazilian girls share is a great body and a big smile. Brazilians just look happier by default.
Brazilian girls have the genetics for a curvy body and many spend hours in the gym doing squats to enhance their butts even more.
Moreover, Brazilian girls also know how to move their sexy bodies, both on the dance floor as in the bedroom.
For these reasons Brazilians girls are my favourite girls in the world!
The personalities of Brazilian girls
The personalities of Brazilian girls are also very different from Western women. They have not been brainwashed by feminism (as much/yet) so the gender roles are more traditional. The women are feminine and they are attracted to masculine men.
Brazilian girls are proud of their femininity and they embrace it. They want to be sexy and take care of their appearance. They love sexy dresses, high heels, long hair and long nails.
Brazilian men are much more sexually aggressive than Western men. They don't all have game but they have zero approach anxiety. As a result you should adjust your game accordingly.
You will see Brazilians guys grabbing a girl's hand and immediately try to kiss her and the girl will just turns her head saying "Não" and move on.
With Brazilian girls, you have to take the lead and make things happen. Don't walk on egg shells, she will think you aren't even making a move on her. If a girl is attracted to you, go for the kiss. Try again or insist if she (playfully) pulls back.
Kissing and sex with Brazilian girls
Brazilian girls are very open about sex and intimacy. You'll notice that especially with kissing.
Brazilian girls are amongst the easiest in the world to kiss and there's no taboo on kissing in public. Even in a group of family and friends going to a restaurant, the couples will casually make out at the table. Brazilian girls are not shy to kiss anywhere, any time.
1. How to meet more Brazilian girls
Ok, if you want to bang more Brazilian girls, the first logical step is to meet more Brazilian girls.
To do so you have to apply different strategies to maximise your success. You need to meet girls using:
Day Game
Night Game
Online Game
Don't just focus on just one area. I will go over these three approaches below.
What are the best locations to meet Brazilian girls for Day Gaming?
Day game can be challenging for many but I really recommend you work on it. Get out of your comfort zone and create the mental state that allows you to meet girls everywhere and any time.
Brazilian girls are very approachable and friendly. I did not do well with cold approaches but when Brazilian girls have some interest in you, they will let you know (eye contact, a smile,…). Do not waste these opportunities. Approach and start a conversation, she wants you to do it!
You can meet girls literally anywhere but here are some locations where it's easiest to find attractive Brazilian girls.
Ipanema / Copacabana Beach
If you're staying in Rio, the beach is ideal for day game. It gets crowded every sunny day and you will see plenty of hot girls in bikini. Just take a stroll on the sidewalks or on the beach itself.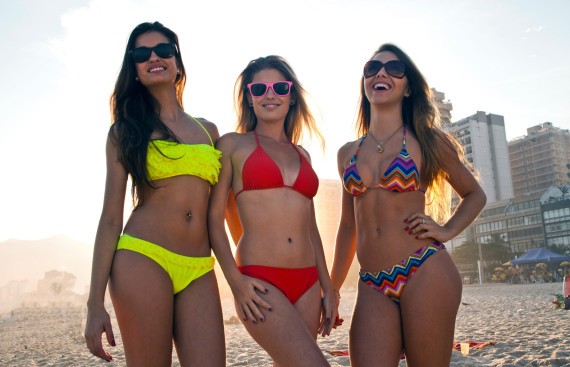 The easiest approach is the THC call-back: If you cross paths with a girl and she shows interest, turn around and call her over. In case she hesitates, walk up to her and start talking.
Another way I met girls was by jogging on the beach. When I'd see a girl by herself or when I got an IOI's (indicator of interest),  I would stop, reverse and talk to her.
Keep the interactions short, exchange numbers and set up a date ASAP.
Carnaval
If you have to chance to be in Rio during Carnaval, I highly recommend it. While it's not a sex fest where you can sleep with any girl who looks at you, it is easy to meet and make out with tons of girls.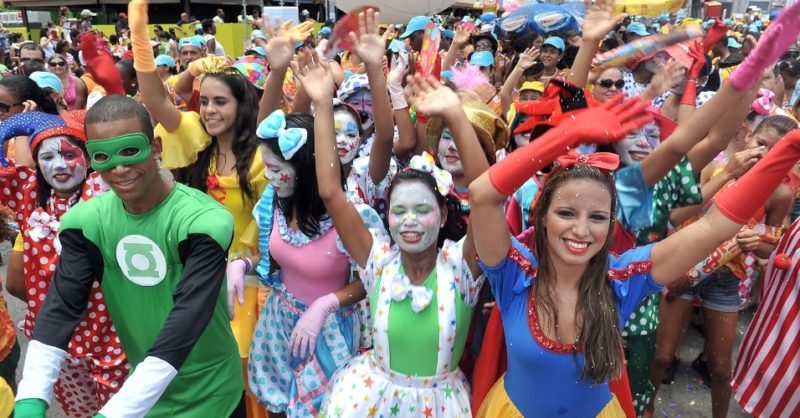 My friends and I sometimes made out with over 10 girls a day and our phones were full with new numbers. Don't expect most of them to convert; but some will and it's a numbers game.
I wrote a specific strategy to get the most out of your Carnaval in my post with Top 10 Tips for Rio Carnaval.
Park
If you are staying in São Paulo go to Parque Ibirapuera. It's a huge park in the centre of the city and there's plenty of people around especially in the weekend. There's plenty of girls playing sports, walking their dog or just chilling.
What you need to know on nightlife in Brazil
Nightlife is another great option to meet sexy Brazilian girls. Brazilians love their own music (sertaneja, funk, samba,…). And while it's an advantage if you know how to dance, it's not a requirement.
Are one night stands common with Brazilian girls?
Yes but it's not as easy as you might expect. Don't just assume you will be pulling one night stands every day.
Most of my nightlife lays came from making out with the girl, getting her number and then meeting her later that week for a drink. Brazilian nightlife is more about kissing and getting numbers.
When you happen to come across Brazilian girls from out of town, your chances of pulling that same night will increase considerably!
Don't limit yourself to one type of venue
Try to visit different types of venues. Brazilian nightlife offers a lot of different options. If you you only go to high end clubs, you will see a lot of top quality girls, but they will be harder to approach and you will spend more per night.
Another option is to go a bar where it's much easier to socialise and meet a lot of new friends.
You can even go to favela party. It's a really cool experience and you can find you sexy Brazilian girls who are very DTF. Do a little research and ask local friends on where to find the good (and safe) spots.
How to improve your success with ONLINE DATING Brazilian girls?
Online dating is still a great option for many in any country. In Brazil my two main resources for online dating are Tinder and BrazilCupid.
In this section I will discuss the pros and cons of the app versus the Brazilian dating website.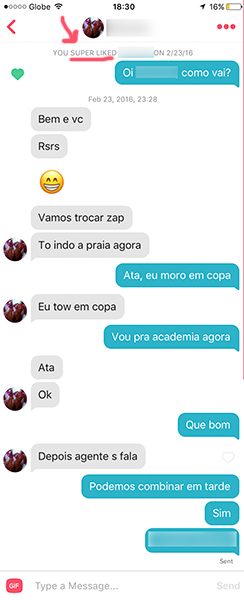 How to use Tinder to find Brazilian girls
Tinder is a good option in Brazil; I met some of my favourite Brazilian girls using Tinder. The return on investment however will vary from city to city. The carioca's (girls from Rio) are more flaky than the paulistas (girls from São Paulo).
Accept that while the swiping is fun and may seem like the easiest way to meet girls, in reality it is often tedious to swipe through the ugly girls and to deal with the stalling conversations and girls flaking on dates.
Consider upgrading to Tinder Pro
If you're going to pursue an active dating life, I recommend upgrading your Tinder account. You will get unlimited right swipes, undos and 5 super likes per day. There's also a bunch of other extra options like changing your location and hiding your age.
PRO-tip: The super likes on Tinder work really well in Brazil compared to any other country I've tried them.
In fact the Brazilian porn star I banged I met on Tinder by super-liking her.
To get more matches, optimise your Tinder profile
A left or right swap is decided in <1 second. You need to present yourself in the best possible light. We will soon publish a post dedicated to optimising your online dating profile because there is a lot to say about it.
Make sure you only use your best pictures that show you live an awesome life girls want to be part of.
Brazilian girls on Tinder are FLAKY! Plan your dates DOUBLE to avoid getting stood up
I got a decent amount of matches in Rio de Janeiro but my conversion rate was pretty low. Many Brazilian girls are just on Tinder because they are bored or in need of validation and attention.
This means you will waste a lot of time on conversations that go nowhere and risk last minute flakes from your dates. It can be very frustrating.
To avoid these annoying situations, I started booking backup dates. Only if I was sure the first girl would show up, then I would flake myself on my backup date. Shameless? Perhaps. But it avoids a lot of wasted time and these girls are pulling the same moves on us.
The results (number of matches and quality of matches) from Tinder will vary from place to place. I found I could match with higher quality girls in neighbouring areas like Niteroi or Barra de Tijuca, compared to Brazilian girls from Copacabana and Ipanema (the touristy areas of Rio). No doubt because the competition among gringos there is higher.
Meeting more reliable girls using BrazilCupid
The Cupid websites have proven to be a reliable resource for finding local girls. They provided me countless dates in Colombia, Philippines, Dominican Republic, etc. The only country where I didn't find it valuable was Japan.
If you are planning on going to Brazil soon, I recommend creating a profile on BrazilCupid.com and pipeline a few dates with Brazilian girls before you even arrive.
Step 1: Create an account
The good news is that you can create a free account by clicking here. It only takes 2 minutes to register and you will be able to see the Brazilian girls who are members.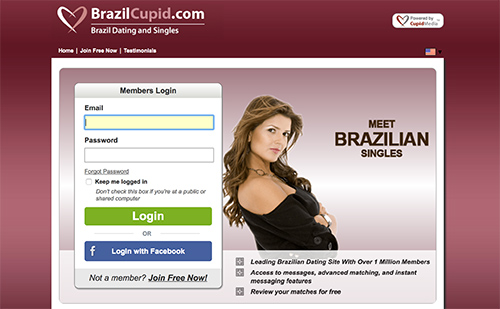 Try it out and see what kind of girls the site has to offer. You can try searching for different age groups and different cities to check the quality of girls.
If you use your actual information and upload some profile pictures, you can even test your response rate. You won't be able to read her replies however until you upgrade your account.
Here's an example result from BrazilCupid when I searched for 18 to 21 year old girls in Rio de Janeiro: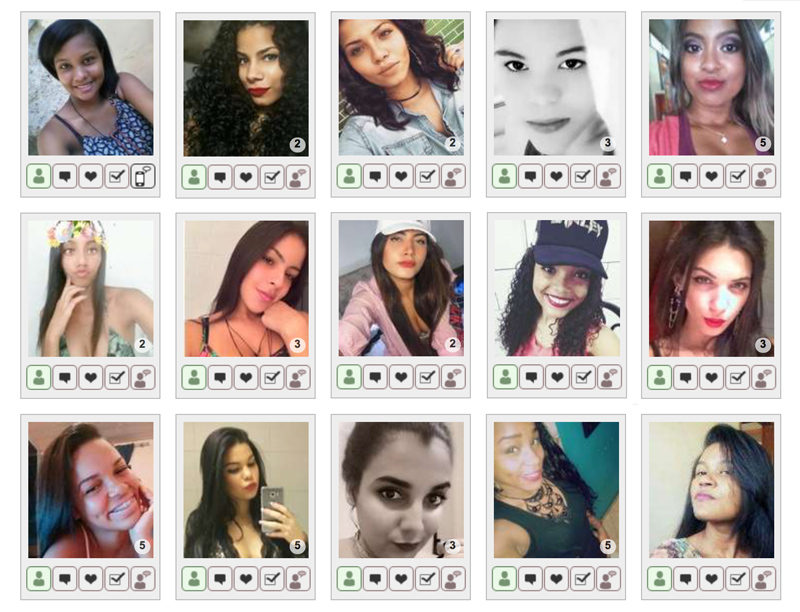 In the bottom right corner you can see a number. This number shows if she has additional pictures available in her profile.
Attention: With online dating it's always a good idea to see some extra pictures before meeting up. Some girls are magicians in appearing 2 points hotter than real life, be warned.
Step 2: Should I upgrade my account?
Without upgrading you will not be able to read the messages you receive. If you are in already in Brazil, do it immediately. It's well worth the $20 investment, no matter how long you will stay in Brazil.
If you're still planning your trip, don't upgrade right now but wait until 1 or 2 weeks before you go. If you start pipelining any earlier, you will likely lose some of your contacts anyway.
Step 3: Messaging Brazilian girls on BrazilCupid
Apply this strategy when you use BrazilCupid:
It's a numbers game: Don't lock in on one target, you're not hunting – you're fishing. Spread your net and hit up a lot of different girls.
Don't try too hard: Don't try to be too smart in your first message, a funny remark to stand out is fine but make sure you come across as casual.
Be vague or lie about your stay: The girls on this dating site are a bit more serious about meeting a guy compared to Tinder sluts. If they know you'll visit only for a week and bounce, they may not want to meet with you. So be vague about how long you stay, imply that you stay for a long time or you come there to work.
Get off the dating site fast: Get off the dating website fast. These girls inboxes get flooded so if you linger your messages can get lost in her inbox. Hot girls get a LOT of messages, do not underestimate this. Get her Whatsapp or Facebook.
2. Having better dates with Brazilian girls
By using the tips from part one, you are now meeting more and more Brazilian girls. The next step is to meet them for a date and increase your conversion rate.
Quick tips for setting up dates with Brazilian girls
Do have some initial small talk: Find out some things about her to at least appear to be interested in her. Tell some things about yourself that display high value.
But don't drag it out & ask to meet her for a coffee/drink: Do not get stuck in a chat buddy situation; propose a meet up. You don't want to be pen pals. If she gives you a hard time to meet up, don't waste your time and move on to other girls: Difficult girls remain difficult.
Always try to meet them nearby your place. This way it's easy to get them to your place in a spontaneous manner.
Check my post on preparing good dating logistics.
Do not overcomplicate your dates, just meet for a casual drink
Don't even think about taking them to dinner. Just keep it simple and invite them for a drink in this "cool bar that you know". This bar just happens to be walking distance from your apartment 😉
If she's willing to meet you near your place, that's a good indicator of interest. It will facilitate having a SNL (same night lay).
If she's not able or willing to meet near your place, it could be that's she's not that interested (yet). If she's worth it you can still meet near her place and increase the attraction during the date. Accept that you will have worse logistics and you may require a second date to close her.
Accept that she will show up late
Expectation management: Brazilians are not punctual.
Don't expect Brazilian girls to show up on time for a date. If you agree to meet at 8pm, in her mind that means "anywhere between 8 and 9" (calma cara, to indo!)
Pro-tip: Don't show up on dates at the time you agreed upon but just tell the girls to text you when they are almost there. This tip will save you a lot of waiting time!
Another thing about Brazilian girls is that they can't plan. So don't plan your dates longer than week ahead. Dates are best scheduled last minute or one or two days ahead max. The dates that you plan too far ahead in time, are more likely to turn into a flake.
On the date itself, try to escalate as far as you can
This is a golden rule -you should apply it everywhere and always- but especially in Brazil. Brazilian girls are very sexual and open about sex. If you are not kissing on the first date: Forget about it – it's GAME OVER.
Don't be shy with Brazilian girls, show that you are the man and take the lead.
Your date should be KKEKRS

Kino, Kino-Escalate, Kiss, Retreat, Smash
Start kino from the very first moment you meet her
Give her a kiss and a hug when you meet. Brazilians are very comfortable with kino (touching).
The following THC pro-tip is key for kino-escalation:
Pro-tip: If possible select your date venue so it's easy and natural to sit next to each other rather than across. This allows for much easier kino escalation.
Don't be shy to escalate kino; you are the man: take the lead
By sitting next to her, it's much easier to progressively escalate the kino:
Compare your skin colours by holding your arms next to each other.
Ask her to show her nails (they are usually painted and well taken care off) and hold her hand.
Give a compliment on her hair and touch it.
…
Go for the kiss soon enough
Don't be shy. If she's receptive of your kino, go for the kiss close right there in the bar. As mentioned earlier, Brazilian girls have no problem with PDA or kissing in public.
I would be kissing the girl after one or two drinks on every date.
If she at first pretends she doesn't want to kiss, don't be phased; just continue the conversation and try again later. You can be a bit more aggressive with Brazilian girls to get the kiss.
Attention: You have to kiss her properly. Brazilian girls love to kiss and make out. She will estimate your love making skills based on how well you kiss her.
Continue to take the lead and make things happen
If you kissed her well, things are now heating up fast between the two of you. Now it's time to use any old excuse to end up at your place.
I nearly always propose to show them my travel pictures but any excuse to retreat her will do. If she's attracted she wants you to take the lead. Just make it happen!
Additional tips for dating Brazilian girls
Here are some final random tips for dating Brazilian girls that didn't fit in elsewhere.
Don't be the obvious, clueless gringo
This means the way you dress and the way you speak. Show some interest in the Brazilian culture. With minimal effort you can find out more about Brazilian food and music and just knowing a thing or two will put you ahead over the next random gringo.
A very popular and maybe controversial music style from Brazil is "Brazilian Funk". It's a type of Brazilian reggaeton with very sexual lyrics. Listen to some songs and bring up the subject during your date. E.g. claim you really love Brazilian funk for the romantic lyrics and the classy dance moves.
Here is an example of a commercial funk song that was popular last year (2016):
Porra cara, learn some Portuguese para caralho!
If you don't speak any Portuguese you are really fighting with one hand tied behind your back. There are plenty of Brazilian girls that don't speak a word of english. These girls will be very hard to access without speaking the basics.
Invest in learning the language, I promise you it will pay off BIG TIME. It's not as difficult as you might think.
Try the app "Brazilian Portuguese by Nemo", it's an easy to use app that will get you started fast. It's free for the basic version and about 10 bucks for the full version.
More Swoop stories from Brazil
I hope you enjoyed this guide and I'm curious for your experience in Brazil. Leave your comments, stories about experiences with Brazilian girls below!
THC