Cuba the land of cigars, Che Guevara and old timer cars. But also the land of incredibly sexy girls… who are near damn all semi-pros! Here's my experience in Havana Cuba.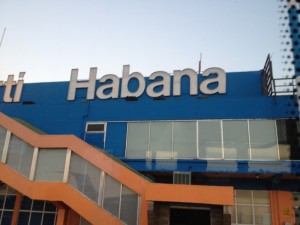 Arriving in Cuba
I was so happy to leave Santo Domingo (Read about our adventures in the Dominican Republic HERE), at the moment I really felt as if I had overstayed that location. Especially after our trip to Santiago and the other cities, my tolerance for the noise and pollution had evaporated. I said goodbye to my favorite girl (I would really miss her) but I was really ready for the next adventure.
To me, Cuba sounds like an adventurous location but on arrival I couldn't feel more on-the-beaten-path. We had to wait in line for immigration for over an hour, surrounded by British tourist who where all in full blown tourist uniform: the sandals with white socks, the fanny packs and the back packs with the little water bottle attached to the side.
The immigration queue was slow and I was focusing on tuning out the boring conversations from the families around us; then we arrived at the very hectic baggage claim area. Nobody knew which baggage carousel was used for which flights and we ended up waiting an additional 2 hours for our luggage.
But the fun wasn't over yet. Outside there were more queues to get a taxi. Apparently the organized travel groups get priority over individuals so we had to watch taxi by taxi skipping us over. We changed approach and flirted a bit with the lady from the information desk and she involved her friend that was assigning the taxis and she also recommended us a place and area to stay in Havana.
The taxi was 25 US dollars; finally we were on our way to the city.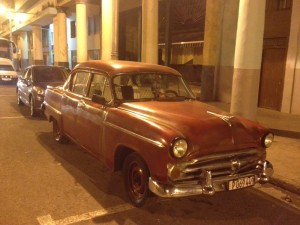 Casa Luisa
In good SwoopTheWorld tradition, we hadn't prepared anything so the only address we had to go on was the address of a "casa particular" that the airport lady gave us.
A casa particular, Spanish for "private house", is a private homestay in Cuba similar to a bed and breakfast. You stay with a Cuban family that rents out one or more rooms. The first one we arrived at only had one room available for the both of us (Fisto and me) and the beds were way too small. She was trying to sell us the room but when we insisted on separate rooms, the owner recommended another casa particular one around the corner.
In Cuba everybody has a friend or a cousin that can offer any service you are looking for and it's always just around the corner. That's how we ended up at Casa Luisa. Luisa is a character that could come straight from a movie. She was a middle aged single woman, very sweet and very caring but a little bit wacky. She welcomed us as if we were family. We got to meet her brother, her son and her neighbors, all very nice people.
The son was a fighter, he spoke a little bit of English, so he would love to talk about wrestling and boxing whenever he got the chance. He usually brought along his girlfriend when he came to visit his mom. You could tell he was a good kid.
The longer we stayed the more close we got with Luisa, she would make us a simple breakfast every morning with eggs and fresh fruit, do our laundry for us and help us find whatever we needed. We jokingly started calling her our "Cuban mom" and she loved that. 
If we were just chilling at home or if we looked bored she would disappear into the kitchen and come back with some shots of vodka: "Here, this will cheer you guys up". Any reason was good for her to break out the vodka. We could come home completely shitfaced drunk and still she would push a shot glass in your hand: "Here, this will help you sleep better".
She also had a strange interest in South-Korea. During the day if she wasn't gossiping with the neighbors from across the street, she would be watching Korean soap operas with Spanish subtitles. At night she would step it up and put on Korean music videos with the volume on 11 and she would be dancing in her chair 1 foot away from the old TV set she had; hilarious.
We would join her for drinks before we went out and man… she would be hard to keep track with.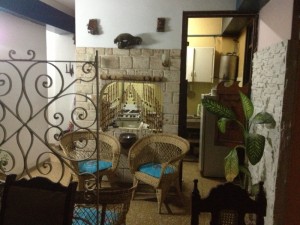 Crack head park
After we finally got settled in Casa Luisa, we decided not to waste any time and go for food and beers. We bought some local beers and had a bicycle taxi drive us around. It was already pretty late but we drove past a park that still looked lively from the first glance, it was Parque Fe del Valle in Galiano street.
Upon closed inspection the people hanging out there looked a little bit weird so we jokingly started calling it crack head park. Whatever, let's just enjoy some local beers and see what Cuba has to offer in beer selection.
Crappy beers
The first beer we tried was Bucanero; it's supposed to be a strong beer but it's only 5,4%. The can is ugly and looks like a can of premixed rum and coke and the beer tastes absolutely disgusting: I'd rather be sober than getting drunk on Bucanero.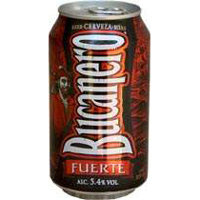 We switched over to Crystal and Mayabe and they're not much better. Cristal's drinkable but the Mayabe I couldn't force down. The bubbles disappear too fast, so if you don't drink your beer bottoms up, you're left with half a can of ghastly tasting flat beer with a strong after taste of the tin can.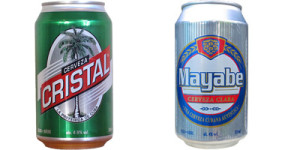 Crappy girls
As we're forcing these sub standard beers down, we hear some Cuban whistling. Cuban whistling is different from regular whistling; if a Cuban wants to get your attention it sounds like hissing, like they're saying: Swiss-swiss-swiss-swiss-swiss. It sounds impolite but it's the way it's done there and if you try it yourself you'll note that it's the most effective to grab someone's attention.
Again: "Swiss-swiss-swiss-swiss-swiss"
We look around and there are 2 girls and 2 guys swiss-ing us over. We swiss them back, they should come over to our bench. One of the guys comes over and introduces himself, he's the token gay friend of the group. He explains us the girls want to talk to us but in Cuba it's illegal for them to talk to foreigners in the street, they could get in trouble if the cops see us hanging out in the park. "Lets go inside the bar at the corner", he proposes.
Sure, I wasn't really feeling this park introduction but we said fuck it, let's interact with some locals. The girls join us as soon as we'r inside the bar. They're cute and definitely featured some favela points: curly favela hair, cheap slutty clothes and hooker-faces. They were definitely P4P. Still we decide to have some fun with them and see if they would be shoreable (i.e. if they're receptive to seduction so they'd bang us for free). We play dumb and pretend we don't know they are pro's but they don't play along. They were not here to waste time.
Milk for the baby
"Are we going to your place now?"
"Look, you have to know that I don't pay for sex", I tell my girl (in Spanish).
"Oh of course, I don't want money for sex!", she answers like it's obvious, "but in Cuba you have to help the girl, you can give me money to buy milk for my baby".
Ohhhhh, so I'm not paying for sex, just giving money for the milk! Well, that's completely different! It was the first time I heard this line, but it would definitely not be the last time.  I think every other girl in Cuba has at one point brought up "money to buy milk for the baby". It's like they learned this at a public seminar. I'm sure they all tried a multitude of persuasion methods and this one stood out.
"Yeah, thanks but no thanks", these girls were not down to shore and we weren't in the mood to put in any more effort. And when the gay guy tried to score some cigarettes from us we got up and left them.
Outside we made some small talk with another Cuba guy who was actually pretty cool and not trying to get something from us or sell something to us. But we were tired and called it a night.
No golden touch down but an interesting introduction to Cubans nonetheless, we met some lowlifes and some cool dudes.
Day 1: Exploring Havana
The next day we start to explore the city by applying the Magical Art of Walking (read BB's Top 3 Cultural Infiltration Tactics) and walked towards the Malecon, the sea side pier in Havana.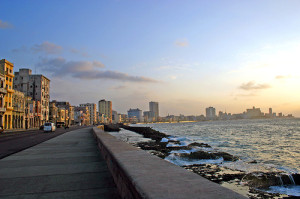 The sun was out and it was just a beautiful day. We took some pretty sick pictures climbing the walls and the and the guard-rails with the bad ass old timers passing by in the background. The Malecon was pretty quiet during the day so we decided to walk towards the center again.
Then we got approached by a Cuban woman. She spoke a little bit of English and explained us she was a salsa teacher and had just finished working, she wanted to show us around. We applied our usual skepticism but she seemed genuinely friendly. We walked over to Che Guevara's house but other than a poster on the door there was not much to see, it's one of those typical tourist traps. We told her we're not the usual tourist and changed plans to get some beers in a bar across the street.
There we met her uncle, a very enthusiastic guy who loved to hear stories from abroad. He gave us some "moneda nacional" with the picture of Che Guevara on it and we bought both of them some drinks.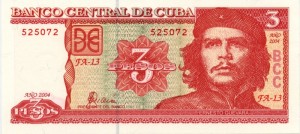 The game's up sister
All was good and I was really enjoying the interaction, until we brought up food. "I know a good place", the girl said and we let her walk us over there. But as I walked in the restaurant I immediately got a bad feeling. It had tourist trap written all over it and the only other people there were the sandal socks tourist. Sure enough when I looked at the menu the prices were $20 and up. Wait a minute, that seems kind of steep for here don't you think?
"Yes, but it's a lot of food and it's with coffee included."
They were taking us for a ride. In Cuba you always have to keep your guards up as you have people trying to rip you off while you're having a good time. They took our laid back attitude as a sign of inexperience and thought to make a quick buck by getting a commission on our meal.
"We're not eating here." We're not some dumb fuck travel agency tourist that can be scammed during their "one hour free time". The uncle knew the gig was up and I could tell he was embarrassed that we saw through the charades, but the woman was not ready to give up.
"Okay I will take you to another one."
No thanks lady, we'll take it from here. The uncle tried to salvage the situation a little bit but the fun vibe from before was gone since we basically called them out on it. It was clear that it was his niece's plan all along and I guess he just went along with it.
We said our goodbyes and as we walked away the girl asks me "Oh, can you give me some money for my baby?" in some all or nothing attempt to get something from us. What a surprise, she also needs milk for the baby. The uncle pulls her arm and tells her to go with an even more embarrassed look on his face.
The attempt scam left a bit of an sour after taste but it just reminded us to keep our guards up all the time and we applied the new directive:
If you approach someone for help, be skeptical.
If you get approached offering help, be extremely skeptical.
To take something positive away from this interaction, we did discover the beer "Casique", which has a very light taste and allows for drinking in very high quantities without getting sick of the taste. This was our beer of choice for our entire stay in Cuba.
Off to find some REAL food.
The Food: Cuban Paladar
If you want to eat for cheap in Cuba, eat like the locals. You have to go to places called "Paladar" which are the equivalent of the casa particalar for food. These are small restaurants run by people and you can get some good, cheap meals there, whatever they have in stock (usually indicated on a board outside). Make sure you go to the Paladars that accept moneda nacional (the currency for the locals).
We found an awesome place serving delicious meals at ridiculous prices. You can eat like a king for 5 dollars; rice and beans with chicken, pork or fish. We also found out they served lobster for 4 bucks a serving, so we'd order three lobsters at once whenever we were hangry (so hungry, you're angry).
Don't waste your money in regular restaurants and stick to the paladars for the locals.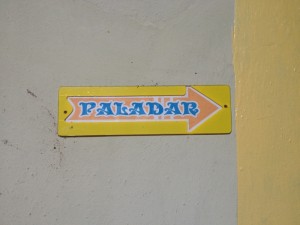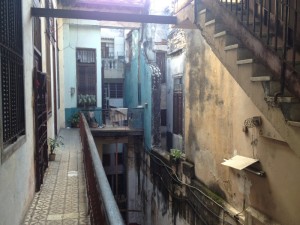 Bicycle Taxi: They see me rollin'
After the food we were ready to see more of the city. And what's better than walking around exploring the city? Being driven around exploring the city.
There are tons of bicycle taxis available and you can negotiate a very good price with them to rent them by the hour. This became our modus operandi. We'd find a cool guy with a taxi bike have him stop every 10 minutes for a beer and just have him stroll around Havana enjoying the scenery and looking for girls.
If we were lucky we would find a pimped out taxi bike with it's own music system hooked to a car battery. We'd plug in an mp3 player and cruise around in Havana with dance and RnB hits blasting from the speakers and smoking cheap cigars. Good times!
If we would see cute girls we would have the driver stop and we'd approach them, get their numbers and cruise on. We always had a great time and we always ended up too drunk. Apparently we can't have a medium drinking session, it's always all-in.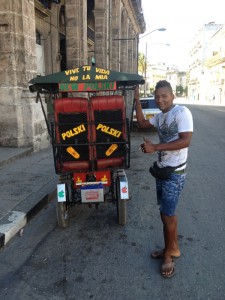 Big tits waitress girl
On our first drunken taxi trip we ended up at a corner bar. It was near closing time but they let us in for the "last beer". One of the waitresses had already finished her shift and was just chilling at the bar talking with the other waiters. She had a cute face and a huge set of tits on her. Fisto was paying the taxi guy outside but the moment he walks in, this girl was all over him, sitting next to him, touching his arms, playing with her hair and about ten minutes into the conversation I think she said she wouldn't mind having his kid. Instant love.
There were no other girls around so Fisto asks her if she can call a cute friend that can come over so we could make it a double date.
"A friend as cute as you, but not cuter" he jokes.
"Sure, I have a cute friend, I'll call her!"
"You're sure she's cute?" I insist. "Of course!!!" she replies.
10 minutes later her friend walks in and god damnit… She's so ugly I couldn't even look straight at her. She has both acne and backne and her hair looked like she didn't shower for a week. I think even homeless guys wouldn't describe her as "cute". What a nasty move of her. Women: eyeroll!
On a side note, I have noticed that this is something structural. Whenever a girl will invite a friend into a setting where that friend will be of competition or perceived competition, she will always invite a friend much less attractive than her self. The more she fears of having to go in direct competition with her friend, the uglier the invited friend will be. She will also lie in every case about the level of attractiveness of her friend. I have seen this happening over and over again to the point I don't even bother anymore meeting the ad hoc invited friends of girls.
Now I'm in the annoying position where I don't want to burn Fisto's set by being too rude to the girl, but I can't bring myself to being friendly to her. Luckily the waitress girl is attracted enough to him that this doesn't become an issue. I make clear to the girl that she's not my type and there's no point of her wasting her time here. She gets it (I'm sure she's used to it) and goes on her way.
"Oh, you didn't like her?", the waitress girl asks acting surprised. "Of course not, are you retarded, how do you even dare bringing out a beast like that" I think to myself, but I just say "Not really".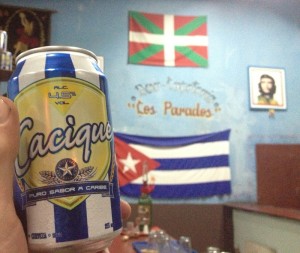 Retreating
She has given all the DTF (down to fuck) signs in the book so Fisto makes the right move and gets her ready to join back to his place. As you remember it's not allowed for Cuban girls to walk or talk with foreigners, but Cubans are very resourceful people. She explained the mission plan to us. We would have to walk outside and we are not to look around, just walk straight back home, and she would walk about 30 meters behind us like she's having a stroll by herself and then meet Fisto back at the casa where no cops can see her together with a gringo.
And so it happened. I walked back with Fisto to the casa particular and his girl was following us from a distance.
We get back home and Fisto takes his girl to his room. I still have to find a girl myself!! I ask Luisa if I can use her phone to call a girl I met during the day but I keep getting an automatic message. Luisa explains me that it means the girl doesn't have credit on her phone and hence can't receive calls until she recharges: that's just fucking great.
So now it's late at night, I have a dried up pipeline and no girl: Time to do some lone wolfing.
Lone wolf in Havana
I saw so many girls during the day so I decide to wander the streets looking for girls. But since it's already late and dark, the number of girls walking around has dropped significantly. Most of the people out were guys; occasionally I would get offered cigars or drugs and the only girls I met were obvious prostitutes.
This was not giving me good hopes. I head back to Crack Head park and have a beer while checking out the scene but nothing's happening. Just when I decide to call it a night, a Cuban guy sits down next to me and we start talking in Spanish. He's a cool guy and soon we're talking about girls from different countries. I explain him I can't reach my girls from my casa's phone.
"Oh no problem amigo, you can use a code before you dial so you take over the charges."
That's fucking great! I give him a peso and he lets me use his cell phone, now the girl answers.
"Hey, it's THC, that handsome gringo you met earlier today. Let's go for a drink.", I hand the phone back to my new buddy and he explains her how to get to our location, 15 minutes later she's arrives by bicycle taxi.
My First Date with a Cuban Girl
I buy my friend a beer to thank him, this would have been a boring night if I hadn't met him. The girl is pretty cute, she's young, black and has a nice body. We immediately enter the bar because she's very nervous the cops see her talking to me. Inside she's more relaxed and we start talking. She seems like a good girl, but there's something you need to know about Cuban girls.
They will all expect you to "help" them; the semi-pro's and the good girls alike. They don't consider it paying for sex, it's just the Cuban custom to "help" the girl if you have sex with her. You don't "pay" her, but you give her money to get her hair done, to have her nails painted or the good old "milk for the baby".
"It's different in Cuba. That's just the way it is in Cuba. You have to understand."
This gets very frustrating, very fast. But there is a way around this, I will go into detail on this in part 2; speaking Spanish is a huge part of it though.
I didn't realize the extend of this at the time but I had been warned about it. So that's why I started my shoring routine by default. In an indirect way I tell her I'm staying in Cuba for a long time, I'm not interested in prostitutes and I never pay for sex. We have a few beers and the date is going well.
It's not easy to venue change because the girls can't walk with you in public, but if you play it right you can use it to your advantage and use it as a reason to retreat her to your room early. Via the same routine Fisto's girl sneakingly walked behind us, she follows me home to Casa Luisa.
I introduce her briefly to Luisa and her brother and then take her to my room to chill on the bed. I take things very slow, still keeping in mind not to set off any semi-pro triggers and slowly seduce her more and increase the kino (the art of touching a girl).
She has a little cold but I make out with her anyway, I'll take some vitamin C in the morning. She puts on a little bit of LMR but that's a very good sign in this situation. I get her naked, her boobs were a little disappointing but she did have a nice firm ass. I smash her but she's having pain so I have to take it down a notch: minus 2 points.
She has to be back home in time. We're getting dressed and it's the moment of truth. I'm fearing my shoring routine might have been in vain but when she's done she only asks if I can give her something for her taxi: Score! I give her 5 pesos even though I'm pretty sure she walked back home but it feels like a victory. I take her number and she asks when she can see me again.
"Don't worry baby, I'm here for a while. I will call you this week."
No digital memories for this one but both Fisto and me had our Cuban flags and we were ready for more! And a lot more took place, but these are stories for part 2.
Part 2
Read on in CUBAN GIRLS PART 2 I will tell you more about Cuban girls, the clubbing scene, day game, the police and city trips and some interesting encounters.
THC