Fisto and I had both scored our first Cuban flag the previous night and we both had a little bit of after glow at breakfast and discussed about our girls a little bit.
Read about banging our first Cuban girl in Cuban Girls PART 1.
Nightmares at Luisa
Luisa had made her typical breakfast: scrambled eggs, toast and a variation of fresh fruits. 
"Man, ever since I'm sleeping here in Casa Luisa, I've been having the weirdest dreams", I told Fisto. 
"For real? Me too, I have nightmares here. It must be this decoration she has here."
Luisa has decorated her house in very… 'eclectic' way. She has the weirdest ornaments all over her place. When you enter her house there's a giant porcelain Dalmatian dog in front of something what looks like a shrine. She has a collection of voodoo mugs on display with creepy faces on them and the paintings she put up looked like something you'd dream up if you're high on acid.
The most disturbing piece was a dusty stuffed rat that was mounted against the wall in the living room.
We started joking around that the house is haunted and that if you touched the rat, you'd get a Cuban curse.
Fisto tells me had tried to double up the night before after the big titted waitress girl had left, but he also only had run into prostitutes. He did discover a nice bar where they served Cacique beers.
"Let's get drunk there and see what happens".
The only problem was: we didn't have any cash anymore.
Money troubles
Fisto's cards weren't working anywhere and I had only brought a MasterCard. I had tried my MasterCard in at least 10 different ATM's but none would accept it. We were down to our last 5 dollars worth in cash so if we didn't find cash real soon, we would be in trouble.
We asked around in banks and one person knew we could go to the big hotel Havana Libre. They can charge your card and give you the money there, he told us. We used our last money to take a taxi to the hotel and talk to the guy working at the reception.
"Oh, no we don't do that anymore here. We only accept Visa not MasterCard. Try at the travel agency perhaps?"
Great, now we're tracking down a travel agency. I felt like we were on a treasure hunt, where'd have to find the next clue at every stop. At least the lady from the agency knew what she was talking about and sent us straight to the right location.
If you're ever in a similar situation, you have to go something called a Cadeca. It's a money exchange place but they will also charge your MasterCard and pay you in cash (minus commission). We were saved.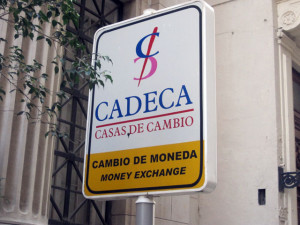 We decided to walk back and explore the city some more on foot.
Interacting with the locals
On our way back we interacted a lot with locals. Cubans love to chill in the streets, the older ones would play dominos, the kids would play baseball with a broom stick for a bat and a bottle cap as the ball and the the young men would just hang out.
Some could speak a few words of English but if you really want to interact you have to know some Spanish. Cubans love to talk about sports and it seemed that every Cuban guy practices at least one type of combat sport, wrestling (lucha libre) being the most popular. If you tell a Cuban you're a wrestler you have instant rapport.
Another observation is that every other Cuban we met claimed to have been the national champion of something.
Cuban: "Are you a fighter?"
Fisto: "Si, lucha libre"
Cuban: "Awesome man, I used to be national champion in lucha grecorromana."
We had a great time just wandering the streets and having short interactions, exploring the area. By accident we walked by an outdoor boxing school where kids were training how to box. The trainer called us in and we chatted with him for a while. He invited us over to watch a competition for the juniors that weekend, unfortunately we missed that appointment.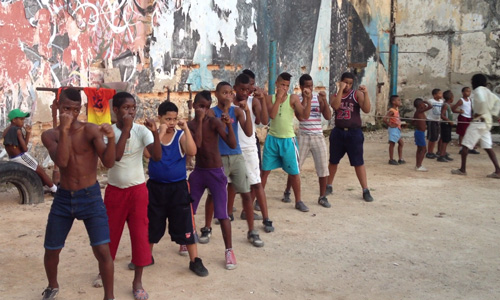 A bit further on we found a gym. It was probably the most ghetto gym I've ever seen but that's what made it awesome at the same time. All the equipment looked like it was pieced together by the local national champion of welding. Some of the free weights were just blocks of concrete, but they worked just as well and it was only 1 dollar to train there.
Awesome, we needed a gym so we were happy with this discovery.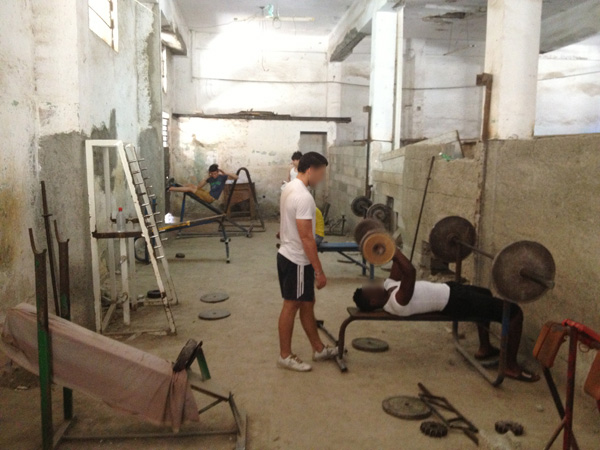 Although most of our interactions were great and insightful, we would also get approached by people with their own agenda, trying to sell cigars or trying to score some money from us with a sad story about a sick auntie. After a couple of fake interactions like that, it starts to get on your nerves, but you have to take the good with the bad. A lot of locals genuinely want to talk to you, hear about your stories and tell their own.
Are you thirsty too?
The day had been awesome. We met some new friends and we had money in our pockets again. Back to the original plan, we deserved a drink.
Fisto took me to the bar he had discovered on his lone wolf trip and we were welcomed as long time regulars. The waiters dropped what they were doing and gave us bro hugs.
"You guys like Cacique right!"
What started out with some light drinking, soon shifted gears to hardstyle drinking. Just as we hit the point where normal people switch back to water, we decided to take our drinking on the road. We stopped another cool looking bike taxi and grabbed a bunch of Cacique beers for the road.
Driving around the city in an euphoric buzz, old timer Cadillacs passing you by, streets always full of people and the amazing architecture. The buildings look run down but they still are impressive. Every other building in Cuba is badass. That's what creates this unique charm you can only find in Cuba.
At one point the bike broke down in the middle of a small street. Before we even got out to see what was down, a guy hanging out in front of his house was ready to help our driver out. He got his toolbox and fixed it in less than 5 minutes: Cubans.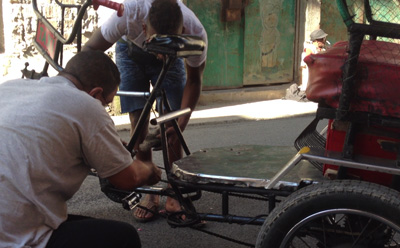 As instructed our driver would stop whenever we spotted some cute girls so we could talk with them. We each had collected several numbers.
It ain't over till Fisto lifts a fat girl
Everything was going great… Until we decided to switch to hard liquor. We had stopped at a bar to buy more beer; it was Fisto's turn to buy the round and I went to take a piss. When I come back there's six shots of rum on the table.
"This is good rum man. I finished my first two", Fisto says, "you're behind man."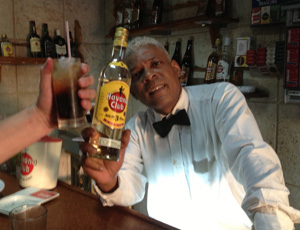 Oh well, it's one of those days again… I down the shots. It actually was pretty good rum. Soon the whole bar is involved, we get free cigars, there's arm wrestling with the staff and Fisto seizes opportunity for his favorite drunk hobby. At the corner of the bar stands a overweight black woman the size of a mini van.
"I'm doing it" Fisto says.
She barely has time to register what's going on, let alone protest it and off she goes. The bar is cheering and the fat woman is giggling like a little girl.
After that things get blurry. We paid our taxi driver and started walking back to casa Luisa but we lost the way. Of course it began to rain as well. For what should be a 10 minute walk, I think we spent 45 minutes chasing through the rain aimlessly, trying to find our street, yelling in drunken anger at each other.
It ain't over till Fisto lifts a fat girl.
Florence
I wake up sweating and my heart is racing. Where the fuck am I? Another Casa Luisa induced nightmare, this time with a bonus hangover.
Luisa's outside my room calling me for breakfast. Fisto is in a similar state as me. We eat our breakfast in silence. Please don't turn on the Korean dance music Luisa, I think to myself.
I go right back to bed and sleep off my hangover. When I wake up I go through my phone to see if there's anything in the pipeline for today. Using Luisa's phone I start calling the girls I met on our drunken city tour.
The first two numbers get voice mail, the third number looks different. It's a home number. A guy picks up: "Si, quien es?"
"It's THC, can I talk to Florence?"
Florence takes over the phone, she's got a lovely voice. I apply the same approach that worked for me before so I meet her at a bar nearby for a drink.
Having no cell phone brings you right back to the 90's when cell phones didn't exist. If you want to meet someone you had to make proper arrangements, there's no texting "I'm late" or "I can't make it". She's a few minutes late but then she shows up.
Florence is looking great, she's young, black with a pretty dark skin, slim and a very nice set of tits on her, almost to big for her frame: my dick's already moving a bit in my pants. She's quite shy but I know it's because of her age, she's only 18, so I do most of the talking. I'm actually enjoying the interaction and her shyness makes her even more attractive.
Vino tinto
She tells me she likes wine and I use this as a reason to end up at my apartment. We walk back to my place and buy a bottle on my way back that I claim of to know is a good one (no idea).
My room only has a bed in it, so we chill out for bit drinking wine and I show her some movies from countries I've visited before. This really intrigues her and she's amazed at seeing these different places, asking a lot of questions.
We start making out and again I'm relieved to run into some decent LMR. It's back to push-pull and freeze outs and getting off her clothes step by step.
I take off her bra and her tits are squeezed in there, just waiting to be released. I finally take it off revealing her tits; I'm a happy man. These are big boobs but on her small frame they look huge. I take her panties of too and I start smashing her. Her pussy is so tight and I love seeing those titties bounce as she's riding me, she's loving it and I can't get enough of it either.
I smash her a few times and the we chill out a bit more on the bed. She lives with her parents so she has to be home in time. Again a critical moment but no mention is made for money. She just asks when she can see me again. This time I mean it when I say "I will call you babe".
I took some digital memories, check the link below:
NSFW pictures CLICK HERE
So far so good with my Cuban girls, I was prepared for the worst… but my luck would run out very soon and things take a turn for the worse…
Part 3
In part 3 both Fisto and me have some bad luck with the girls, we check out the Cuban night life and go clubbing and Smooth Operator arrives in Havana, so check back for more soon.