I had just got done travelling south through Central America and I was ready to go back to one of my favorite countries in the world… Colombia.
Cartagena, Colombia
After getting off the plane in Cartagena I immediately met up with my good friend Scotian. We had some beers as we watched Colombian girls walk by. Girl after girl walked by and it didn't take me long to remember why I had loved Colombia so much. Colombian women were in higher league than Central America. Costa Rica had pretty women, but Colombia still had them beat.
These Colombian girls were tan with beautiful faces and curvy bodies. There were girls with boobs, girls with ass, girls with stunning faces and any combination in between. I was back.
My two days in Cartagena were honestly quite uneventful. Scotian got a date online and I met her and she ended up calling her friend to set up a double date. I got a day game number that I kept as backup if the double date didn't go well.
The double date went well until my girl decided to play hard to get and it was way too many games than I liked putting up with. I called her out on it and went cold. Then she dropped the games and started chasing me. However, Central America had been good to me and seeing girls play games again had put me in a bad mood. I stayed cold (Not the best thing for a player to do.)
In the next month, she would try to contact me a bunch of times. Calling her out and going cold worked to get her chasing, but the next day I left Cartagena and she was the last thing on my mind.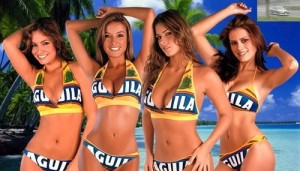 Back in Barranquilla, Colombia
I was finally back in Barranquilla. My first trip had been amazing, but I had left some unfinished business. Three girls in particular I had left and never had been able to close. I had been chatting from time to time on Facebook with these girls and they were all hotties.
1.Beauty: There was a a BEAUTIFUL 19 year old girl. She had no weaknesses, body nor face. I had never been on a date with her, but I had been talking to her online quite a bit while I was gone.
2.Sweetness: There was a sexy, sweet, innocent seeming 21 year old girl that I had been on one date with on my previous trip. She made her money modelling. She had a voice so sweet, she could play any Disney princess.
3.Booty – Then, there was a girl that I had been on 3 dates with the previous time. She was a model as well and had the typical amazing ass that Colombia is famous for. I had opportunities to close her before, but I didn't man up and do it. It was time, she was the one that I wanted to close the most.
There were others that I had left behind, but these 3 were beautiful and all these girls… prizes. They were a huge reason I wanted to come back so badly and with my improved game… I was ready. But first… I had to see some of my old girls I hadn't seen for two years.
The hotel in Centro
I was on a budget and Scotian knew this. He told me about a hotel in the center of the city that was very cheap. 13$ a night baby! The hotel wasn't bad at all. I went to the desk and asked about how far away things are.
"Como 5 minutos hacia alla – Like five minutes that way." He pointed. "Pero no quieres ir ahora, es demasiado tarde. Es peligroso. – But you don't want to go now, it's too late. It's dangerous."
It was only 7Pm. But I started to realize this was a shady area. Good to know.
Minutes later my favorite girl from my previous trip was at my hotel. I had missed her and it was great to see her. She seemed so happy, but I made sure she understood that I wouldn't be spending as much time with her this trip.
"No me importa, solo estoy feliz para poder pasarlo contigo.  I don't care. I'm just happy to spend time with you."
Soon after I was she was rocking underneath me and I felt a very sweet feeling of Nostalgia. I was really back.
Back to business
She stayed the night and the next morning after she left my thoughts were about my 3 regrets with the 3 girls. I started messaging them, trying to set up some dates.
But first, I had a date with a girl I had met online. By this point, I had online dating so streamlined that I didn't even have to think.
Date at a mall within walking distance of me. Done. Go through my usual date routine where I show value. Done. Make a connection. Done. Invite her back to my place with an excuse. Done.
This girl had booty. She was about 23 years old and she only put up about 30 minutes of Last Minute Resistance. I had gotten my first new notch in Barranquilla my first full day there. It felt good.
Next I was supposed to meet a girl I had previously known… the Politicians daughter.
At first she fought to get me to come to her.
"Solo he estado en centro una vez, y nunca me gustaria regresar – I have only ever been to the center one time and I would never want to return." In the end, she gave in and came to see me.
This girl had huge natural boobs (my weakness) and we spent a very satisfying day together. We talked about all the drama from before, but it was all civil and very sexually satisfying.
The next couple of girls I had met online. I wish I could tell an interesting story, but they went exactly like my online date model and exactly like the date I explained earlier.
Date at a mall within walking distance of me. Done. Go through my usual date routine where I show value. Done. Make a connection. Done. Invite her back to my place with an excuse. Done.
They were all first date bangs and they were pretty sexually satisfying. At this point I was getting a bit burnt out. All this had happened within less than a week.
The 3 hotel clerks
The whole time I was in that hotel in Barranquilla an average of almost 2 girls would enter my room a day. There were three hotel clerks working at the hotel. A chubby guy, a decent looking younger guy and a mid 30's girl. They all reacted differently.
The good looking Colombian guy, started out friendly, but started getting cold after he saw (and heard probably) about all the girls I was bringing back to my room. He was never aggressive, but he got cold.
The chubby guy started to love me. He would joke with me about the girls I brought back and he started rating the girls as I walked them to my room. He would give them a thumbs up if he liked, a thumbs down if he didn't and in the middle if she was just OK. I had to make sure she was walking in front of me every time I brought a girl back so she would never see his signals. He was a fun guy to talk to.
The mid 30's woman who worked there started out disapproving of my actions. Instead of avoiding her I started talking to her more and more. She broke so easily and started hitting on me every time she saw me. She was attractive for her age, but I rarely go for girls over 24 years old. Although, if I hadn't had been so sexually satisfied for my whole stay in this hotel… I might had broken that for this girl.
Sweetness
I saw a couple girls that I had hooked up with before and hooked up with them again. But now it was time for the reason I came back. I had been trying to contact the 3 girls I had regrets with. The beauty, that I had never met, had just started a relationship a couple weeks before I arrived and I hadn't been able to get her to agree to meet. Terrible timing.
Sweetness, had agreed to meet pretty early on. I had two quick dates out of the way. I was being careful, because the first time I met her I think I had been too aggressive with this sweet girl and scared her off. I wasn't going to make the same mistake.
On the third date I got her back to my place for a movie. As I had imagined, she still put up some decent LMR. She had a models body. Thin, tall (for a Colombian) and long legs. She had small boobs, but a nice, not big, but well shaped ass, with a huge thigh gap between her legs.
She had been a girl I had been fantasizing about since I had left Colombia the first time. I stared down at her in my bed. She only had her panties on. She was still saying she thought it was too soon for sex. Just seeing her naked body was worth all that wait. She had great curves. A really thin waste and a perfect skin tone. Her small boobs were perky.
Five minutes later I was sliding her panties down her leg and all that waiting had come to a climax as I finally sealed the deal with this girl. It was my most satisfying lay in a long time. (NSFW pictures coming in Part 2)
Why was it so amazing?
I ask myself why it was so ridiculously satisfying. She was beautiful… but I had been with plenty of other girls in the same league. She was sweet and feminine, but so are other girls. She was a catch, yes, but the reason I got such a ridiculous feeling of ecstasy from giving it to this girl wasn't because of her… it was because of me. It was because I had yearned for her for two years. It was because there was a point when she had rejected me and now I had fixed that. It felt amazing.
Since that time, I have never told any of the guys i have coached the typical advice for when you messed it up with a girl:
"Forget about her and find other girls."
Sure that's great advice and you go find other girls, but I don't think you should forget about her. The act of battling your way into her pants after all seemed lost is a feeling that is too good to tell a man to pass up. Instead I tell those guys how they can get that girl back. Because for the reward you receive, one of those girls is worth ten of a random girl off the street.
Finally sealing the deal with "Sweetness" and the satisfaction that came with it had given me a new vigor towards fixing my mistakes. "Beautiful" seemed uninterested in meeting and completely happy with her boyfriend, so all that was left was meeting with "Booty". My biggest regret in Colombia. I had her two years ago… but I let her slip away. It was time to right that wrong.
Most of my notches in Barranquilla were girls I met online, if you are interested in Colombia, here is the best online dating website. Check out the talent or start talking to girls to get ready for your trip.