Part 2: Costa Rica
Read the other parts of THC does Central America:
Part 2: San José
Part 4: Tegucigalpa, Honduras & San Salvador, El Salvador (next week)
After Panama City, I took a flight straight to San José. 

San José arrival pro-tip: You don't need to take the taxi from the airport to the centre. If you just walk a bit further down the street, the bus will take you to a bus terminal in town for $1 dollar, in stead of the $25 taxi taxi trip. From there you can take a taxi to your hotel.
Arriving in San José
The city looked a lot less developed than Panama city. There's no skyscrapers and a lot of the buildings are run down. I arrived on a Sunday and there were a lot of people out, it looked very lively. 
When I arrive at my hotel I immediately had a bad feeling about the place as I checked in. The reception girl barely gave me a look, like she was annoyed she had to do her job. She immediately starts rattling off the hotel rules.
"No guests allowed"
Bad hunch confirmed. I don't let it bother me too much and decide to go for a walk to find lunch and to see the city. 
There is not a lot to see or do in San José. You have the National Theatre and some museums and that's it. It's also more expensive than Panama and Colombia.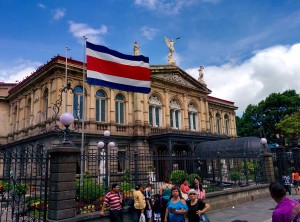 I walk around the shopping street behind the National Theatre and manage to find a cheap place to eat where the locals go. It's hidden in the cellar floor of one of the little galleries. You can eat a big plate of rice, beans and meat for two dollars: perfect. 
The Tica people I saw here are a mix of everything. You see a lot of weird people, ugly people, light skinned, dark skinned. But occasionally you'll see a really cute girl, who kind of looks out of place. 
My Tica Girl
A girl from Tinder texts that she wants to meet up close to where I am, dale. So I meet her in front of a bar in the shopping street. She looks less attractive than her pics, but bangable. I'm a bit disappointed but decide I'll have a drink with her anyway.
We go into the bar and I start drinking some beers. The girl is actually pretty cool and fun to interact with. And the more beers I drink, the better she started to look.
Well, I'm here and she seems DTF… What else is a man to do.
We take a taxi to my hotel and walk straight to my room. I'm worried about the reception girl bitching and having to argue in front of my date, but there's a new girl at the reception who lets us walk by without saying a word.
There's zero LMR. I bang her. Nothing great. Forgettable lay.
The next day I check out to find a better hotel. The reception bitch is working again.
"That will be 20 dollars extra you have to pay sir. You had a guest over."
WTF.
You can pay an entire new hotel room for 20 dollars here. Moreover she only was here for an hour. I refuse to pay for this rip-off but shit starts to escalates pretty fast. She's pointing at the rule book, other staff gets involved and they start calling "la policia".
I remember getting evicted from my hotel by cops in Barranquilla and there's no way winning these arguments as a gringo. You just end up losing a lot of time and you could get yourself in more trouble.
Over all my travels, I've had so many clashes with reception girls. It's like they feel it's their duty to cock block you.
Reception dudes on the other hand get you high fives and nods of approval.
New Hotel, New Girl
My new hotel is a lot better and in a better location.
I had been texting with girl I met in Panama. She wants to come visit me for a few days and go to the beach. Great. San José is pretty boring anyway and I've heard a lot of good things about the beaches in Costa Rica.
She texts me she will arrive the next morning.
Perfect, in that case I'll just call it an early night. I'm looking forward to spending some time with one girl to change the pace.
*beep beep* new message.
A new Tinder girl just texted me.
Are you still in San José?
Which hotel are you?
Can I come for a drink in your hotel?
It's a Korean girl traveling Central America. I was already in my bed ready to sleep but since she's coming straight over, I'm not going to deny.
I let her come to my hotel and we have a drink at the lounge bar, and exchange some travel stories. She's really open and adventurous for an Asian girl.
I take her to my room to "show my travel pics".
"Okay, but no sex!"
It's funny how many times I've heard that line. It's a girl's mechanism to avoid all responsibility for the sex that is about to happen; some kind of "I said no sex, but we ended up having sex; so it's not my fault, it doesn't count, I'm not slutty"-reasoning.
After I show her the token travel pics we start making out and it seems she had already forgotten about her "no sex" proclamation. She starts moaning, opens up her legs and lifts up her skirt. She's wearing sexy panties, what a surprise. She gives some token LMR as I take of her panties, but that's it. I bang her and… damn, this girl had a tight pussy: #Asians.
Great lay.
She asks if she can stay over. I feel bad sending her out quite late at night by herself so I let her sleep over. I tell her she has to get out really early because I don't really know what time the next girl will show up.
#Risico
Shittiest Beach
Luckily everything goes smooth and she's gone before my girl from Panama arrives. I really liked this girl. We spent one more day together in San José and then went to the beaches.
We picked the wrong beach however. I went to Jaco, officially the ugliest beach I've been to. The sand and the water are black, the town is full of old hippies and crack whore prostitutes yet somehow it's still expensive as fuck.
I'd get depressed here if I had spend one more day.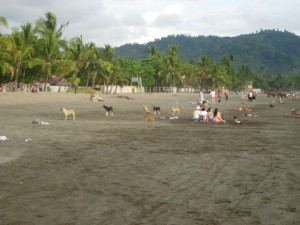 I'm glad I had my girl come over, she's really cool and we do manage to have a good time there. My original plan was to stay a bit longer in Costa Rica and do some surfing, but after seeing this shit hole, I decided to go straight to Managua, Nicaragua.
…which turns out to be an equally big shit hole. Next week's post, stay tuned!
Peace,
THC