I had been feeling pretty lousy ever since the Angeles City pool party at ABC Hotel.
All of my contacts were gone with my iphone and I had a shitty little replacement phone that if someone saw it laying around, rather than stealing it, that person might actually pick it up and call out "someone left their phone!".
I hadn't seen a single beach in my over 2 month trip to the Philippines so THC and I made plans to take off for a weekend. We tossed a few ideas around and settled on Boracay.  Even though it was the off season, we figured it could still be a lot of fun.
We bought tickets for 3000 pesos (about 60 bucks) round trip to Kalibo, where we intended to take a two hour van ride to the port, and then another 20-30 minute ferry ride. We could have bought them straight to Caticlan airport but those tickets were around 13000 pesos.  No thanks.
We packed our stuff, and as usual, we were running late for our flight.  Traffic was terrible and it was going to be close.  We were about to prod the taxi to step on it when THC got a call from the airline that our flight was delayed. This turned into us trying to leverage our newfound "inconvenience" from having our flight delayed into something better.
I took the phone and explained that the timing was critical because we had a business meeting that was also a birthday party.  I may have said it was also a bachelor party.  I had to cover the phone because we both started laughing.
Fisto: "We can't accept this delay. We'll be late for a birthday party that's also a bachelor party and we're meeting our clients there."
The lady said to speak to the ticket agent because she was powerless.
We got to the ticket desk and walked up and down it looking for the right girl. We settled on a girl that was about a 6. As we sauntered up to the desk I looked her in the eyes "we need you to work some magic for us".  This set off the tempo perfectly. THC began explaining our problems and I conspiratorially exclaimed just within her earshot "dude look how long her eyelashes are" and shot her an approving look.  This got a blush and we continued on gaming her like good cop, bad cop.
She ended up booking us straight to Caticlan airport, saving us two hours in a cramped van.
Thank you Game.
We asked her to change our flights coming back but she could only do something for us two days ahead.  We got her number and decided we would celebrate with a coffee and then some beers.
Immediately we started flirting with the girl at the coffee stand. It was that kind of day.  We were just on.
We grabbed our beers and went and waited for our flight.  Nothing spectacular to look at in the gate area.  One lady kept looking over at us.  We were making a small spectacle of ourselves since we were joking on each other and we saw little smiles cracking here and there.
Getting off the plane you have to take a "tricycle" for 40 pesos per person (2  bags will fit) which is just a motorcycle with a covered side carriage to the port.  It was the rainy season so everything looked pretty dirty, perhaps more so than usual.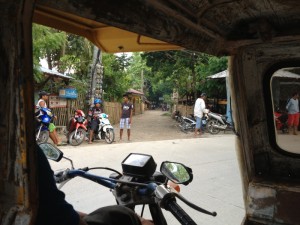 You'd think these people would at least clean what they are capable of but trash that could be easily picked up lays around in the yards.
People are going to approach you to stay at this or that hotel, they're going to try and make a commission by escorting you to where they are promoting.  They aren't necessary and if you politely tell them no thankyou, that's usually enough.
If you are in Vietnam, a bat to the head will be required to rid yourself of them.
The ride isn't very long and you see a few interesting sights, the way people live, chickens, little shops.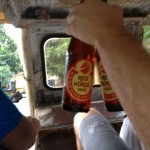 We stopped two get some beer and water and the family that owned the place introduced themselves to me.  Both got up and shook my hand and wanted to speak for a little while.  I was happy to spend a few moments shooting the shit while THC watched our stuff.  The lady introduced me to her unattractive niece and I politely said hello.
I enjoy these kinds of interactions because they are genuine.  They didn't overcharge me for the Redhorse beers and they were just nice people.  THC said "Fisto you seemed like you were going to move in".
We pushed on through the drizzle and made it to the port. Upon reaching the port you have to buy a ticket, pay an environmental fee, and a terminal fee which costs 125 pesos per person total.
We were told about a place that's a 1000 pesos a day and we agreed to give the girl her commission if she wrote a note.
The boat ride is about 15 minutes and you really get a glimpse at how pretty the sea is here.  It's gorgeous even with the clouds and rain. When you arrive expect to be greeted with more commission seeking sunglass selling bullshit.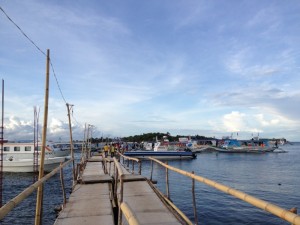 We walked through the rain and found a place THC stayed before, they wanted 1400 pesos per night per room so we decided to find the other place we heard about. We stopped and flirted with some cute little massage girls.
I needed a sim card for the throwaway phone I had so we walked through Dmall and found a Globe store.  I sat down with the girl working and I found her attractive. A 6 at best but her professional manners and the way she dressed made her a positive random for me.
I was talking with her and making jokes and another girl that was working was standing outside smoking and kept coming up and waving to THC and I through the window.
The girl got my phone working and she asked if I was married.  I liked the other girl but got her number anyway.
We went and ate at a cheaper place called Jammers and THC got our waitresses number.
I seized the upper hand by seeing a large fat lady with a tshirt on her back that read "Pick up your 10,000 dollar Prize!".
This was the perfect photo for my "Hoisting up fat Asian girls" theme I had going.  I picked her up as she gleefully squealed while THC got the pic.
Feeling satisfied we went on in search of a place to stay. We found the other hotel and it was much better.  Close to the club Summer Place and a stones throw from the Ocean.  We got it for 1000 pesos and I was surprised by how big and comfortable the bed was and how strong the AC blasted sweet cold air.
Even though our mojo had been strong all day we were beat.  We elected to stay in for a good nights rest, train in the morning, and then start daygaming.
The Globe girl started messaging me around 12am to meet her at a club but I wasn't having it.  I told her to come see me but she wasn't comfortable, I said I was too tired and then she called me.
Wanted to talk and ask questions.  I firmly told her I'd answer her questions in person.  I could tell she was used to straight answers from the goofs she normally encountered and my vague replies and deflections were getting her very interested.  She wanted to meet up but was having a battle internally, so I got said goodbye and slept.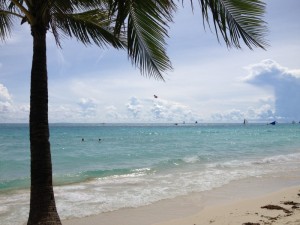 That next morning we were out the door at the crack of 11am, we drank some coconuts or "buko" and ate the meat for 160 pesos total.  It's good value for money, you get a healthy little snack and the juice is great for you.
We ran on the beach in one direction for 15 minutes, stopped, stretched hit on some girls and got numbers, laughed at the goofs trying to look impressive on the beach and then turned around to go the other way.
Running back we spotted two girls that looked great in the water so we dove in.  We were sweating and I was thankful for the break. The girls were in our arms in an instant and we both took note of the guys on the beach sitting on towels scowling at the interactions we were having.  Their expressions looked like "What the fuck??  We've been sitting here 25 minutes and these girls haven't even looked in our direction and you guys just show up and start kissing these girls???"
Yes dicks.  We did just do that.  Thank you Game.
Unfortunately, while my girl had a great body, her teeth looked like she'd been chewing on shit covered rocks.  I could not will myself to bang that even if I drank all the booze in Boracay.
We got out of the ocean and kept running where we stopped and did 8 sets of 10 burpees facing the water.  Nothing special but the way we had been drinking lately it was plenty. It was a good feeling splashing in the water as the waves were coming in.  People were watching us and because we are shameless we trained hard for these lasts sets because they would let us feel guilt free about the ensuing partying to come.
We went over to a place called Real Coffee after several recommendations from various girls, the coffee is indeed great (although expensive at 90 pesos per iced coffee).  We also chowed down on the "great white omelette" which was filled with tuna, cheese, pesto, tomatoes and onions and calamasin muffins which were delicious.   This became our ritual each morning.  That expensive coffee kept me alive.
We continued day gaming and my GOD, Korean women are fucking gorgeous.  Koreans in general are not very social, their women are fine though.  I can't count how many nice pairs of tits I saw while there.
We cruised around D'Mall to see and do whatever there was to see and do.  There was a rock climbing wall so we both went for it.  I got up about 3/4 of the way before my forearms gave out and then THC made it the whole way.  It was fun because we attracted a crowd and when THC rang the bell at the top everyone clapped.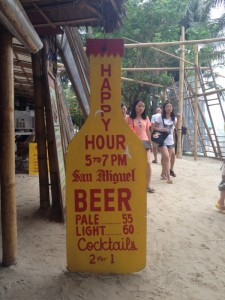 We decided to try out a spot recommended by Naughty Nomad as place to be on Boracay, Nigi Nigi.  Upon arrival this place could only be described that way if you thought of one very fat lady with an unpleasent scowl on her face as such.  I didn't even bother to ask if I could hoist her up for a photo because I just knew she wouldn't be agreeable.
Of course, I understand it's the low season so I'm sure it's much more happening at other times.
It was another hour until happy hour started but we asked the waiter to extend the time for us and he agreed. We were sitting there drinking Red Horse when a guy I saw on the plane stopped by and asked about the workout we had this morning.
Real big guy, older dude from California.  Good looking and seemed to have his shit together.  We told him to pull up a chair and we started all getting hammered together.
Then we proceeded to blow this guys mind.
It's the strangest thing when you see a guy like this, who objectively should get women by the scores yet doesn't.
This guy just accepts the inaccurate notion "In the Philippines the way to get laid is to pay for sex".
There's another guy we became friends with in Manila.  Lawyer, Filipino, very cool.  He went from getting laid once every couple months to multiple times in a week just from changing up what he was doing and listening to us. It was awesome.  He'd get excited and text us. Or say something like "That makes so much sense!" When we were explaining a concept. It was really a cool feeling to help a brother out.
I understand the feeling of frustration when you want to smash but can't.  Helping out a friend and seeing them do what they want was rewarding.
Anyway, this guy we met had never had Sheesha so we went to another bar and ordered up some more drinks and started smoking. As if to drive home the point, a girl we had daygamed earlier stopped by and then 10 minutes later I was saying goodbye and going home with her.
Cute little local girl that was about 21 or so. I left THC and our new friend on the beach headed to a club and smashed this girl before going to Summer Place.  The club right next to our hotel. The place was filled with jackasses and hookers.  I stayed for a short time and then told the girl we were leaving. I don't remember much because I was on a blackout drunk but I smashed her again and passed out.
That next morning we got more coconuts and headed to real Coffee.  We had planned on going cliff diving but there was no way we were going to make the 11am call time. THC explained about his night. He went to one of the beach clubs where he pulled a local girl.
After breakfast (read afternoon meal) we started drinking again.  We found a place called Mint bar a short distance from Real Coffee.  They had a bunch of lounge cushions and so we picked up a couple and a table and stuck them outside on the sand and ordered a bucket of San Miguel Lights and a sheesha.  We were the only guys on the beach that did this.  It occurred to me that we might be breaking some sort of rule but I decided to follow the maxim "better to ask forgiveness than to ask for permission".
It's better to ask forgiveness than to ask for permission.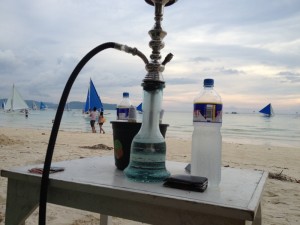 THC left to get something from his room and I held down the fort just chilling and watching the ocean. Some people walked by looking over as if they thought I was smoking opium.  They probably did. These people seemed so sheltered.  They walked around all day and pointed at things but never really partook in anything.  God what a boring life.  That was their vacation….
Before long two older but very attractive women came by and ordered chocolate martinis (god how predictable) and started speaking loudly to get attention.  They were from Australia and both had excellent bodies with nice augmented tits. They started making a fuss about moving the lounge chairs around to get a better view of the ocean and I knew this was my que to offer my assistance.
THC showed up and we started doing our normal thing, we got ahold of the globe girls and they both came by.  Mine was super nervous and accepted a beer she sipped hesitantly and THC's had to go work for a bit.
I shamelessly flirted between the globe girl and the hot older Filipina lady that lived in Australia gaming them both simultaneously.  I'd give the older girl smoke kiss and then the globe girl would get visibly angry and I'd tell her to hand me a beer from my bucket while rubbing her arm in a subtle manner.
A couple that was 100% representative of why I hate American women showed up.  The wife was a fat, slobby, loud, and rude bitch.  And the husband was fit (if ugly) and a military man.  I think he was capable of getting much much better.  He barely said a word while his wife tried to dominate the conversation.  She started asking us questions and used all the tact of a bull in a China shop when she tried to ask what we did for a living trying to assess how much money we had.  To make matters worse, she seemed to think her antics were charming.  This type of shit just gets on my nerves.  Bitch, we are all having a good time on the beach and you are gracelessly asking me about things that are none of your damn business.
We drank more and watched the sun set and did our best to ignore the fat lady when THC's girl finally showed back up.  Earlier I took the older chick's purse and removed the chain from it and wrapped it around my wrist like a bracelet.  She said she wanted it back and I told her I'd give it to her later when I saw her (ensuring a meetup). We said our goodbyes to the older chicks and told them quietly to meet us later at Nigi Nigi since we all knew where that was. I knew my plan the moment we did this.
We said we needed to change and brought the girls back to our place, I busted out a bottle of Vodka and red bulls and insisted my girl help me drink my glass.  THC went to shower and I sat on a bench with both girls outside our rooms and built up comfort. They were explaining how they were very nervous being at our hotel and a technique I always use when this happens is to reframe things by saying "I'm your protector honey, you are with me now and completely safe, no one will hurt you when I'm around"  as if I took their meaning to be that someone ELSE would harm them.
Because girls operate on a goldfish memory system they immediately forgot they were referring to me and comfort is almost immediate. THC came back out and my girl asked if she could use his bathroom. "No, use Fisto's bathroom, his room is right over there" – Isolationated.
A lot of LMR and the typical "No, I don't even know you" stuff ensued.  I fucked the hell out of this girl. Having her bewildered and still gasping on my dick was a huge turn on.  I roughly bent her over and fucked her doggy style while she pretended to try and get up.  I pushed her down and kept going while she had what may have been her first orgasm.  It was sexy as hell.  I told her I wanted to cum in her mouth and she said she'd never done it before but I started cumming and she quickly jumped up and put her mouth on my dick to take it.
She ran to the bathroom to spit it out and she was trying to act all upset but I started laughing and then she did too.  Then she started crying again and I did my patented "pick her nose and wipe it on her forehead move" and she laughed again.  She told me I was the second guy she ever had sex with and she wanted the next guy to be her husband.  I told her sex wasn't a bad thing and that she should be allowed to feel good with someone that was a good guy like yours truly.  She smiled and hugged me and I was happy with my reframing.  I remember a time where I would have had to sit there for hours consoling a girl that wanted to make a big production out of having sex when she really just wanted attention and to be held.  It shows the tempestuous nature of women, crying one minute, laughing the next.  She left telling me she can't wait to see me again.
We went back outside holding hands and hung out pleasantly waiting for THC and her friend.
After they emerged we sent the girls home. THC was meeting up with the waitress he number closed earlier and I headed over to Nigi Nigi.
The older chicks eyes lit up when I walked in and it took me all of 15 minutes to get her to go for "a walk" where I walked  her straight back to my room.
She had epic big fake tits that were still soft and a nice round ass.  Her pussy was intensely pink and I fucked this girl for over an hour straight.   She was a dirty girl and it was a lot of fun smashing her.
I walked her back to her hotel and made a half hearted attempt at walking into another bar to see if there was anything worth going for but was really just unmotivated.
The next day was probably my favorite.
We woke up at the last minute (or so we thought) to make the cliff diving escapade to Ariel's Point.  We were jogging there with our heads hurting.  We stopped on the way and bought a couple water proof bags.  We spent 30 seconds talking the guy down 70 percent of his initial price.
We kept jogging and there was a guy standing on the beach who asked if we were going  to Ariel's point.  We said yes and then he started following us.  I was too tired/hungover to tell him to beat it so we got him to show us the nearest ATM so I could take out enough money to cover the price of the trip.
It was only a 200 peso markup for his commission, the total cost of the trip including the boat trip, all you can drink beers and cocktails, food, and the kayaking, diving, snorkeling in paradise was 3200 pesos.
We boarded the boat and there were maybe 2 single girls, they were nothing special.  The rest were couples.  I spotted what to me was the finest girl of the trip.  A korean gal with the wimpiest guy I've seen to date.  THC and I agreed the fact that she was making an effort NOT to look in our direction was a sign of interest.
She was gorgeous, full lips, natural beauty.  She just exuded class.  She was very positive random for me in addition.  She had a great little ass too and she stood to admire the view it occured to me that she was doing that for our (edit MY) benefit.  There was no reason to stand, and the direction she was looking there was nothing to see.  We were there looking at her sexy little booty for several minutes.
We immediately started pounding beers for the 30 minute boat ride to the island.  There was one other guy that was drinking more than 3 beers.  We decided we liked his style.  Everyone else sipped at one beer and that's it.
I remember saying:
"I hope this boat sinks so I can save everyone….and also molest that girl".
We were already having a blast.
Ariel's point was awesome.  A gorgeous setting with multi level cabanas and gazebos.  The whole place was just splendid.  Music was playing and the bartenders were super helpful and fast.
I ran and dove off the first level spot that was 5 meters making myself the first to jump off.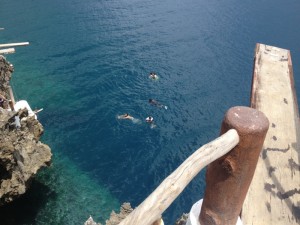 I then immediately ran up and dove off the 2nd platform.  That one was at 8 meters and I came close to over rotating and landing on my back.  Luckily I still got the dive in.  When I came back up a girl asked if I was a professional diver which struck me as hilarious.
The last obstacle was the top level at 15 meters.  This sucker was daunting.
I ran off it without hesitation.
THC and myself were the only two to go off this one.  We went multiple times, taking photos, filming.  The whole bit.  I admit I did not want to try diving off.
I found a beautifully purple colored starfish after one dive.  I handed it to the gorgeous girl I liked pointing out her swimsuit was the same color and noticed the guy she was with twitching uncomfortably.  She politely accepted it and smiled the sweetest smile.
We ate a shit load of great food, kept drinking, then went kyaking.
Again, these people stayed in the immediate area.  We said "let's get a workout" and paddled to the furthest point out across the bay.
We landed on this secluded beach that was straight out of a novel.  We dragged the kayak up on the beach to make sure it didn't float off and went exploring.
By "exploring" I really mean we went looking for the biggest rock we could lift out of the water and throw it overhead.  Great times.
After awhile we sort of figured it was getting close to time to head back so we paddled on in as everyone was boarding to go back.
Inside there were no more beers but there was plenty of Boracay rum and coke.  We heavily partook and so did many of the rest of the passengers.
At this point we pretty much accepted the fact that we were missing our flight back to Manila and went all in.
Two girls came up and took photos with me and there was a lot of jovial comradery.  I pulled one Korean girl that wanted a photo on my lap and the other Koreans oohed and aaahed and laughed while she giggled.
By the time we got back we were obliterated.
So obliterated we needed to stabilize with Shisha and more beer.
We headed over to a bar and ordered a bucket and smoked.  Had some squid grilled up and I hoisted up the staff one by one.  They were used to our antics at this point and everything was fun.
By the time we got home I wasn't feeling well at all.  I went to the bathroom and gagged myself to puke because I still wanted to make it out.  I was on number 96 notches for my trip and I only had a couple days left to get to 100, I was tempted to see the Globe girl again but I thought I'd better punch on.
I finished puking and pulled myself together enough to get out.  We walked to Summer Place and THC pulled a girl almost immediately.  I was left speaking to her friend who was a hardcore pro.  I simply don't have patience for these girls.  When she told me she'd go home with me for money I let her have it.  "I would NEVER pay you a peso to fuck you".
Fisto: "I would NEVER pay you a peso to fuck you."
I walked out pissed off and made my way on the other side of the beach and went to Club Paraw.  Inside was nothing but whores so I left.
At this hour at night expect to keep getting ambushed by ladyboys.  They stay in the shadows and all of a sudden you will hear "excuse me sir" in a weird, slightly manly voice.
Two kept following me saying "let's just go to the beach and have fun"  propositioning me in every way possible.
I was disturbed to think that they had experienced enough success with straight men to keep doing this sort of thing.
I got back home and say the guard who agreed to let us check out at 3 pm the next day when normally it's 12.
I felt good that I had at least given it an honest effort to bang and was happy to fall in bed and sleep.
That next day we picked up a bunch of muffins for THC's girl back in Manila and made our way to the boat.
Our girl at the airport that hooked us up had abandoned us.  I suspected she felt used.  Oh well.
This meant we had to buy new tickets and go the long 2 and a half hour trip to Kalibo.
We got our shit together somehow and got home in one piece.  I had my favorite girl meet me in my lobby and I was very happy to see her.  She was a comfort to me.
And that is my experience with Boracay during the low season.  I have no desire to go back but I did have a time I would also not take back if that makes sense.