The third day in Cancun, Fisto, Smooth Operator and myself couldn't wait to get out of there. Sure we had some good times; we got drunk and partied hard but as all hyped up locations it was a huge disappointment. Cancun is great for getting drunk, spending a lot of money and being in another country while still feeling like you are in Las Vegas, except with a worse male to female ratio. 
Read some more in Smooth Operator's post on Cancun.
Adiós Cancun
We decided to get the fuck out of there ASAP and took the night bus to Belize City. There are night buses leaving from Cancun to Belize city; you can easily buy tickets at the bus station which is in the center of Cancun.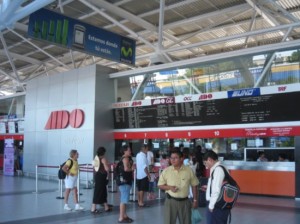 We bought the tickets during the day and at night we took a taxi back to the bus central with our luggage. The bus that arrived looked decent and modern but when we got in, we were welcomed with a horrible smell. The bus had at toilet and it smelled like it hadn't been cleaned in ages, fucking disgusting. Every time someone opened the door it smelled like being trapped in a festival's Port-A-John.
The only thing more annoying than the stinking toilets were the other Belizeans on board. A group of 4 or 5 Belizean guys was sitting in front of us. They looked like douchebags, with baseball caps, tank tops, facial piercings and talking like wannabe gangsters. One guy even had his fingernails painted (mystery method fail). But I was willing to give them the benefit of the doubt; that didn't last very long.
They started out cool, giving us tips on what to do in their country but then they just couldn't shut up. When we stopped replying they started telling their stories to each other hoping we would overhear "how awesome they were", but the more they would say, the more I wanted to punch one of them in the face. All the stories involved how much they had been drinking in Cancun or about banging prostitutes. It was like they were trying to be hated.
Still, I was so exhausted I managed to fall a sleep over the noise of these Belizean asshats and the stank of the toilet. Finally I get some rest.
Mexican border
When the bus stops I don't realize where I am for a second so I must have reached deep sleep. We were at the Mexican border. All groggy we get out to show our passports at the Mexican border.
The custom's office is a shitty little room with 2 desks and some old school computers on them. Fisto goes in first to the first desk and I see he's having an argument with the guy from customs but I can't over hear him. Then I get called in to the second desk.
"That will be 25 dollars" the lady says. WTF? 25 dollars just to leave the country? Now I know what Fisto was arguing about. Neither of us had any cash left and they didn't accept Visa nor MasterCard.
"That's no problem", the lady continues, "You can sit here and wait till the ATM's open at 7 am."
No problem?? We will have to sit here for 4 hours to wait for this stupid bank to open, miss our bus and have to buy new tickets… Of course that's a problem señorita!
Since I was explaining this to her in Spanish, I think she was a little bit more collaborative. "You can also pay in Dollars or Euro's", she said. We all start digging through our luggage to find all the cash that we might still have on us. We're checking every pocket of every pants and scratch together $60 worth in Mexican Pesos, Dollars and Euros; $15 short of the total $75 we need.
"No, we need $75 exactly."
Fisto looks like he's ready to flip over the desk including the guy behind it, but then I found some Thai money in my hand luggage: 600 Baht, that's $18 dollar. The lady has never seen this kind of money before but I show her the latest conversion on my phone and assure her that she can easily change it at any bank. She gives me a weird look but then reluctantly accepts it.
It must be the first time someone paid a Mexican exit fee (or bribe?) in Thai baht. Close call but BOOM, we're out of here!
Day 1: Arrival in Belize City
What kind of ghetto did we arrive now. It's still early so there's not a lot of people out and all stores are closed. Yet the usual annoying taxi guys have already taken post. As soon as we get of the bus they're walking over each other to provide their "fair services". After traveling a lot we have become very good at avoiding all kinds of scams but the airport / bus stop taxi's are one of the hardest to avoid since you have no idea what normal prices are in the country yet.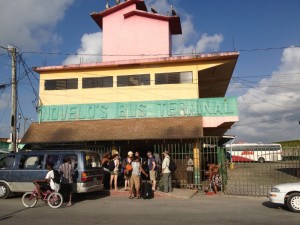 A cheerful looking guy with a beard was the least obtrusive so we decide to let him bring us to the hotel. Once our luggage is in the trunk, we get in the car and I want to negotiate the price, but he already starts driving and doesn't give straight answers: bad sign. We really insist "tell us your price right now".
"Okay, it's 15 dollars US per person"
Wait, what? That seems kind of steep for Belize and the hotel shouldn't be that far.
"No way amigo", I tell him, "that's too expensive, bring us back to the bus stop".
The guy just snaps. In stead of going along in the negotiation, he hits the breaks and completely starts flipping out.
GET THE FUCK OUT OF MY CAR MOTHERFUCKERS!!! Stupid tourists!!! He opens the trunk and starts putting our luggage on the street while continuing his rant.
"I should kill you motherfuckers!"
We just keep smiling; how can such a cheerful looking guy go from 0 to 60 like that? He looked like a black Santa Claus.
"Have a nice day fatty." He drives off with squealing tires.
Not even 30 seconds later another car stops, also an improvised taxi. As worked up Belizean Santa was, so mellow is this guy. He's all cool. The price already dropped to $15 dollars total. He brings us to a nice little hotel close to the port.
Belize City: Ghost town
There's an Indian looking guy working at the hotel, he looks like he doesn't give a fuck about anything, including his appearance. We manage to get the price down by quite a lot because he's a horrible negotiator. The rooms are small and don't have AC but the prices are a lot cheaper than Cancun so we can afford to take separate rooms again.
The first impression of Belize City is that it's small, I mean really SMALL. It does not feel like a capital at all, more like a 2nd or 3rd tier city. Moreover, Belize city is absolutely DEAD on a Sunday. All stores are closed and there are no people in the streets; it's an absolute ghost town.
We get some breakfast and decide to take a power nap to recover from the shitty night in the smelly bus.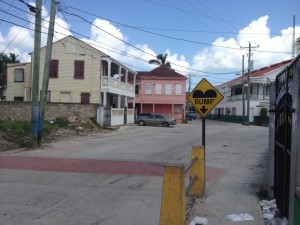 Exploring Belize City
Our power nap have the habit of running late and this time was no exception. When we finally get off our lazy asses we decide it's time to get in another work out. We start walking along the coast line towards the BLT north side park, the only place that would attract some people on a Sunday we've been told. 
Along the way we pass a soccer game, apparently it was the national championship between the two best teams of the country; yet the whole spectacle was smaller than a game between two neighboring villages at home, a testament to small scale of Belize City.
We don't bother sticking around and walk over to the Princess Hotel and Casino to see if they have a gym available. It's the biggest hotel of the city but it looks a bit outdated. Surprisingly they do have an adequate gym. The guy sitting at the door of the gym asks us if we're staying at the hotel. Fisto and Smooth Operator answer at the same time.
Smooth Operator: No.
Fisto: Yes.
"I also mean YES", says Smooth Operator, correcting himself.
It doesn't matter, they guy is as relaxed as our 2nd taxi driver and lets us in so we can finally get another decent work out in. The gym is completely empty except one girl that's using the treadmill. It's the first young Belizean girl we've seen, she's pretty dark skinned, the face wasn't especially pretty but she had a banging body, you could tell she worked out.
Once she's done with the treadmill, I start talking to her. She speaks perfect English (as they all do in Belize), just with a Caribbean accent. She tells me she's in a local band and that they're performing the next weekend; she invites us to come over. I take her number but I feel it wasn't a solid interaction. Still it put me in the right mood to approach.
BLT park
After the work out we head over to BLT park. Several people told us that it's the place to be on Sunday and they seems proud to tell us it had been recently renewed completely. But even with our expectation management adjusted to Belize standards it was a let down. They had put some new benches and painted the food stalls, but other than that it still looked pretty crappy.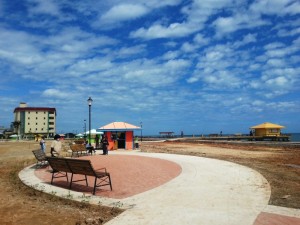 A stage in front of the park was playing reggae music and there were a few families hanging out at the benches and kids were running around. Feeling a lot better after the work out,  we took a seat at one of the free benches and watched people walking by.
It's hard to describe what a Belizean looks like, there were all kinds of people, but mainly blacks and Asians. This one black girl walks past our bench and she's giving some glances. She's really dark, nearly black and has a very nice booty. She strolls by and sits near a food stall a bit further. There's not a lot of other options and since I didn't get laid the past few days I decide to make my move immediately.
I go over the food stall where she's sitting and make some small talk with the vendor; he also tells me the park has recently been renewed. The girl is still giving me glances so I involve her into the conversation. She speaks with the funniest Caribbean accent, and I feel as if she has watched too much Ali G movies. It turns out she's working for the park. When I ask the vendor if he's selling any beers, she interrupts and says they don't have beers in the park but she'll buy them for me at a shop nearby.
When she comes back, I have some more small talk with her and get her number. I go back to the boys and a we enjoy our first local Belizean beer with a view on the ocean. It tastes great. It tastes like more.
Pub Crawl
Since there's no beers in the park, we decide to go on a pub crawl and just get a beer at any place that sells them. Our first stop is a pool bar next to the park. There's not a lot of people but there are some cute waitresses. When I come back from the toilet, Fisto is talking to a girl at the bar and Smooth Operator is selecting a song from the Jukebox. 
I'm alone at the bar so I grab the first waitress that walks by "Stop." She's also pretty dark, she has curly hair and a big rack. She is a little bit shy but she's definitely interested. We talk for a while and she keeps asking questions and is doing an effort to keep the conversation going. I ask her what time she gets off work; she tells me it's pretty late but tomorrow is her free day. That will do, let's meet tomorrow then and I get her number.
We move on to the Hour Bar Restaurant across the street. Again the restaurant is completely empty besides some couples sitting at the bar watching a sports game on TV. Belize City really is dead on a Sunday. We decide to make it our last stop of the pub crawl and just focus on drinking.
We try the different types of Belikin – the Blond beer and the stronger Stout (dark beer) and start to get drunk since there's not much more to do.
When we're back at the hotel I try to call the black girl from the park with the hotel's phone but I only get voice mail: Too bad, off to bed then.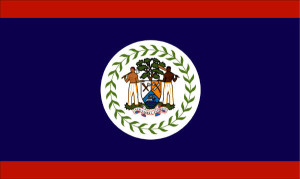 Day 2: Mission Belizean Flag
We wake up and immediately go for breakfast. The city has come to life but it's still pretty slow, but at least now the shops are open and there's people out. My order of the day is to get a local SIM card so I can call and text the girls I met the day before.
As we walk around in the city we're getting some good looks from girls, I feel like my exotic value is up again; unfortunately the quality of the girls is nothing to write home about.
Fisto and Smooth Operator don't want to buy a local card so I go on by myself. I ask around a easily find the store that sells these cards. The girl helping me is very friendly and we flirt a bit but she wasn't cute enough to ask for her number. With my newly charged phone, I start texting the girls I met. All of them respond but the girl from the fitness is being flaky as I had expected.
The other two are willing to meet so I double book a date for that night.
I felt like doing some day game but we didn't update the blog for a while so we decided to take our laptops and work on some new updates before we hit town again. Unfortunately I'm a very slow writer so by the time my draft was done it was already time for my first date.
Date 1: The Park Girl
It was getting close to 6 pm and I was getting hungry but then I got a message from the dark girl from the park.
"I'm on my way already"
Great. I didn't want to take her to dinner and I didn't have time to get some food, I hate doing dates while I'm hungry. Sure enough she arrives 10 minutes later, she had brought her fucking fat friend.
I immediately tell her that we don't need a chaperon.
"We are good friends, she has to stay with me".
Well, I don't care. We are meeting each other to get to know each other, you're friend does not have to be here. Next time we can all hang out but today it's going to be just me and you.
"Okay, she will wait outside then because I have to go home with her".
Holy fuck, no way I'm going to go through a full date just to see her walk back home with the fat friend.
"No. She's going home.", I direct myself to the fat friend and tell her, "Listen, I want to get to know your friend and I'm going to have a drink with her alone, is that okay with you?"
"Sure, no problem" the fat friend says.
"Okay then, and you are not going to let your poor friend wait here."
That did the trick, the fat friend wanders off and I take her to a nearby bar to get some beers. From the bat she starts telling stories she's a "good girl" looking for "something serious", that can be a bad sign or a good sign (over compensating her bad behavior). This time it was a bad sign.
She's throwing up more hurdles. At one moment her aunt walks in (Belize City really is like a village).
"Hey auntie, I'm here", the fat black woman that is her aunt actually comes over and joins us at the table. Great, now I have to be the right amount of polite to not offend her and the right amount of impolite to let her know she's not welcome. The aunt was not getting the clue and starts telling some boring story that I could barely understand cause of her nasty accent; I could make out it was about some kind of problem she had.
Then she looks at me and straight up asks me: "Can you give me 5 dollars?"
"No. I cannot. We have just met miss aunt and I can't give you any money.", I answered dry but correctly.
She mumbles something and then she gets up; at least she left the table.
I tell my date that it was very rude for her aunt to ask me that and she apologizes for her aunt, I can see she was embarrassed. I forget about the incident and order us another beer. She has nothing positive to tell about her country or the people. I can't repeat the things she said about black people or I'd sound like a KKK-member, but she didn't hold back. I had to change the subject a few times to keep things on a positive note.
After the second beer I just grab her hand and start walking towards my hotel. Outside she tries to let go of my hand because she's worried people may see her but I hold it tightly.
"Are you afraid your boyfriend will see you??"
"No!", after that she's more relax and keeps holding my hand.
I get her in my room and she's visibly uncomfortable. I'm already tired by the whole interaction and now I'm facing a shit load of LMR, I can just sense it. I have to try 5 times before she lets me kiss her.
I do a freeze out and start playing with my cell phone. I see my waitress girl has answered my message. She says she wants to come over for drinks at 11 pm. That's…. now!
I have to make a snap decision. I go all or nothing and try to escalate once more, even though I knew she needed more time. She freezes out and says she has to go right now. Whatever, I think it was the right move to try and go for the waitress.
"Okay sure baby", I say and walk her out. Before she's even out the door, I'm on the phone with the waitress. 
"I will come in 30 minutes".
Nice, a girl showing up that late to have drinks at home, I'm liking this prospect.
Date 2: The Waitress
I quickly get some food and I'm back just in time for the second date. She arrives in a blue one piece short tight dress, I just wanted to rip off that dress the moment I saw her. She was a dark girl but after the first girl she seemed to look more light skinned.
"Lets quickly buy some mixers", I tell her; it's a good idea to at least visit one venue rather than going straight to my room. We are immediately holding hands.
"Aren't you scared to walk around here at night?" she asks me.
"I'm not scared of anything babe. And when you are with me, you don't have to be either."
She likes that one liner  and her eyes light up. We buy the mixers in the bar nearby. The guys behind the bar are giving me grins because it's the second girl they see me walk in with, but they don't say anything stupid. After that we go straight to my room.
I make some token drinks but I sense she's DTF (down to fuck). Thank god, after the previous date I was not in the mood to go through the whole LMR charades, I had a boner in my pants ever since I saw her getting out of the taxi.
We start making out and finally I get to rip off that tight dress she's been wearing. She's got massive tits and they're really firm, especially for a black girl. Much better than the black girl tits from Haiti 😉
She starts blowing me but I can't wait anymore. I push her down and I smash the fuck out of her, damn I loved her ass.I banged her till I ran out of condoms and then we fell a sleep.
Here' some digital memories:
NSFW pictures CLICK HERE
Day 3: The Next Stop
I wake up the next morning with her big black ass grinding against my morning wood. She really loved it. I put on a towel and go wake up Smooth Operator to ask for more condoms so I could smash her again. Thanks bro, you know it was an emergency 😉
Then I have to kick her out because we were ready to leave Belize City.
As I walk her out towards the center so she can find a taxi, I get some high fives from local Belizean guys.
"That's a beautiful lady, man!"; everybody in Belize talks like Ali G, it's hilarious. 

She pays for her own taxi and says she can't wait to see me again.
You will have to wait baby, cause we are going to the islands!
But that story is content for part 2….