Traveling the world and seducing local women, you'll run into any possible level of English proficiency. From non-existent to near native level.
For girls that don't speak English at all, it's mostly hard work to communicate with them. For those that are fluent, you can kind of forget that they're speaking another language originally, but for the in-between levels… it can be a lot of fun (especially when you're texting with her).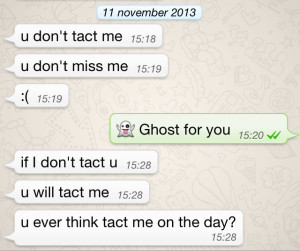 I find it strangely kind of hot when a girl sends me a poorly constructed text message with spelling mistakes and bad grammar, it's kind of a turn on because it makes her seem so much more exotic. You can see some elements of her native language and you can tell she is making an effort to speak a common language with you (to the best of her abilities) .
Sometimes these text can be hard to figure out, you have to read them three times to know what's she's trying to say, sometimes they are hilarious.
I started saving the funny ones on my phone, so here's the list of my top 10 Bad-Grammar-Bonner texts:
10. You got breakheart?? 😛
She means, "Do you have a broken heart?"
9. I found u nah.. haha you spunk the tiger and the was fainted hahaha
This was a reaction on my facebook picture where I pretend to punch a tiger. "I found you, you knocked out the tiger".
8. U make my tear again!
When I told my girl I was going away for a while, she wanted to tell me "you make me cry".
7. Are you love she?
"Do you love her?", she found out I was seeing another girl.
6. Happy your meal! 
"Enjoy your meal" is what she meant, you can see where it comes from "enjoy" and "being happy" are related.
5. Sweet my home
This girl said sweet my home when she finally got home after a trip, she of course means "home sweet home", nice try.
4. Lat me on top I will show u lol how Thai girl make bkk rock lol
Well, this text is winning because of the content, but the bad grammar just made it better.
3. I will exercise ass wait for u
I complimented my girl on her great ass, when I left for a month she promised me she'd do squats daily to keep her ass in good shape till I got back.
2. No plomplan I have time for you
This one didn't make sense till I tried to read it out loud. She thinks that's how "problem" is written. When I saw her again I noticed that's how she pronounced it as well, "plomplam".
1. I'm not buatyful but see how smart me
Well, she was being kind of insecure, she was cute. But telling me how smart she is by saying "see how smart me" breaks cuteness records. I'm totally convinced how smart you are baby, go make me a sandwich now.
Honorable mentions
Well, since I'm on a roll, here's some more funny ones I saved.
Doctor for teeds – The dentist
I m was not in ur memmoried?? – "You forgot about me?"
How's it doing? – She mixed up "How are you doing" and "How's it going"
I don't sure – I'm not sure, she would say this all the time
That make me can speak language chainess – "Well, since your English is that great, I'm sure you're fluent in Chinese as well, yes."
Where is country you alive now? – In which country are you now?
I fall slept – "I fell asleep", she tried conjugating verbs, she failed.
Maybe I'm not sure you miss me truth – "I'm not sure you if really miss me"
I hope u back to me and we can make great time together again – I hope we can make great time again too baby.
how does it your feeling? – "How are you feeling"
How's your sick? – I guess she means "Are you feeling better", I guess in Thai they ask "How's your sickness"
i am not jelouse it's ok for me u have many fucking girl – When I told her I have other girls besides her, she told me she didn't mind.
Lazy trafic – She meant, "There's a traffic jam", slow traffic, lazy people move slow, lazy traffic. Okay, got it.
now I can stay u, coz her don't stay with u already that why u have time give me!! – I had to read this a few times. She had a suspicion she was not my first date of the day, so that's what an angry Thai girl sounds like. I still ended up seeing her though 😉
If you are traveling or have traveled to places where the level of English is 'varied', share your funny texts in the comments!